As you probably already know (or don't care), I lived in Turkey for 6 years before moving to China. For the first 2 years before I moved to Istanbul, I lived in a small city called Kayseri, on the edge of Kapadokya (aka Cappadocia to the tourism brochures). For a single foreign woman moving to Turkey, it was probably an odd choice of first destinations. It's isolated, traditional, religious and quite conservative.  I was one of maybe 4 foreigners in a city of 800,000 people.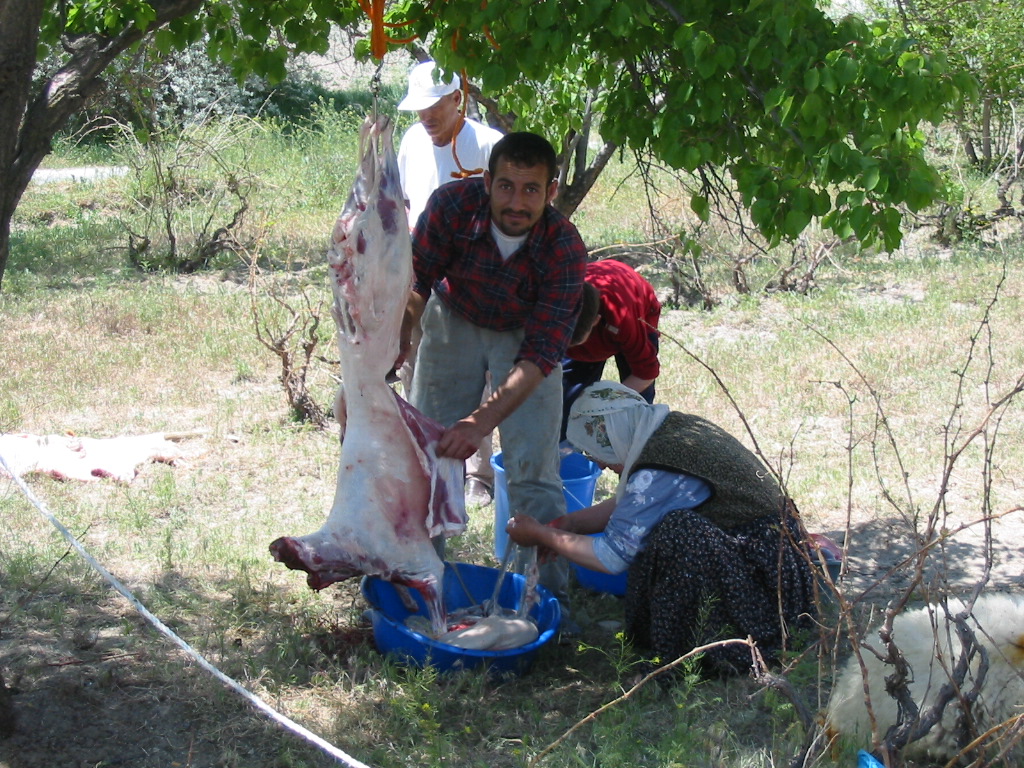 Most of the women there who were my age were busy at home being housewives and a huge percentage of those (if I ever saw them) wore headscarves and those ubiquitous raincoats outdoors. I was pretty much alone in my uncovered pixie cut bright red hair and, um, unique fashion sense, a glaringly bright foreign beacon amongst the sea of dark mustached men in the streets. Genders were segregated, marriages were often arranged ones and unspoken social rules were complex and frequently, embarrassingly broken by me.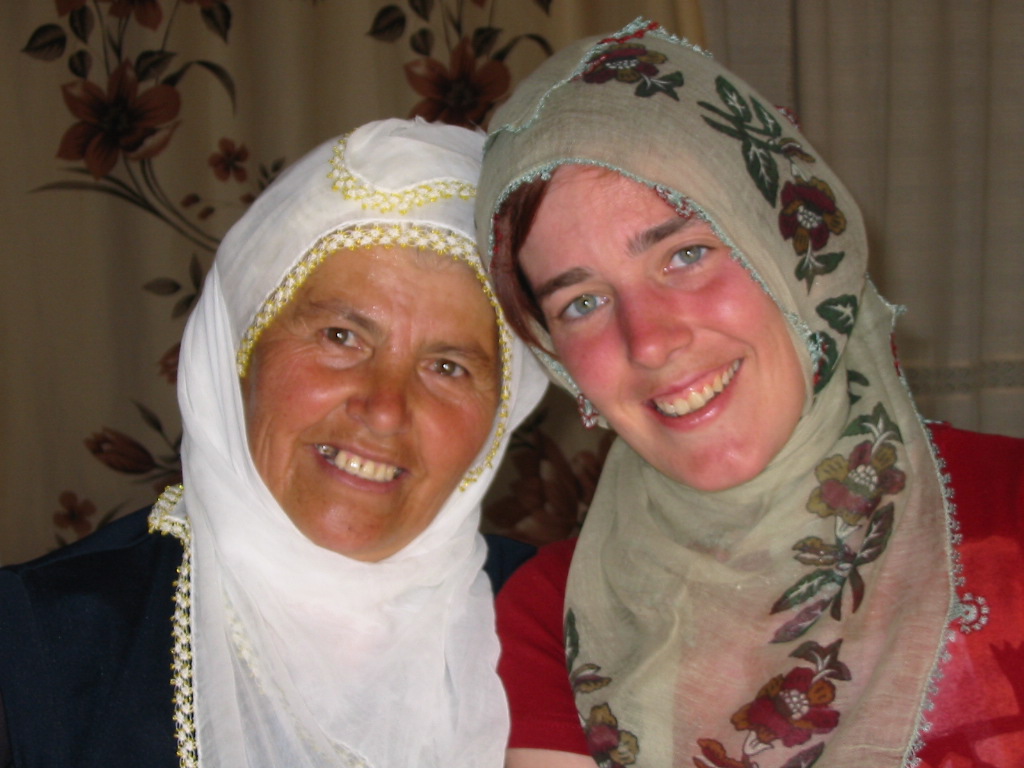 I actually quite liked the place, even though it made me frequently feel enraged, exhausted, isolated and lonely. It was ancient and untouristy, with a city center built within castle walls and a centuries old covered bazaar that sold practical things like stinky cheese and buckets of thick yogurt and headscarves and padded bras and garlicky sucuk and pastirma and raw wool rather than tacky Orientalist kitsch like in Istanbul. The tiny stone rooms of the marvellously old  Vezirhan and Bedesten ends of the bazaar were still used by actual tanners and carpet menders and tailors rather than by, say, Starbucks and Gap. From what I've heard from friends back there though, things are changing now and the cappuccinos are encroaching. As it happens.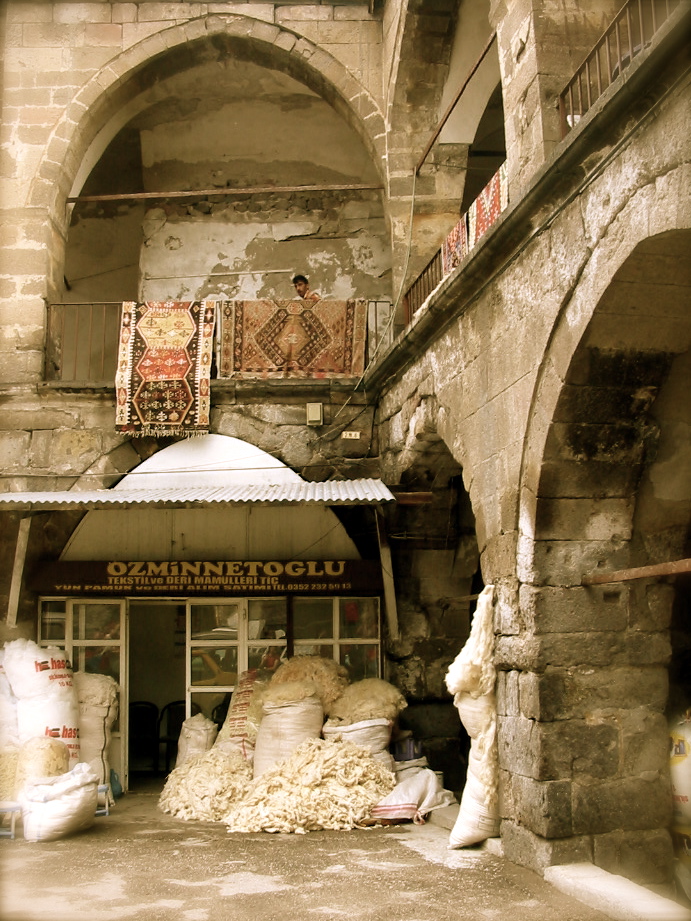 One of the things I found fascinating about being there was the ferocity of the local food culture. The flavour parameters were strict and unwavering: Nothing could be bought that would taste anything but Turkish. Vegetables were all local and seasonal. Spices and herbs were of good quality but very limited selection- sumak, pul biber, maydonoz and a few others. The fierce smell of the sucuk and pastirma permeated the city. They had a well defined food culture and they were proud of it.
You could go to Migros and try to find ingredients that would approximate something unTurkish and you would fail. Horribly. Every time. I started having uncontrollable fantasies about sushi and vindaloos and cheddar cheese. When I went away during long school holidays, my bags came back stuffed with garam masala, espresso, nori sheets. I was almost embarrassed by my impractical cravings. Why couldn't I be like my Turkish friends, satisfied with a perfectly made bowl of mantı, bathed in garlicky thick yogurt and drizzled with chili oil, mint, sumak, pul biber? Why did I have to be so difficult?  Why indeed.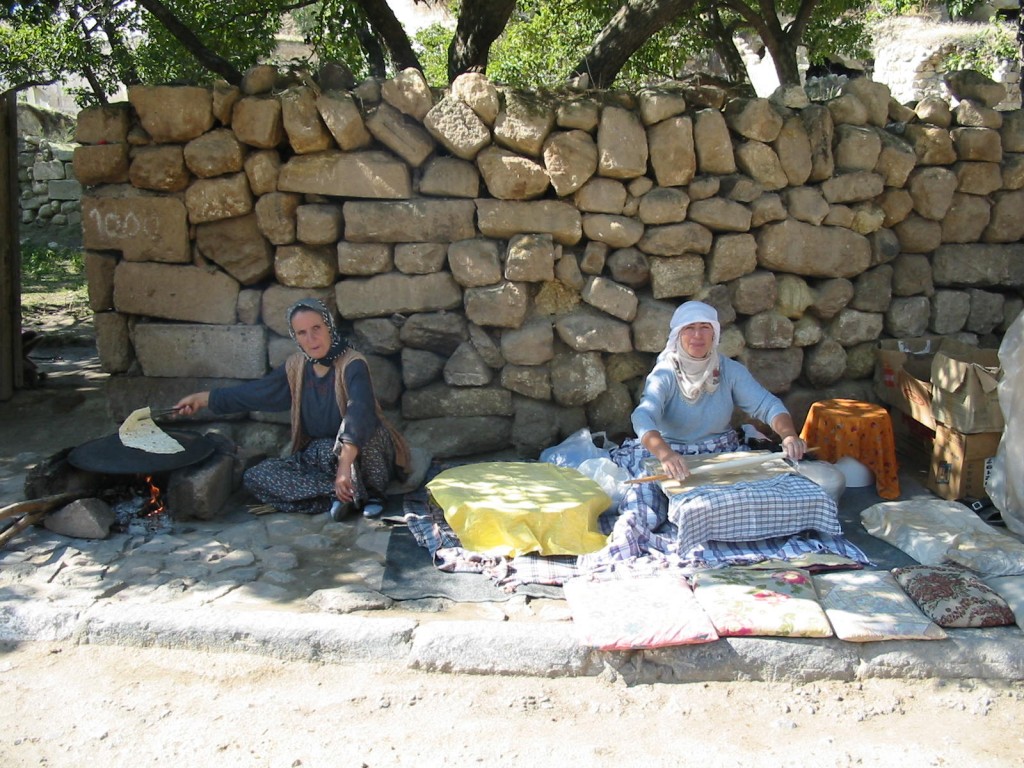 By the time I left Istanbul in 2008, I was ready for a change of culinary scenery. I loved Turkish food and I had happily eaten it almost every single day for six years but I missed the other flavours that were outside of their palate. I needed a break from mercimek çorbası and köfte and their ilk. I needed…Chinese food!
Which I've had plenty of in the past few years.
Nowadays, I get intense cravings for Turkish food. I'd kill for a decent bowl of mantı. How's that for circularity? I'd call it ironic, except it isn't.
One of the things I miss the most is the bread. Turks are geniuses when it comes to bread. Crusty fresh baked loaves, poofy lavashes, spongy pide, papery lahmacun. It's all awesome and fresh. Turks don't put up with stale, crappy bread and I love them for that stubbornness.
Now that winter is closing in on us here in sub-tropical Shanghai, I decided I needed to re-introduce some Turkish comfort food back into my diet.
Ladies and gents, I give you bazlama, a leavened flat bread normally made in a village wood fired kiln. Unfortunately, our flat doesn't come equipped with a wood fired kiln so I've had to make do with the wok. As usual.
Is there anything that wok can't do?
I don't think so.
I found the recipe by doing a disorganized, half assed google search and came up with this recipe. It was written by someone who was actually Turkish so I trust it. Turks are serious about their food.
•    3 cups flour
•    ½ cup [thick Mediterranean style] yogurt
•    1 cup warm water
•    1 dessert spoon instant yeast
•    ¼ olive oil
•    2 tsp sugar
•    2 tsp salt
Now, one thing to remember about Turkish recipes is that a cup is frequently not really a cup, as in a measuring cup, but rather a cup as in a drinking vessel. A water glass, for example. As well, a spoon is not one of our neurotically precise 5ml/15ml teaspoons/tablespoons but rather an actual desert spoon snatched from the drawer. I tend to use their measurements as approximate proportions rather than as specific quantities of mass and volume.
I used my neurotic Canadian measuring cups and spoons for this and it was fine.
You may notice that in the recipe she kind of neglects to say what kind of measurement the 1/4 olive oil is. I used just shy of 1/4 cup of sunflower oil and it was fine. You could always try 1/4 table spoon or 1/4 of a glass or… something. It might work.
This recipe calls for instant yeast. If you have the other kind, you might want to look up how to do that. I think you'd need to let it activate in some warm, sugared water first.
How To Make It
The flour and yogurt are mixed together first, then the sugar, salt and oil are added. Stir. In another bowl, add the yeast to warm water and give it a stir, letting it dissolve before adding it to the flour mixture. Stir.
Dump the dough mixture out onto a countertop or cutting board and knead away until it's all lovely and smooth and springy. It has a lovely texture- soft but not sticky. Add a little flour if it is sticky. Again, aim for a lovely baby's bottom texture.
Let it sit for a few hours in a warmish place. All day is fine. I put my dough ball in the clay crock pot insert because it doesn't stick and it keeps it at an even temperature.  Our flat is currently really cold right now so I made a sort of bain Marie (or maybe Mǎlì yù aka 玛丽浴?) for it by filling the wok with hot tap water and putting the clay crock pot insert into the hot water.
When you're ready to make them, take the dough out of the crock pot and cut it up into even sized balls. I was able to make 6 though the recipe says it makes 5.
Flatten the balls out with your hands- they're soft and stretchy and easy to work with. No need for rolling pin. Think mini-pizzas here.
Pre-heat ungreased wok on super-low.
Cook the flatbreads one by one in the wok, flipping them every few minutes. They'll need about 8-10 minutes for each bread.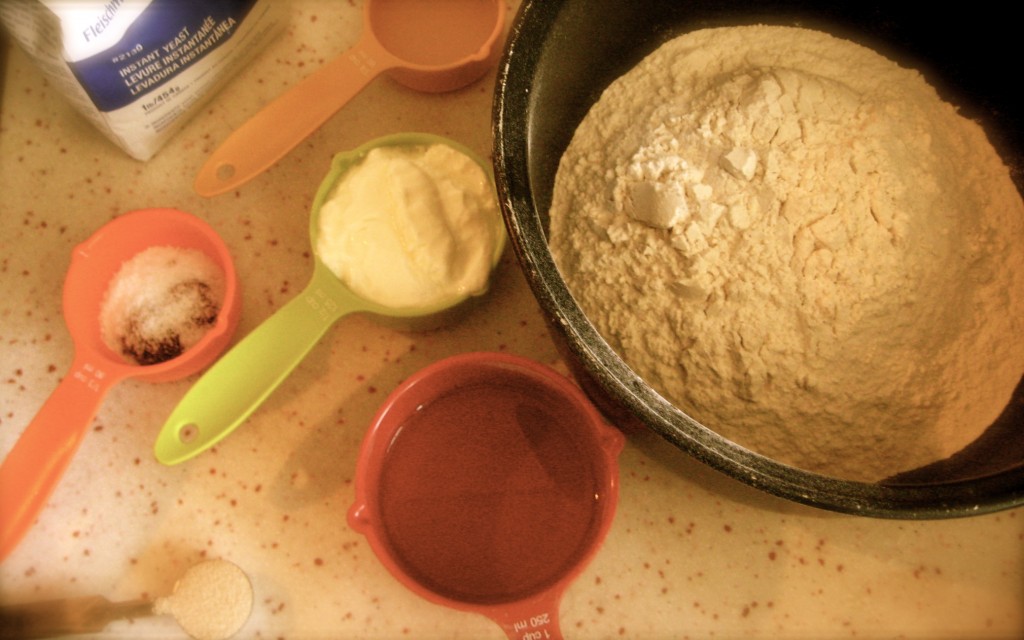 There was a photo of my yeast dissolving in warm water but it turned out blurry and gross so you'll just have to imagine that stage inserted here.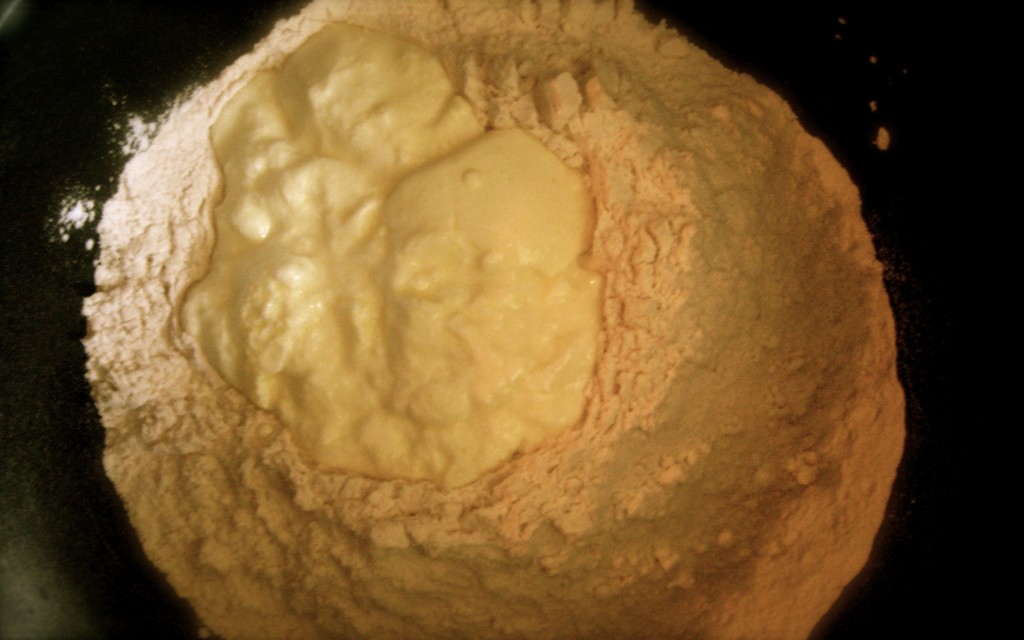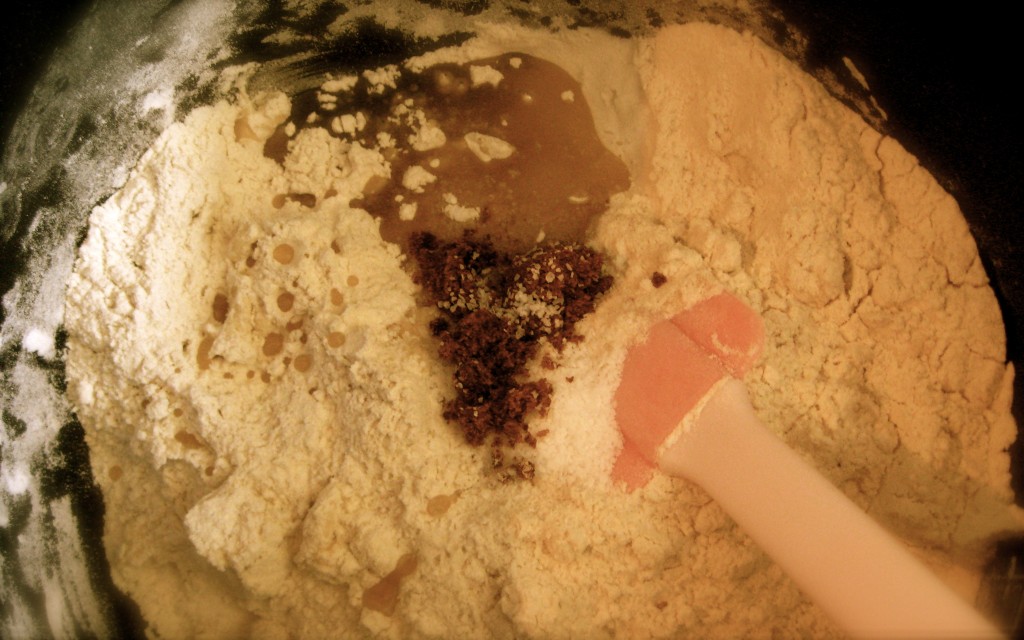 Add the dissolved yeasty-water here. Give it a stir or mix it in with your hands.