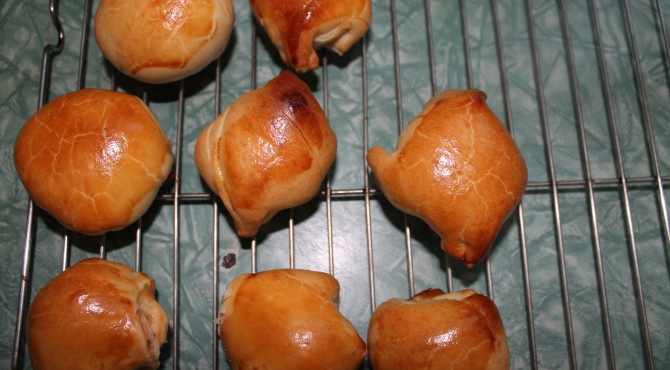 Hello. I've been away for a while, haven't I?
It's been a very hot,  busy summer, much of it nowhere near a kitchen to call my own.
We were in Morocco for a month, which was lovely in spite of the fact that it was 46 degrees in the shade AND Ramadan for most of the time we were there. Whoops.
Anyway. I've been back in Shanghai for nearly three weeks now and have yet to dust off the oven and check to see if it even still works. Poor thing. I've made chili and tacos and a ton of wok tortillas, but those aren't new things so I can't exactly re-write posts for them just for the sake of it.
This one… this is one I made back in Canada just before I left, but never posted.
Why?
Because I royally screwed it up.  Kind of. I made Suzhou pork hockey pucks.
You know, the Canadian interpretation. Like, say, chop suey or bison fried rice.
Apparently my skillful light touch and intuitive cooking skills don't apply to pastry.
I love Suzhou mooncakes. In China, however, it isn't worth the energy to actually make them at home because they are so good, so fresh and so cheap here.
For the past two mornings, on my long, hot trek out to the Entry-Exit Bureau in deepest, darkest Pudong to renew my residence permit, I've stopped at a tiny stand at the bottom of our street to buy a little brown bag containing exactly two mooncakes, still hot and flakey and filled with lovely, juicy, umami seasoned ground pork, fresh from the oven. 6 kuai (under a buck) for a very solid breakfast.
I was too busy eating them to take pictures, but below is one I took a few weeks ago when I was actually in Suzhou. See the little red stamp on the ones below? They stamp their mooncakes, yes. Much more low key than all the fiddly crimping and dough-engraving that goes on with the classical lotus paste and duck egg filled Cantonese style ones that are exchanged (and then re-gifted and re-gifted, like fruitcake) during the mid-autumn festival (coming very soon). (more…)