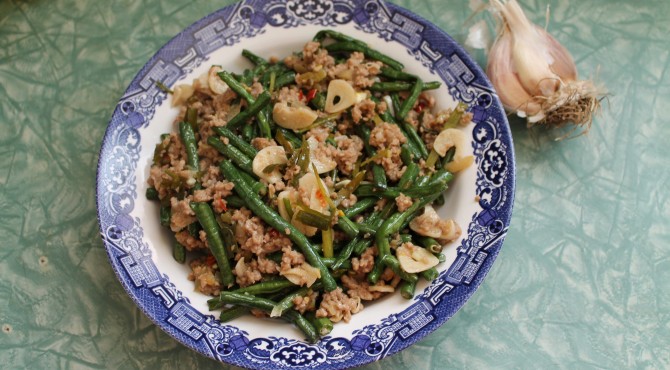 I'm not actually anywhere near my kitchen right now. In fact, I'm out in the wilds of Vancouver Island with my family, camping outside the gates of the Island Music Fest. My laptop is being powered by one of my dad's spare car batteries and I'm stealing wifi from one of the sound stages. Music is drifting across the Grassy Knoll. No, not that grassy knoll. The other one.
This recipe is one I made last week, before we drove up island to the Comox Valley for a week. Our culinary excursions here have consisted of reheating things we had made earlier on the tiny propane burner in the tiny little camper.
For the record, eggplant with minced pork (to be posted when we get back) reheats fabulously.
This is a whole other deal, though working within the porky paradigm. This is one we have eaten many times in Shanghai, though I have to limit my intake as Doug's less of a green bean fan than I am. If I could, I'd live on spicy minced pork with green beans (and eggplant!).
It's very easy to make and the prep can be done in instalments. Do a little bit, walk away, come back later and do more. Assemble and cook when you're ready.
It goes well as a side dish or as a main dish with rice. We actually chopped up the leftovers into little pieces and used it to fill fresh Vietnamese rice rolls (you know, the discs that you soak briefly in warm water to soften), along with fresh cilantro, vinegared onions, scallions and a squeeze of fresh lime. Gorgeous. There are no photos of this because we ate EVERYTHING.
They call these dry fried string beans in English in the recipe (technically it's dry stirred- gān biān 干煸 – whatever that means) but they're actually fried in oil, which isn't exactly parched.
Go figure.
I kind of want to call out a square dance with this one, but with a hearty sìjì dòu instead of a do-si-do.
Ladies and gents, I give you pork 'n beans. Kind of. (more…)