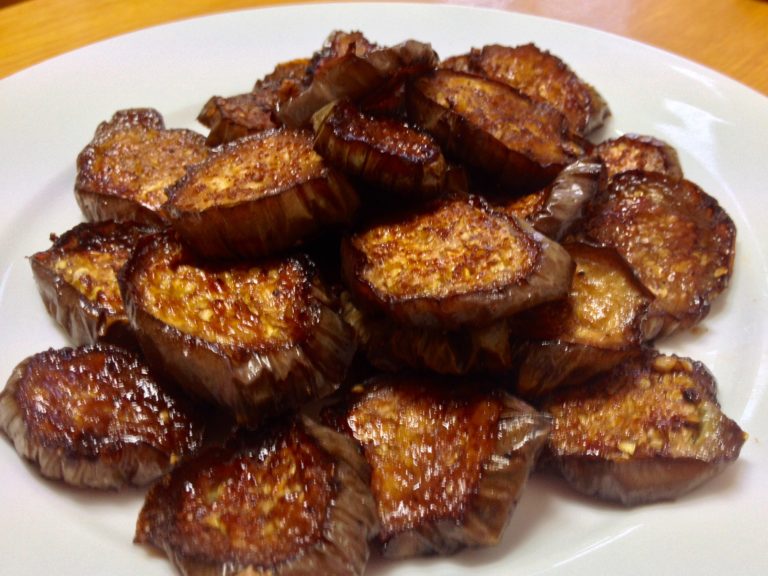 I didn't cook for a really long time.
In Hanoi, where we lived for a year and a half, where I was housewife for a while, then back to teaching, I rarely cooked, rarely baked, rarely ventured into our minimalist kitchens for more than just coffee or breakfast muesli.
We had Ba, and Ba did our morning market shopping, rolling up to our enormous house in Tay Ho, then up to our tiny apartment in Truc Bach when we downsized, every morning at 8am on her rickety no-speed bicycle, our little packets of meat and veggies and fruit in the front basket. She started out as our morning housekeeper- the one who would help us to maintain a ridiculously oversized house surrounded by dusty building sites. When I went back to work full-time, she transitioned to morning nanny.
We had a housekeeper! And a nanny! Actually, we had three of them! Ba, Nha and Hung all took turns wrangling our lad after I went back to work and we both embarked on our possibly misguided MAs.
Them were the days, I tells ya.
Anyway, Ba.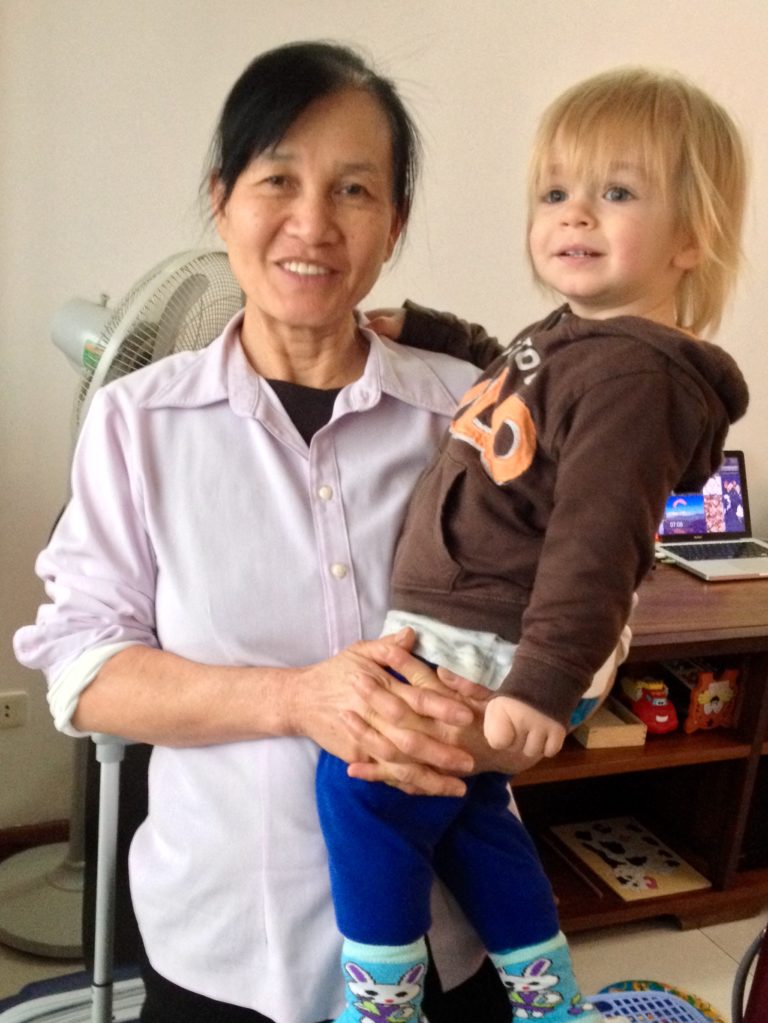 Ba bought our market groceries at local prices (gringo prices were very different, even when well-haggled) and cooked for us, enough for a lunch and a dinner. Nothing fancy. Lots of rice and veggies. Comfort food from other people's cultures: cabbage rolls, sweet Japanese curries, stuffed tofu, chicken soup, meatballs, spicy pork skewers.
I stopped cooking, just as I stopped writing, stopped painting,  and stopped doing a lot of other things that meant a lot to me, that used to be part of my own definition.
We moved to Saigon at Tet, transferred from the far north to the far south for work. We bade farewell to Ba and Nha and Hung in Hanoi and rented a little apartment in the south of the city, in the urban suburbs of Saigon where tower blocks loom over roosters, corrugated metal shacks, red roofs, barking dogs, canals.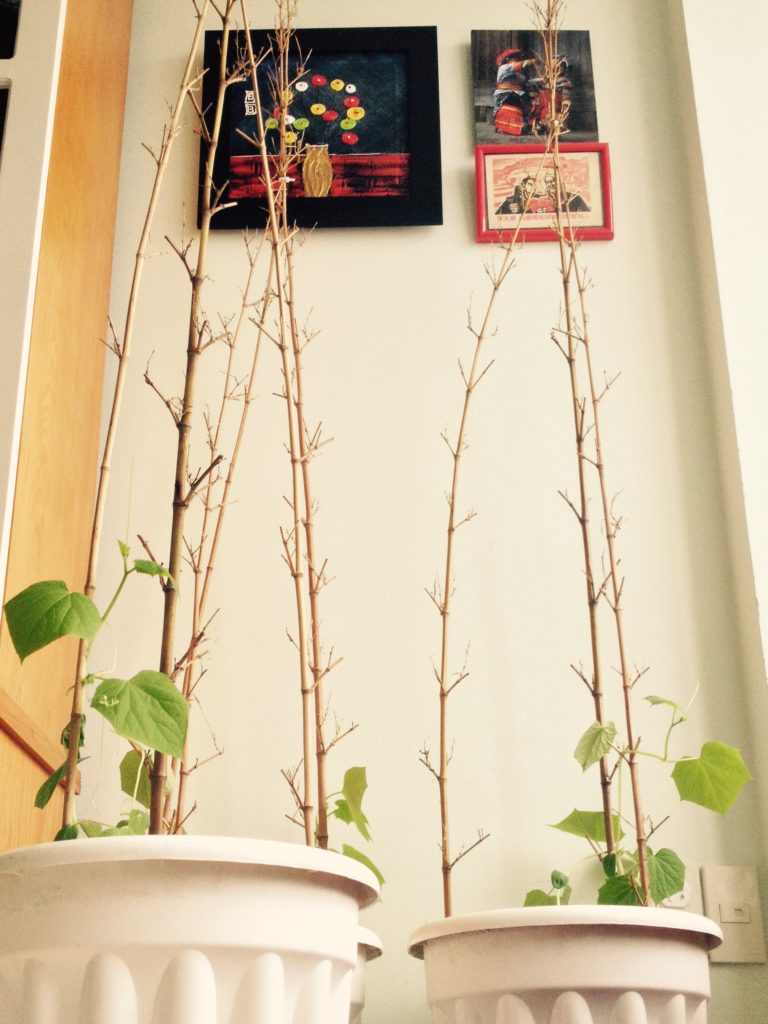 There are leafy trees. There are a lot of expats, primarily Koreans. They like their golf and barbecue, so there are a lot of barbecue joints and golf shops. Nail salons too.
It's a peculiar place to live, both generic and weird at the same time.
In the months since we moved here in February, I've been slowly returning to cooking. We reclaimed our kitchen, remembering that we actually like to cook and want to cook and don't need anyone to do it for us (although it was nice to come home to).
We can buy pretty much anything here, so my old need to source replacements for home comforts is no longer necessary. No more weird Chinese substitutions. No need to be able to do everything in a wok.  We have an oven- small, but it bakes bread easily.  For a while, I was buying 5kg bags of Indian atta flour from the supermarket nearby and making endless no-knead loaves and big balls of chapati dough.  Mango loaves, banana muffins, zucchini cakes.
My current approach to cooking is therapeutic. A break from work, a break from studying, a break from a mad toddler.
Lots of experimental flavours, seeing what works with what. Western recipes, not so western recipes. Ones somewhere in between.
Below is one I made this weekend, an experiment in revisiting China while still messing with it.
Char siu eggplant-叉燒茄子. Not pork. Just eggplant, but I'm a fan of super melty umami Chinese eggplant. I'm also a fan of nice Cantonese barbecue pork.
Might as well marinate it and see what happens.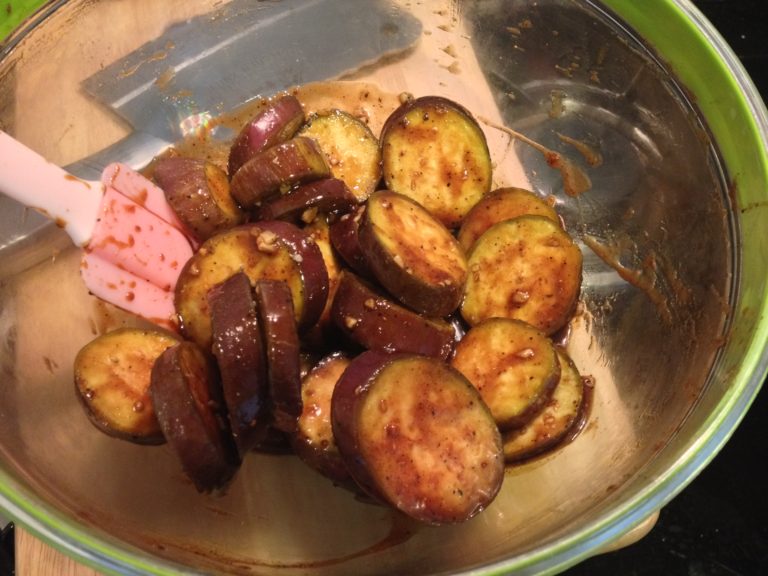 This is what I used, approximately.
1 large eggplant, sliced into 1 cm disks
A bunch of garlic, mashed and finely chopped up
Two tablespoons each of soy sauce, oyster sauce, hoisin sauce and honey (though I'd easily halve that next time- it was sweeter than I prefer).
A tablespoon of rice vinegar
A tablespoon of 5 spice powder (the one in the supermarket was a Thai brand)
A bunch of blitzed up Sichuan peppercorns, for fun. Maybe a tablespoon.
This is what I did with it.
I marinated the slices for a couple of hours on the counter.  There was enough marinade leftover for a potential second eggplant. I ended up using it for some tofu we had. That was also really good, blitzed up with peanuts and garlic and ginger, but that's another story.
I turned the oven on to 400F/200C, wrapped some lightly oiled aluminum foil over the drip tray and arranged the well-marinaded slices onto it. Baked in the middle of the tiny little oven for 35 minutes.
Easy peasy.
Everything was all browned and sweet and gooey. Eggplant candy, with a slight Sichuan numbing.
Next time, I'll cut back on the sweet end of it and throw in more fire. I think it could definitely handle a load of chilis and ginger.
Loads.