Hello. I've been away for a while, haven't I?
It's been a very hot,  busy summer, much of it nowhere near a kitchen to call my own.
We were in Morocco for a month, which was lovely in spite of the fact that it was 46 degrees in the shade AND Ramadan for most of the time we were there. Whoops.
Anyway. I've been back in Shanghai for nearly three weeks now and have yet to dust off the oven and check to see if it even still works. Poor thing. I've made chili and tacos and a ton of wok tortillas, but those aren't new things so I can't exactly re-write posts for them just for the sake of it.
This one… this is one I made back in Canada just before I left, but never posted.
Why?
Because I royally screwed it up.  Kind of. I made Suzhou pork hockey pucks.
You know, the Canadian interpretation. Like, say, chop suey or bison fried rice.
Apparently my skillful light touch and intuitive cooking skills don't apply to pastry.
I love Suzhou mooncakes. In China, however, it isn't worth the energy to actually make them at home because they are so good, so fresh and so cheap here.
For the past two mornings, on my long, hot trek out to the Entry-Exit Bureau in deepest, darkest Pudong to renew my residence permit, I've stopped at a tiny stand at the bottom of our street to buy a little brown bag containing exactly two mooncakes, still hot and flakey and filled with lovely, juicy, umami seasoned ground pork, fresh from the oven. 6 kuai (under a buck) for a very solid breakfast.
I was too busy eating them to take pictures, but below is one I took a few weeks ago when I was actually in Suzhou. See the little red stamp on the ones below? They stamp their mooncakes, yes. Much more low key than all the fiddly crimping and dough-engraving that goes on with the classical lotus paste and duck egg filled Cantonese style ones that are exchanged (and then re-gifted and re-gifted, like fruitcake) during the mid-autumn festival (coming very soon).
Given my fondness for them, I decided to add them to my list of experiments when I was back in Canada. I used a recipe swiped from my lovely friend Fiona, who actually attended a cooking class that showed her how to make these correctly. If you look over at hers and actually follow her directions, you'll be fine.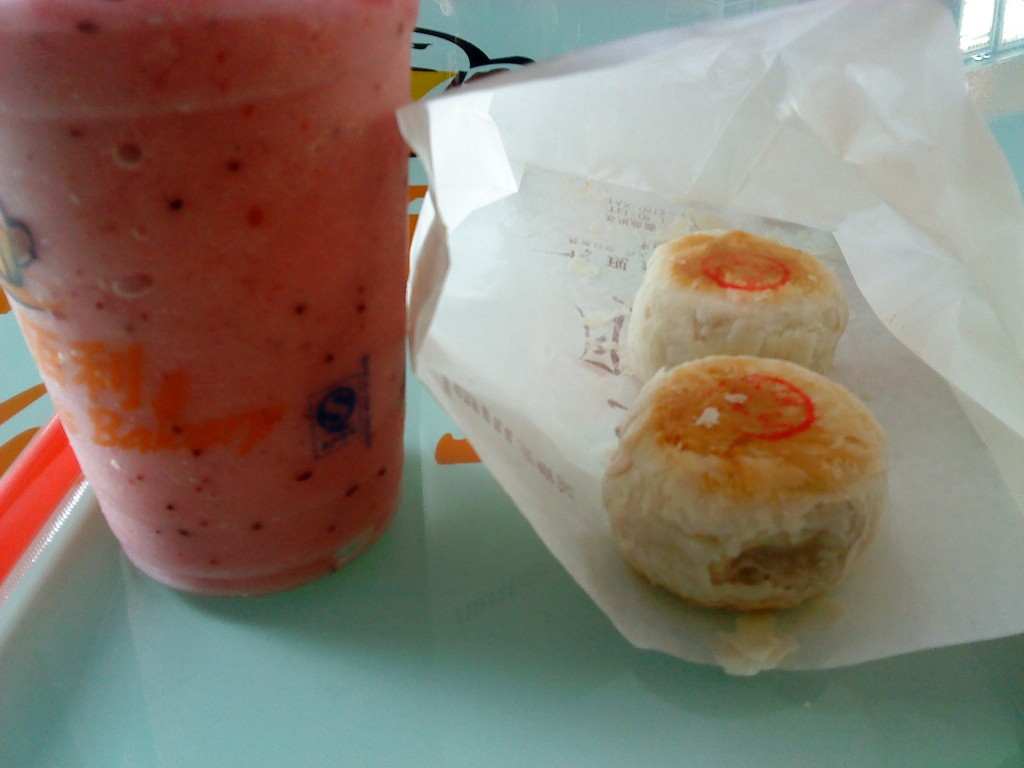 I think I doubled it or tripled it because we were going camping and I had planned to feed my extended family with them. Which I did, but with caveats. Like, hey, don't forget to peel off half the dough before you eat it!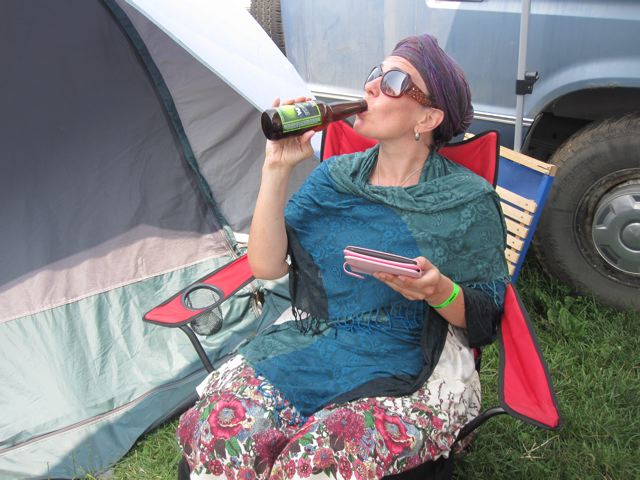 This was me, camping, feeling sorry for myself. Or not.
To make 8 mooncakes (Fiona's correct instructions): 
Dough: 120g of wheat flour, 45g of pork lard, a teaspoon of maltose syrup, and enough hot water to make a soft dough. Knead for 10 minutes. Then make a second dough from only flour (80g) and lard (50g), no water, and knead it well.

Seasoned pork mixture: 1tsp each of salt, sugar, sesame oil, light soy, dark soy, rice wine, finely chopped shallot and finely chopped ginger mixed with 100g of fatty minced pork.
Roll the first dough into a square shape. Place the second, waterless dough in the centre. Fold the edges over the dough ball to make a square packet.

Now roll onto a rectangle about 15cm by 25cm, and fold each end of the rectangle into the middle, like folding a letter into thirds. The folding is what helps establish the flaky layers of the pastry.

Now roll this rectangle into a large square, about 25cm across. Roll up the square into a cylinder. Cut or tear the cylinder into 8 equal pieces. Take each piece and roll it into a rough disc, 10cm across.

Roll it into a small ball and place in the centre of the pastry disc. Now fold the pastry edges around the ball and pinch together so it is completely sealed. Gently roll it to return it to ball shape.

The sealed side goes underneath and the top should look smooth and rounded.

220 degrees C for 20 minutes.
Easy, right?
My recommendation? Look at how much dough I used per mooncake and use, say, half of it. And knead it less. And don't inexplicably dunk your fresh from the garden grated garlic (which I used as I had no shallot) in a bowl of water, corn starch and sugar (used inexplicably instead of the maltose, which was supposed to go in the dough not in the pork).
I have no idea why I did that.
Let's start with the right stuff. Garlic and ginger!
The Filling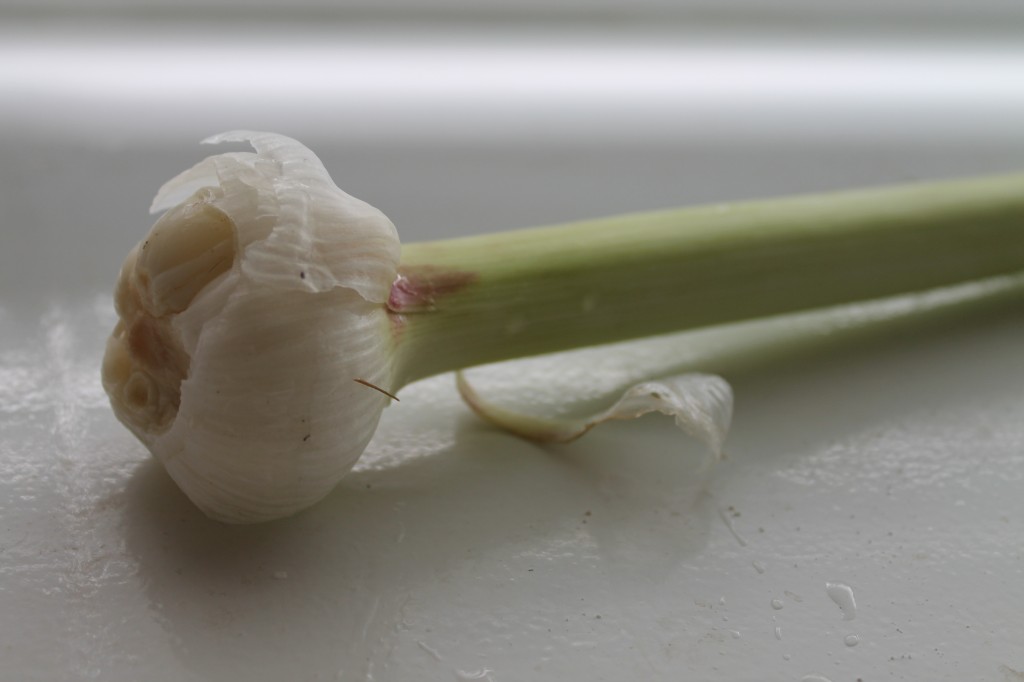 So fresh that the garlic skin was still tender and moist.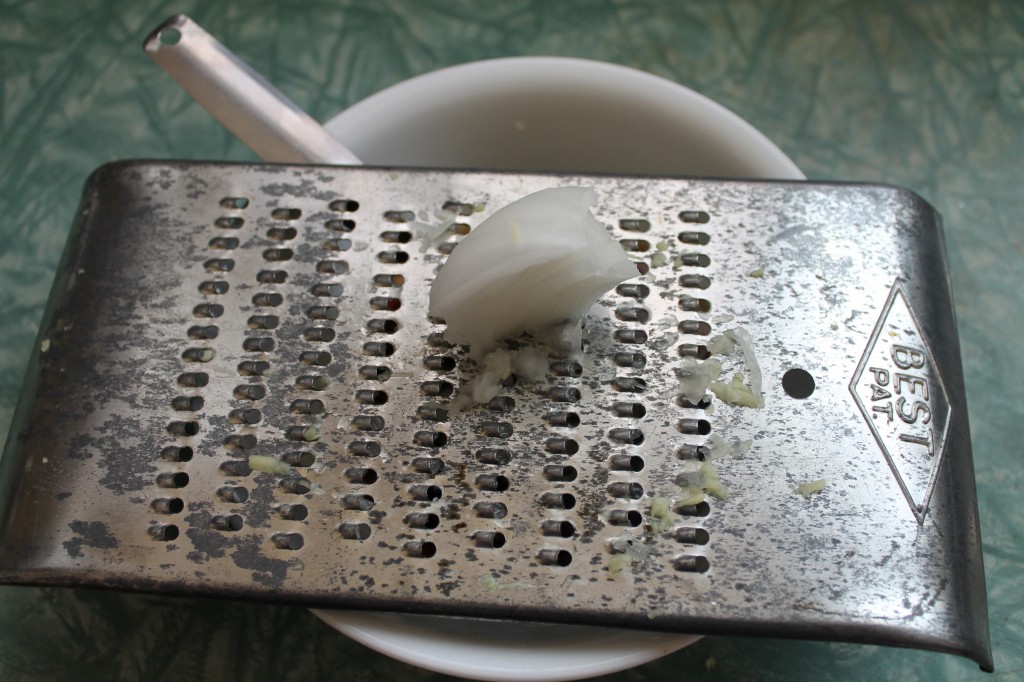 Grating ginger and garlic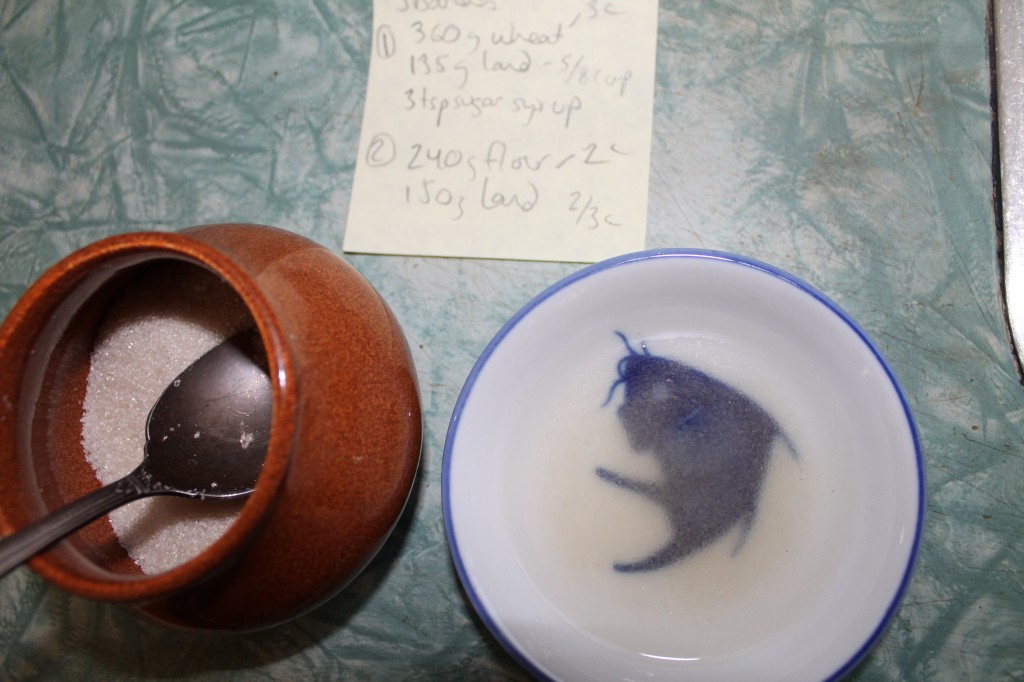 Oh look, fake maltose!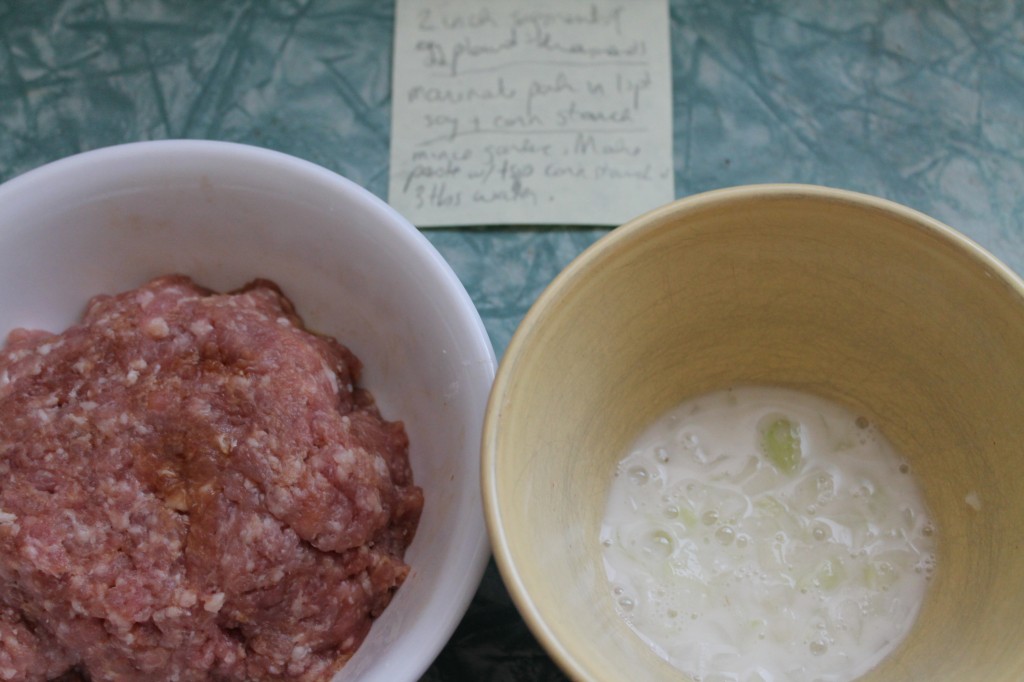 Now, let's put the garlic in the faux maltose!
(Note: I strained out the garlic, rinsed it off, then started again. Garlic, ginger,salt, sugar, sesame oil, light soy, dark soy, rice wine all got mushed into the pork and left in the fridge to marinate overnight. Smelled lovely.)
The Dough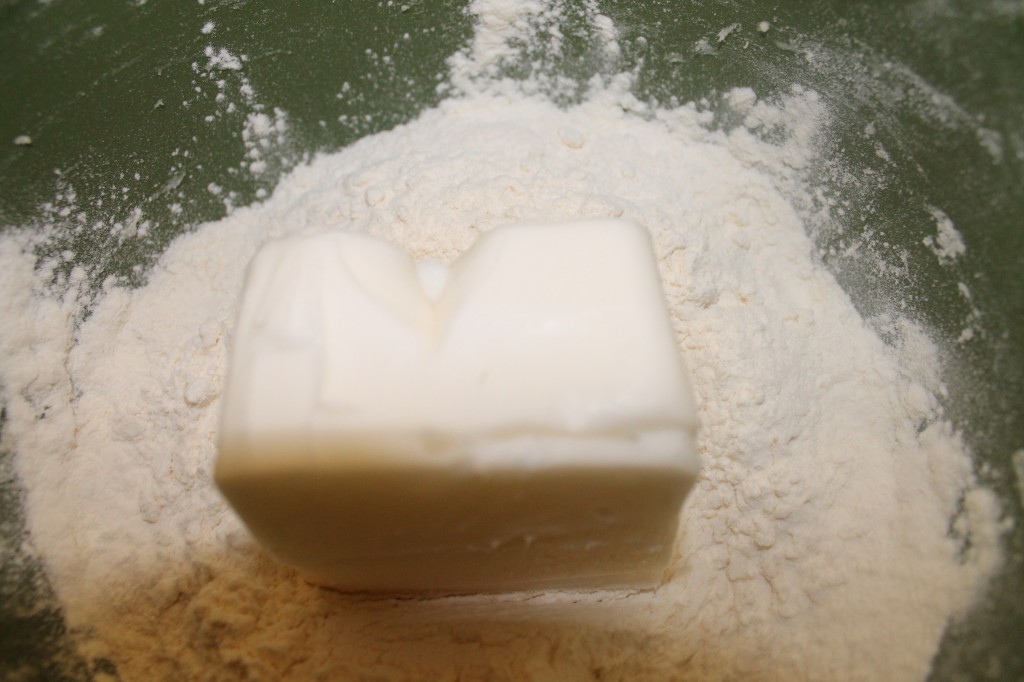 Lard, flour, fake maltose and enough water to make a dough.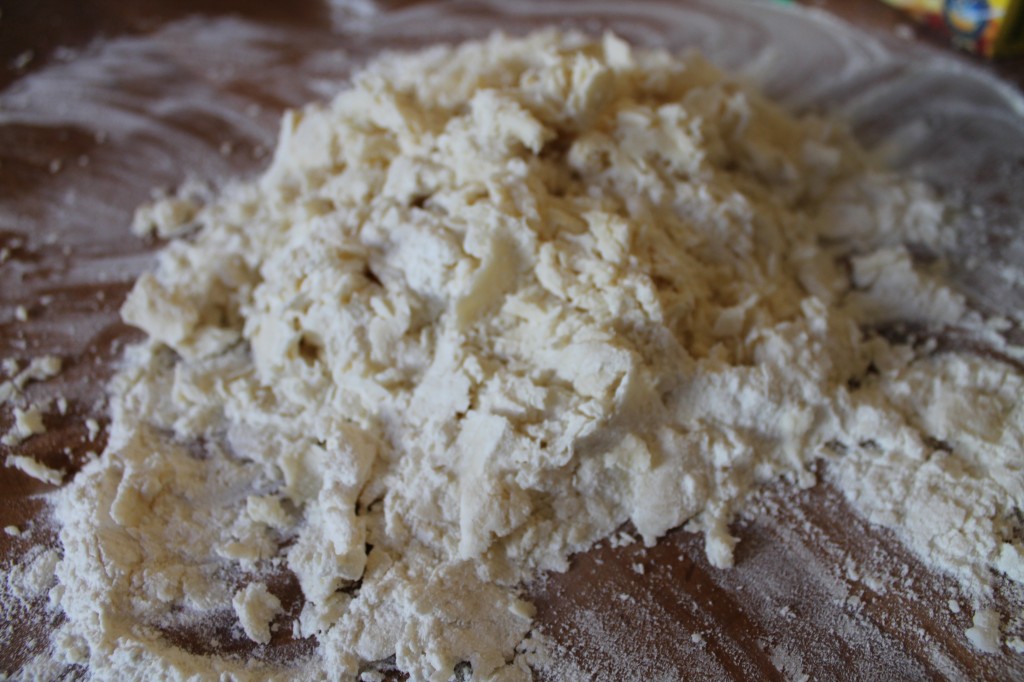 The dough, before it became coherent and cohesive.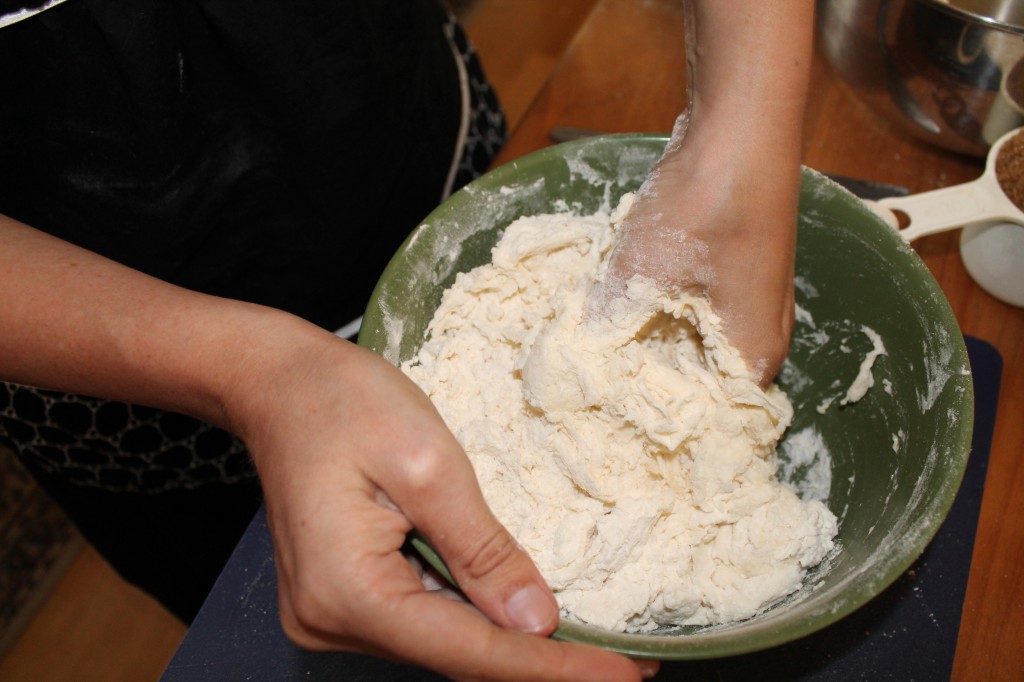 A bit more water was needed.
Kneading it. Maybe too much. I'm used to making bread. I throw my whole body into it and may have, um, overworked it a tad.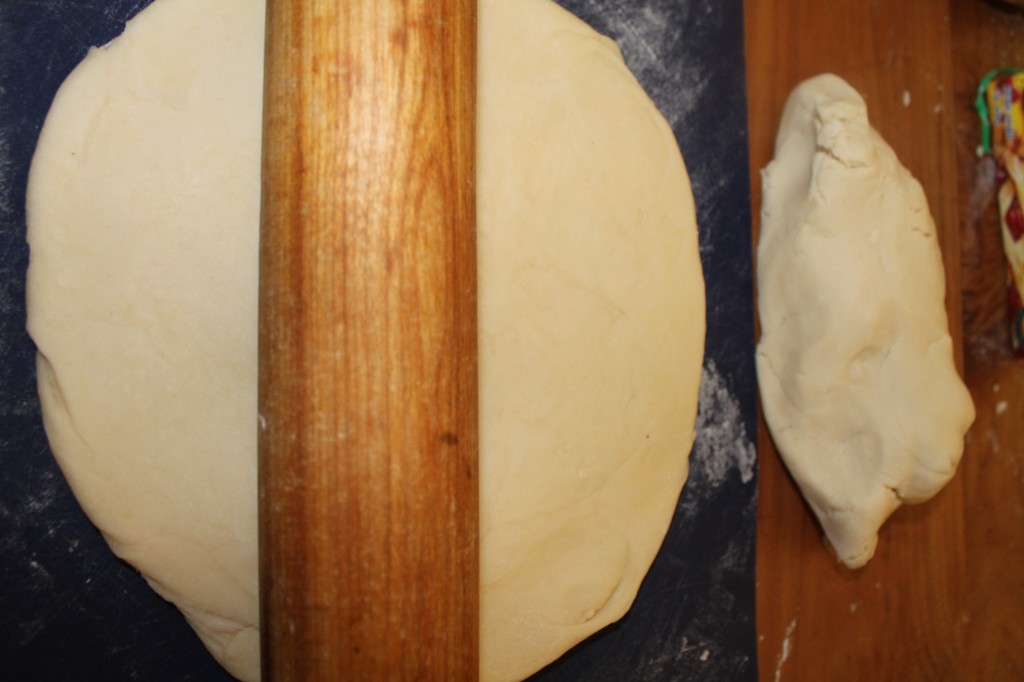 Rolled out.
And then make the second dough that's just flour and lard and place it in the middle of the first dough.
Look at how lardy and pallid it is—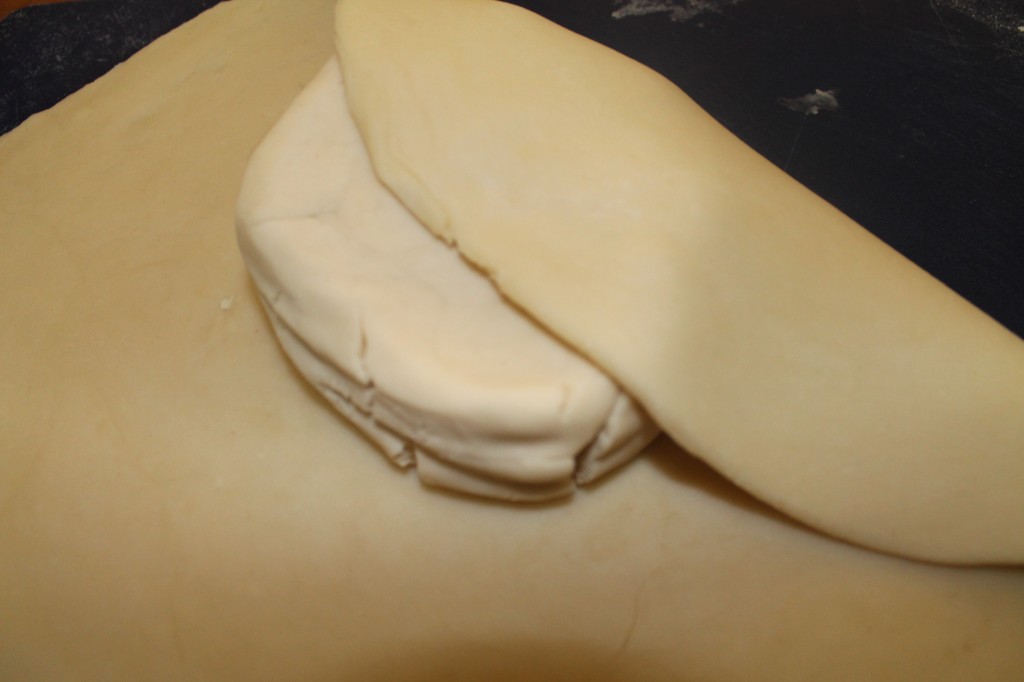 Make a dough packet, folding the lardy dough into the main dough and wrapping it up like a  Christmas gift. That is, if you tend to gift wrap lumps of lard and flour using gift wrap made of lard, flour, water and sugar water. That would be a really nasty Santa Claus.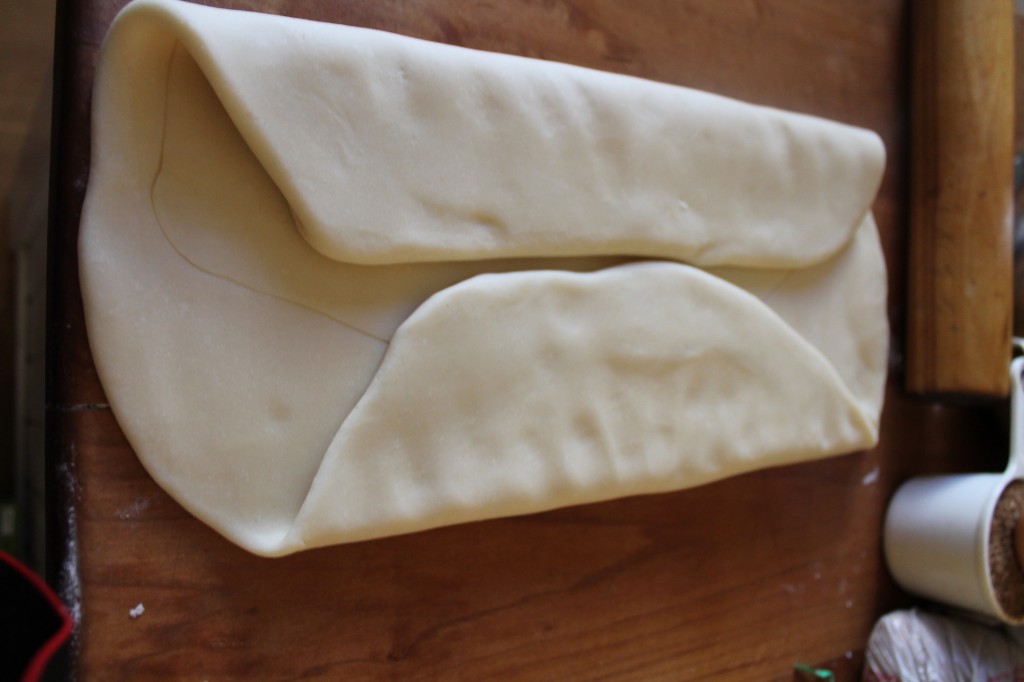 Fold it over and make layers. Roll them out, fold them over, etc, etc.
But… er… don't stop there.
Here's my first screw up: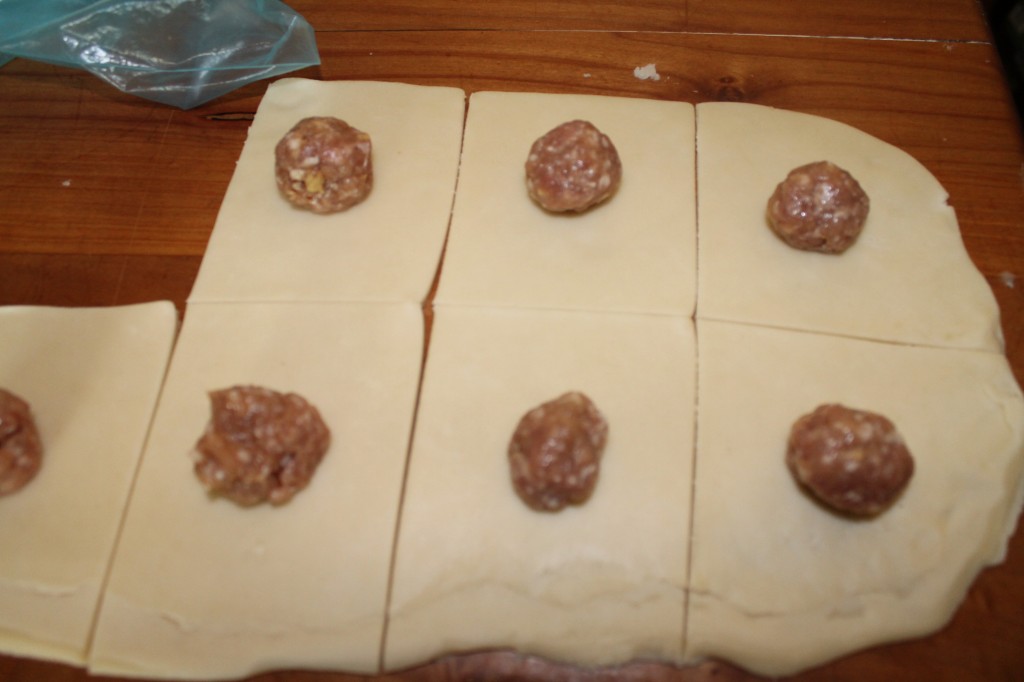 Oh, hey, let's stop reading the instructions and just roll out a rectangle of dough and put meat balls in the middle of each one!
DON'T.
Just don't.
Pucks. Hockey pucks.
Do this instead. Take your rectangle of rolled out double dough and roll it up into a tube. Because that makes more layers. And layers are GOOD.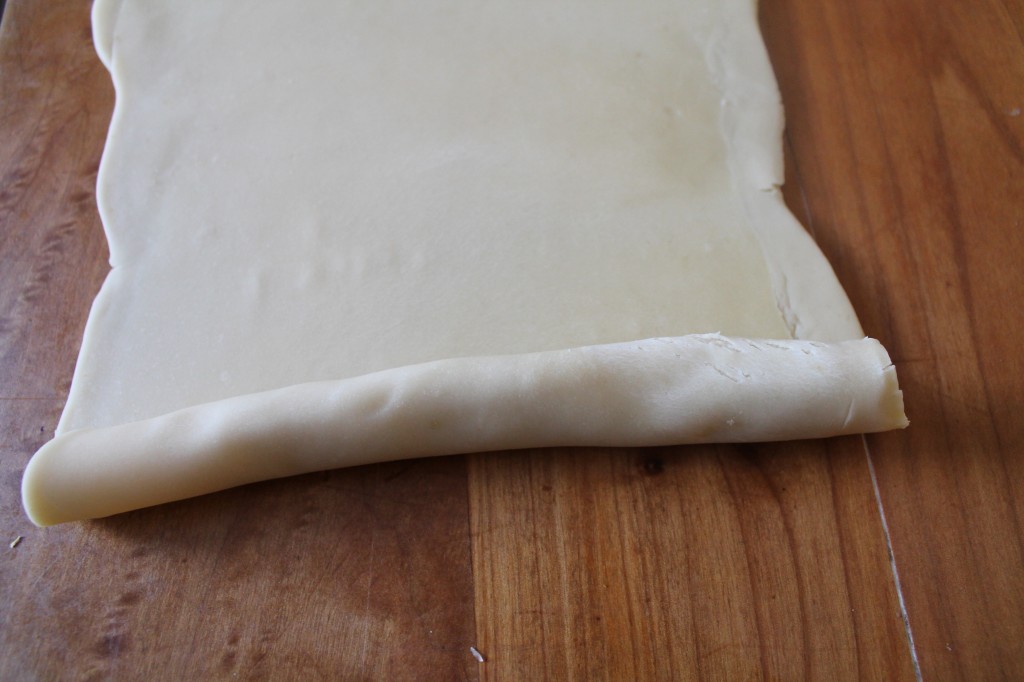 This was my second attempt, using the remaining dough.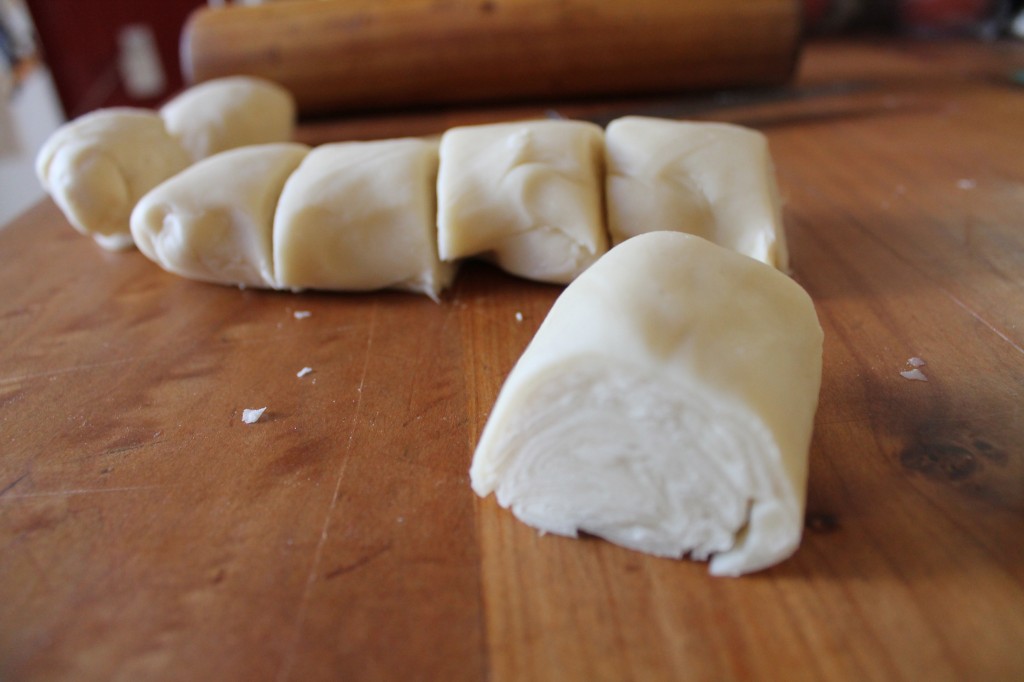 Now cut up little sections of this dough snake  and roll them into little balls.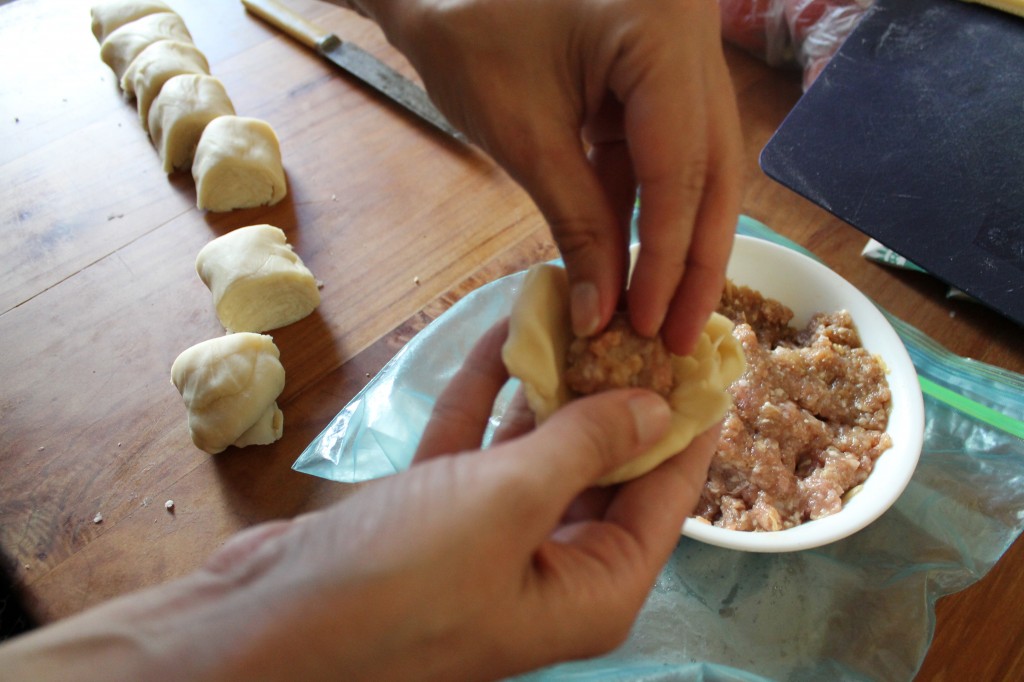 Flatten out the little balls and fill the flattened discs with spiced pork mixture. Seal with a crimp and a kiss, as you wish.
Egg wash then bake.
Yum.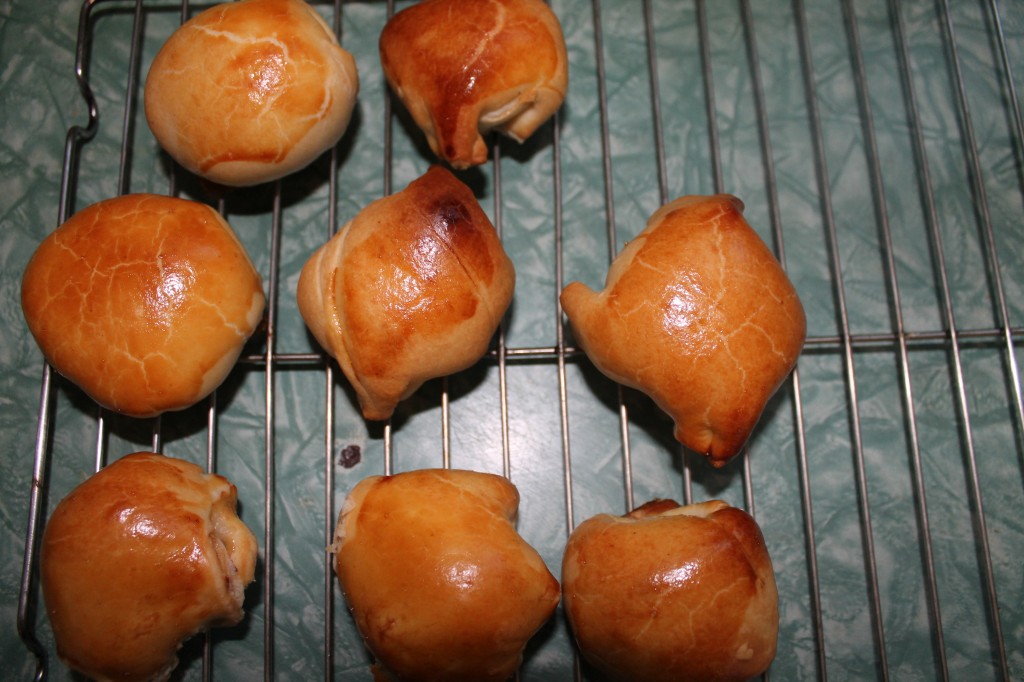 Not quite the same as the ones I get for 3 rmb each on the streets here in Shanghai, and certainly lacking the flair of the little red stamp, but the second batch I made using the dough snake and thinner dough discs worked out quite nicely.
As for the first batch, just peel off half the dough and eat them like an open faced mooncake. Call them Scandinavian or something.