This is part 2 in my noodle series. Part 1 (the hand pulled noodles) is here.
This is quite possibly the best broth in the whole universe. Except, perhaps, for a fine Tom Yam with all the bark and twigs still nestled at the bottom of the bowl. This one has its own mighty collection of bark and twigs, and plays the role of hearty autumn and winter to Thailand's fierce summer in the Cartesian dialectic of soup broths.
This is a broth that will make you pick up the bowl and sip away at the broth until it's gone, leaving only a few stray chili seeds at the bottom, long after the noodles and greens have been spooned/chopsticked away.  The rich beefy scent, umami'd up to the hilt with soy, garlic, star anise and cinnamon, needs to be brought up close to your nostrils as you sip. The chilies and garlic will sternly resolve any colds you may have stubbornly residing in your system.
Keep a few Tupperware containers of this stuff in your freezer for a cold, rainy day, then note how your mood significantly lifts after you heat up a bowl of it. Seriously. This stuff is mood altering, up there with crack and bath salts.
I had made a few experimental versions of this broth back in Shanghai, after trying to piece together exactly what went into it. I knew there was definitely cinnamon, beef, garlic. Lots of garlic. Beyond that I wasn't sure. I experimented but didn't quite get it right.
Then I found this.
Somebody did the work for me.
Ladies and gents, I give you the super secret recipe for one of the loveliest broths ever. It comes with its own built in meat (convenient!) and is best served with a splash of dark vinegar and spoonfuls of chili paste, and some fragrant greens (cilantro, scallions) and perhaps some blanched bok choy. A fried egg on top is also a good thing.  See the examples here.
This one, if you were to go into one of the Lanzhou noodle joints, is what you'd call 青菜牛肉拉面 (qīngcài niúròu lāmiàn), or beef pulled noodles with veggies (aka the bok choy).
Serves 6
1 teaspoon oil
10 scallions, cut into 1″ pieces (I didn't have any when I was making the broth, turned out fine anyway)
10 garlic cloves thinly sliced (I used 1.5 heads of rather huge garlic from the garden)
6 slices of ginger smashed  with the flat side of a cleaver
1 1/2 t chile bean paste (Togan Jiang) (I couldn't find this so I threw in a few dried Thai chilis)
2 cinnamon  sticks (primarily use cassia in China)
2 star anise
1/2 cup light soy sauce
2 lb chuck steak, trimmed and cut into 1 1/2 inch cubes (I used about 2/3 of a roast- the kind that's tied up with string)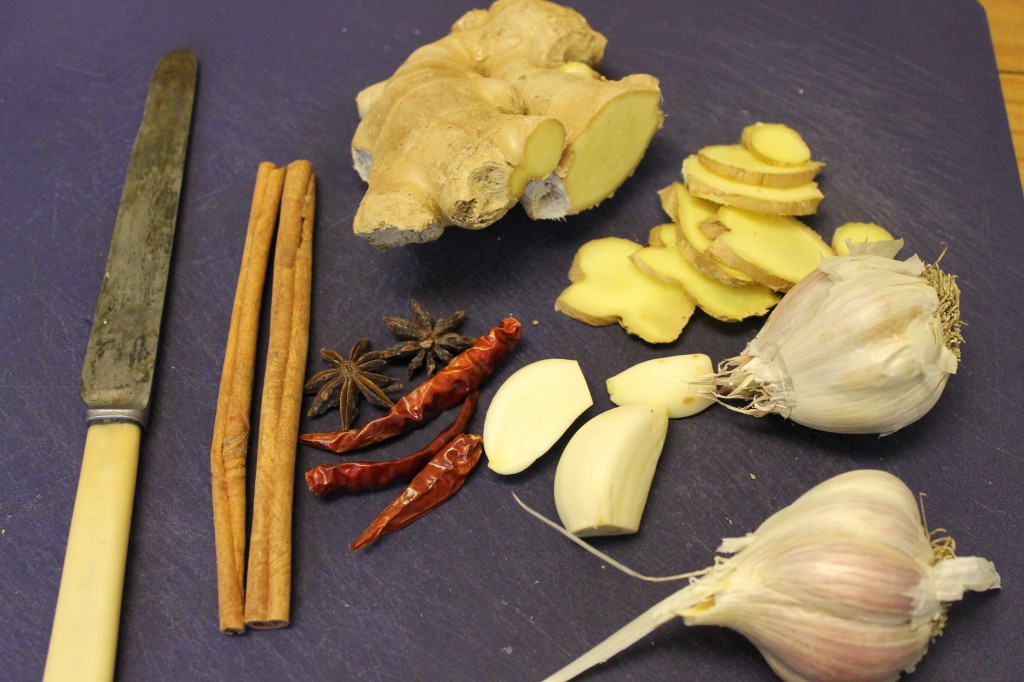 I roughly chopped the garlics and sliced the ginger into discs.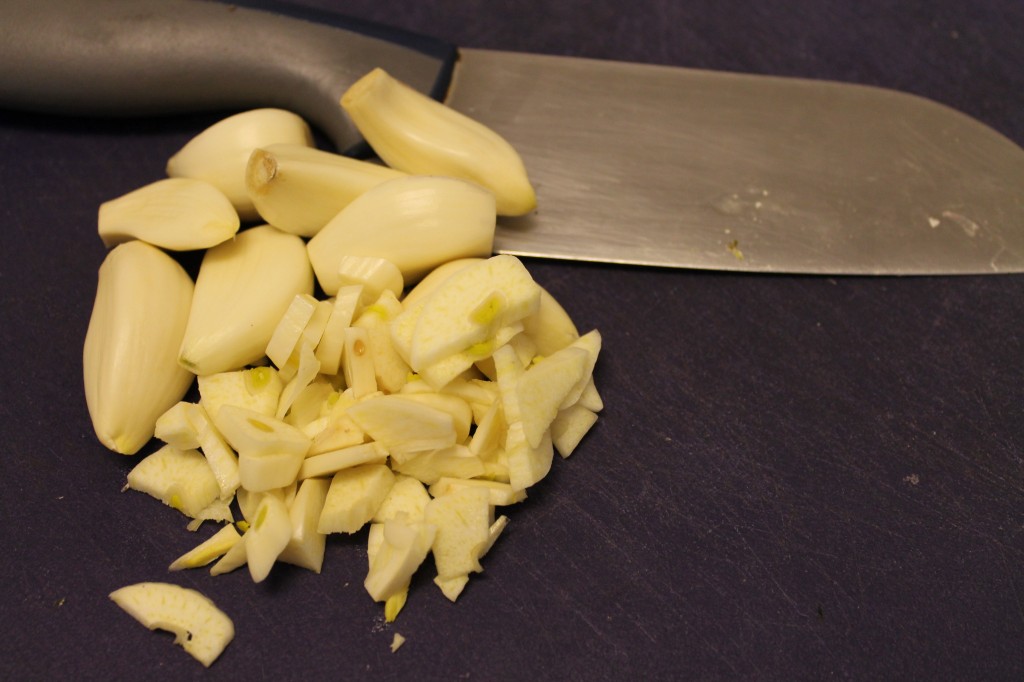 Toss the ginger, garlic, cinnamon, star anise and chilies (or chili paste) into the hot wok with a little  oil and swirl it all around for a minute to release the flavours. If you have the chopped scallions, add them too. I didn't have any so I have no idea how they work out at this point.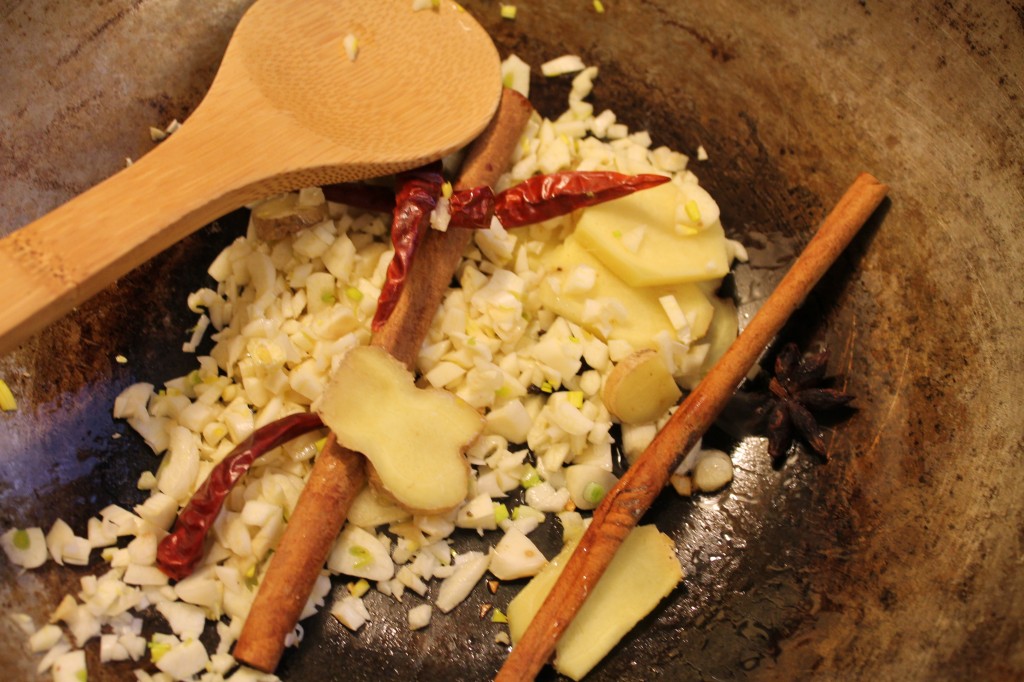 Deal with the meat stuff.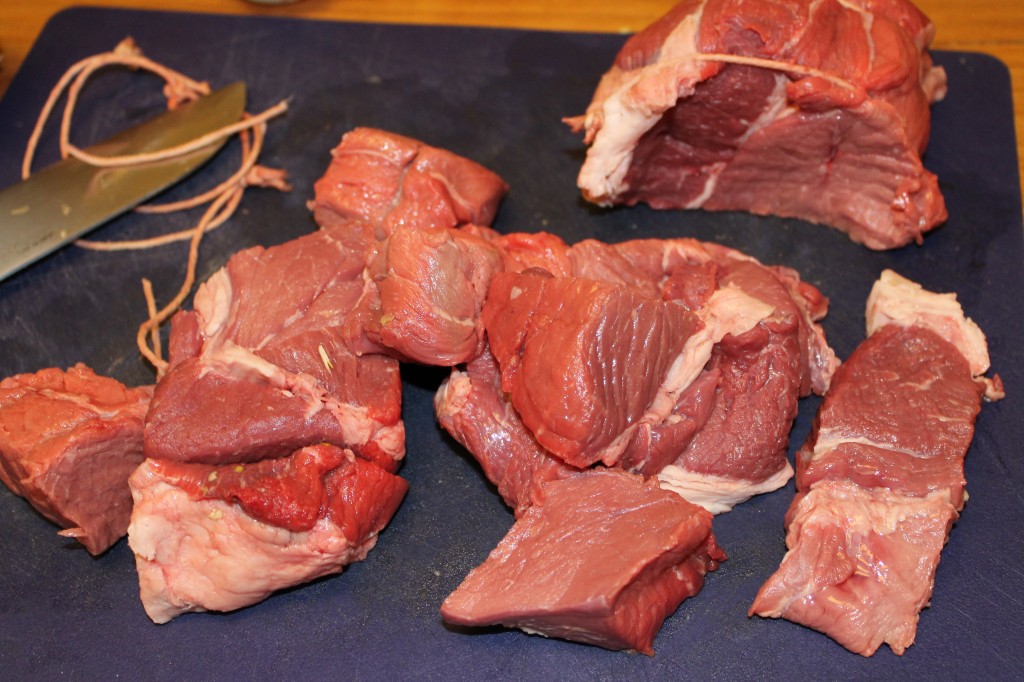 With the beef cubed, move the lovely fragrant barks and twig mix over to your preferred soup cauldron.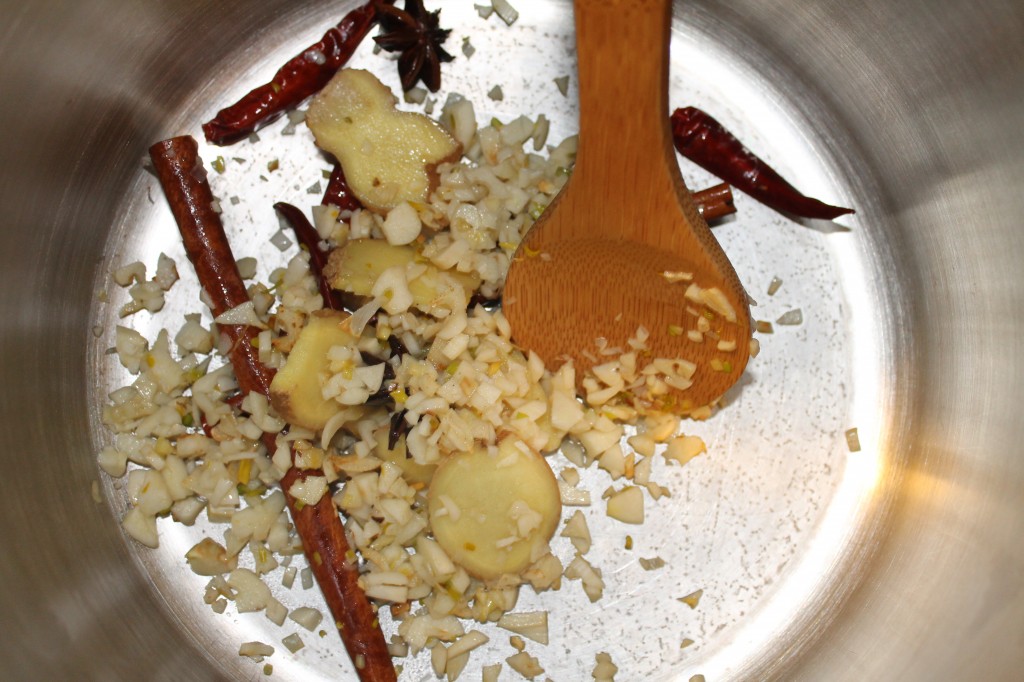 Throw in the beef cubes and add about 9 cups of water and half a cup of soy sauce. Bring it to a boil, then cover and simmer 1.5 hours (or 2 or whatever- just watch that the water doesn't evaporate too much).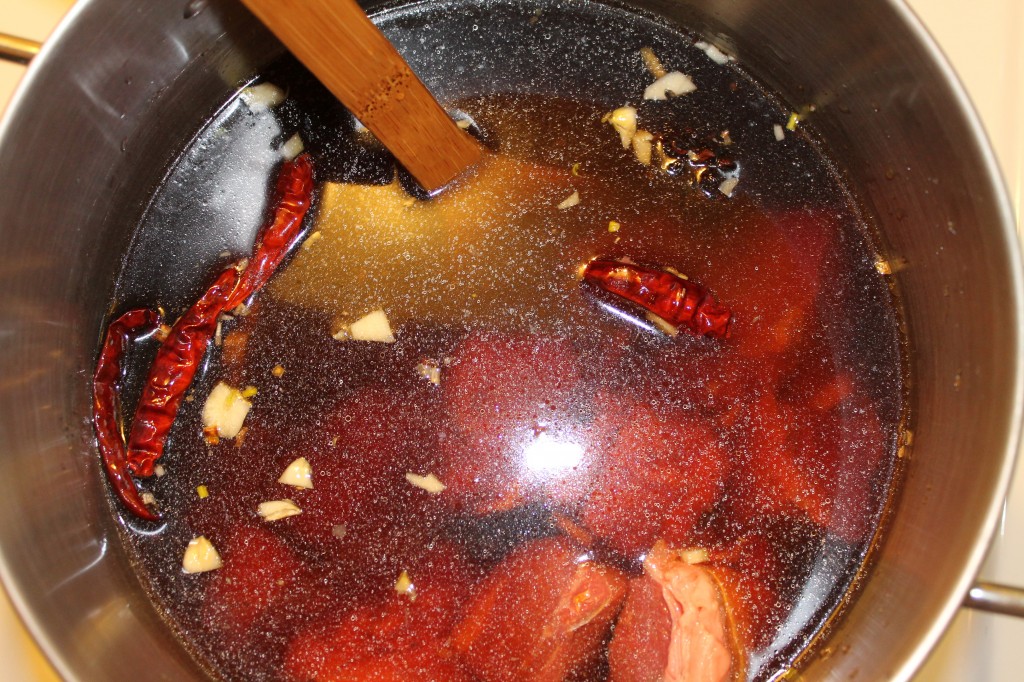 After it has simmered on low long enough, you'll want to separate the chunky bits from the brothy bits. I used a pasta strainer, pouring everything out into another biggish pot, catching the detritus (and beef) in the strainer.
I tossed the ginger, cinnamon and star anise, mashed up the garlic and chilies and added them back to the broth, and moved the beef cubes to a bowl to cool.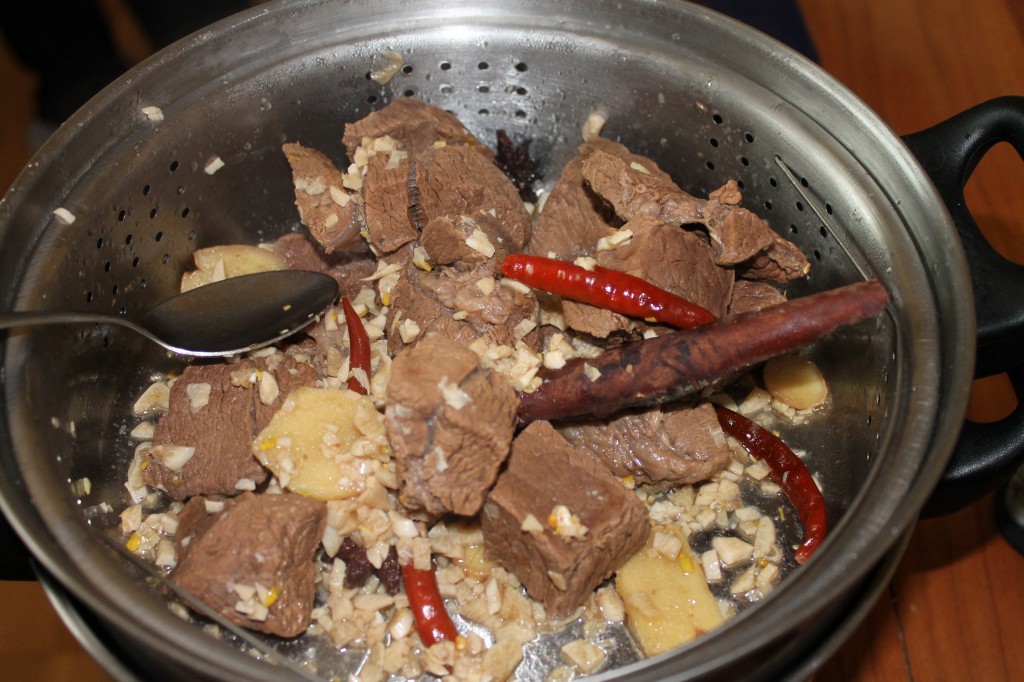 The beef will be very hot so let it cool a bit before you start to trim it.  I cut off the fatty, gristly, tendonny bits. Don't trim it before you make the broth though, as these scary bits contribute a lot of the flavour. Give them to the cat after you've simmered the soup.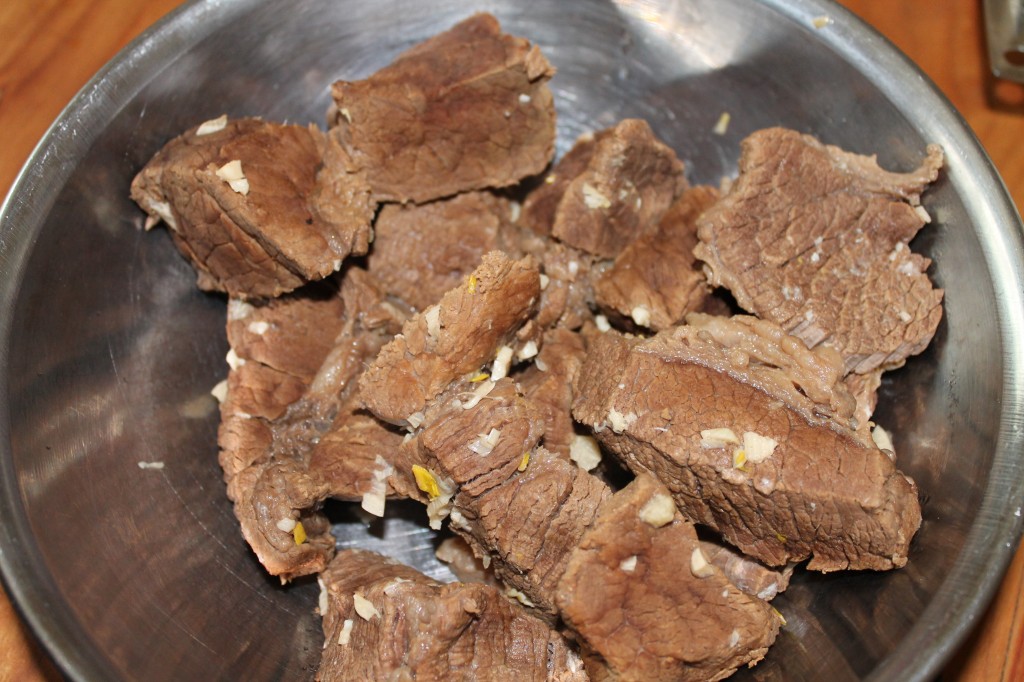 Thinly slice the beef. You don't need much. One cube per person should be more than enough.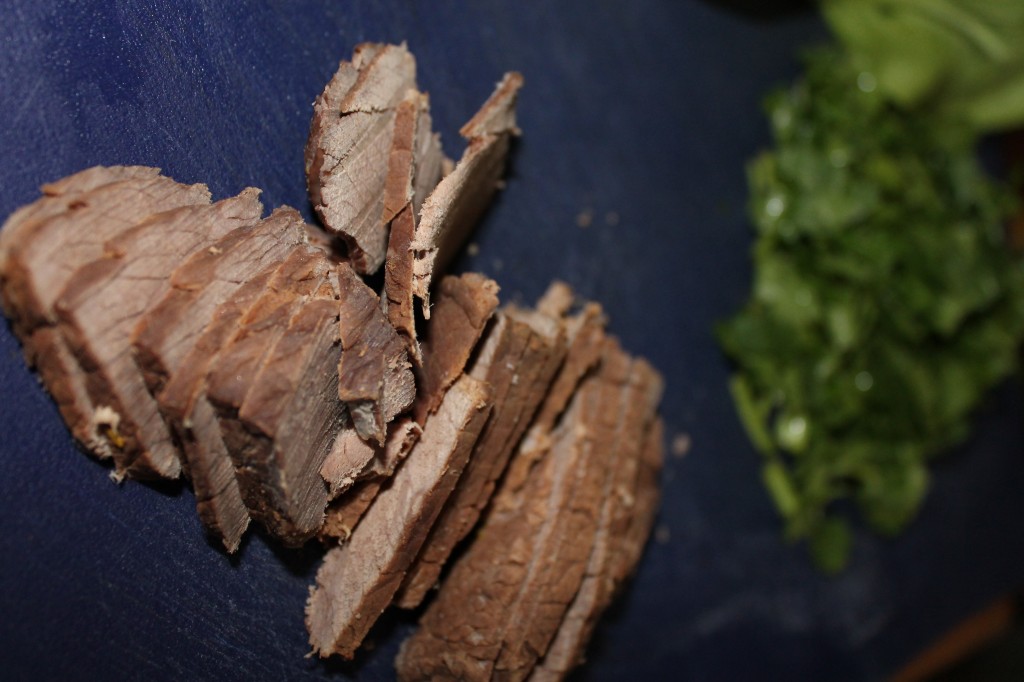 Garnish your soup! I like green onions, green chilies marinated in rice wine vinegar, cilantro and bok choy. When you're making the noodles, you can also blanch the bok choy in the boiling broth for a minute or so before serving.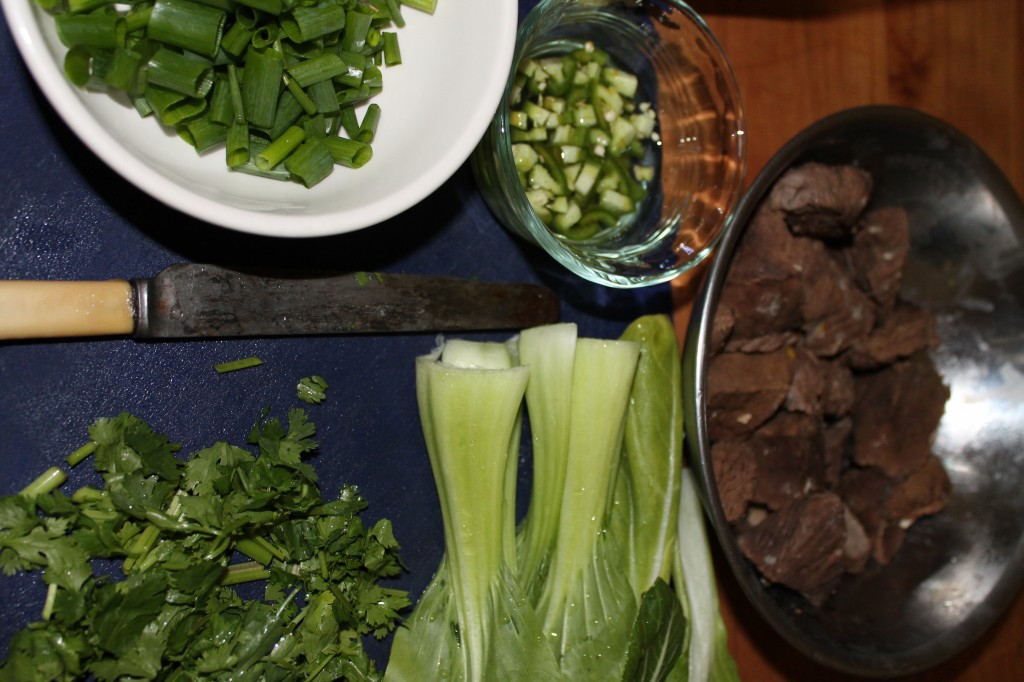 Here's the broth with noodles, served simply, for those days when you just want something light…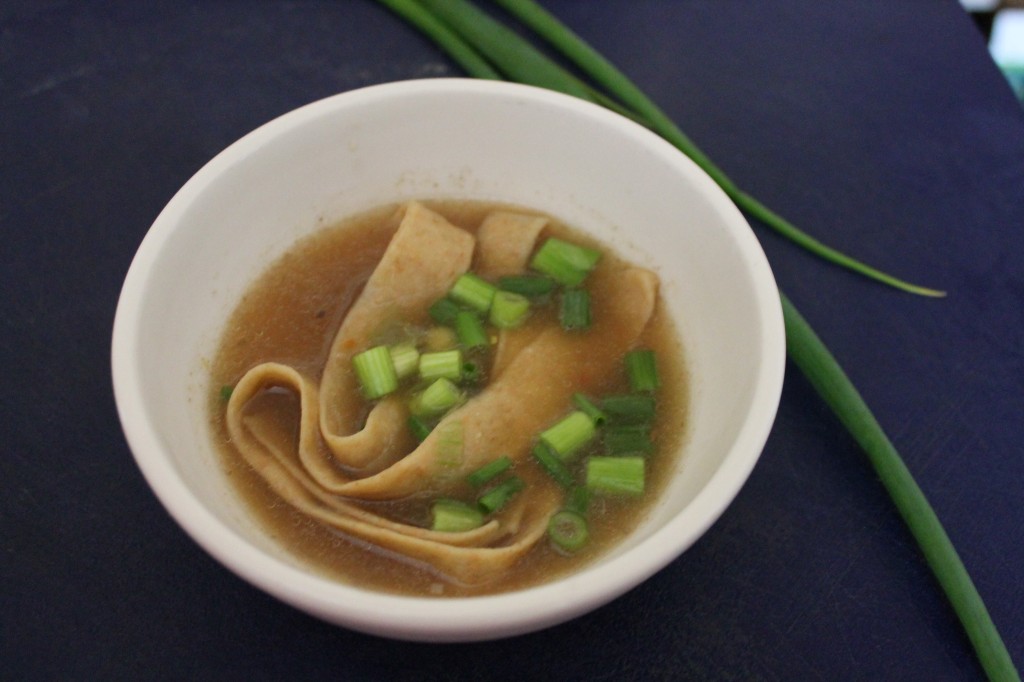 And here is the full meal deal. Don't forget to add the splash of dark vinegar and the chili paste. They add magic.