Oh. Hello. You might remember me from such diverse posts as Xinjiang Noodle Dough Tacos and Xinjiang Noodle Dough Pierogies.  I've been slightly out of commission recently, what with suddenly having 5 jobs and all.
I must say, it sure is a lot easier to cook when 1. you're actually at home (I've been either in Hangzhou or down in Xinzhuang and Qibao in deepest, darkest South Shanghai for much of the past month) and 2. not up to your ears in new and scary work projects with terrifying deadlines.
For the past few weeks, we've been living on crock pot soup, take away pizza, and neighbourhood Hunan restaurant yummies.  My drafts folder here doubled in size, full of links and titles but no actual finished product. No time.  Also, no energy.
Today, for the first day in yonks, I didn't have to go somewhere immediately to do something workish (that would be scheduled for this afternoon). I cleaned the flat, drank 2 pots of coffee, and made lavash crackers and hummus. By hand. Which is still cramped.
If you have a potato masher or a food processor, use them. Forks HURT after five minutes of mashing chickpeas. Just so you know.
Anyway, they turned out very nicely. If I were to make the crackers again, I'd roll them out a lot more thinly, as the crispy bits are better than the chewy bits (but still, no complaints).  I had been aiming for the chewy, puffy lavash I remembered from Turkey (the kind that puffed up like a hot blowfish, studded with black sesame) but it turned out a bit heavier than expected. Also, if I had any of the roasted garlic oil left, I'd totally use it (and the garlic) in the hummus.
Both the hummus and the lavash passed the Doug test though. I could hear his approval from the other side of the flat. I had a big plate of it for my lunch and it was, indeed, tasty.
Let's start with the cracker bit. I got the recipe here.
LAVASH CRACKERS
Makes 2 sheetpans of crackers

1 1/2 cups unbleached bread flour
1/2 teaspoon salt (I used kosher)
1/2 teaspoon yeast (I used instant- not sure it was right as it didn't puff)
1 tablespoon agave syrup or sugar (I used standard Chinese dark brown granulated sugar)
1 tablespoon olive oil (I used sunflower)
1/2 cup plus 2 tablespoons water, room temp
Any toppings you want, such as poppy seeds, sesame seeds, paprika, cumin seeds, kosher salt, etc.

Preheat oven to 350 degrees F/170C.
I recently found organic bread flour, quite reasonably priced (20-25 or so rmb, I think) at Pines on Anfu lu. This stuff is made in Hebei (aka 河北/North He/North River), which is interesting as I have done work in Henan (河南/South He/South River) and it's polluted as all get out. Curious to see if this is really really organic or just optimistically organic. Like, the first foot or so of soil is organic, even if the air is awful (Zhengzhou was brutal on my lungs, with daunting smog). I must remember to ask Kelly Sandor if Hebei is a feasible organic region.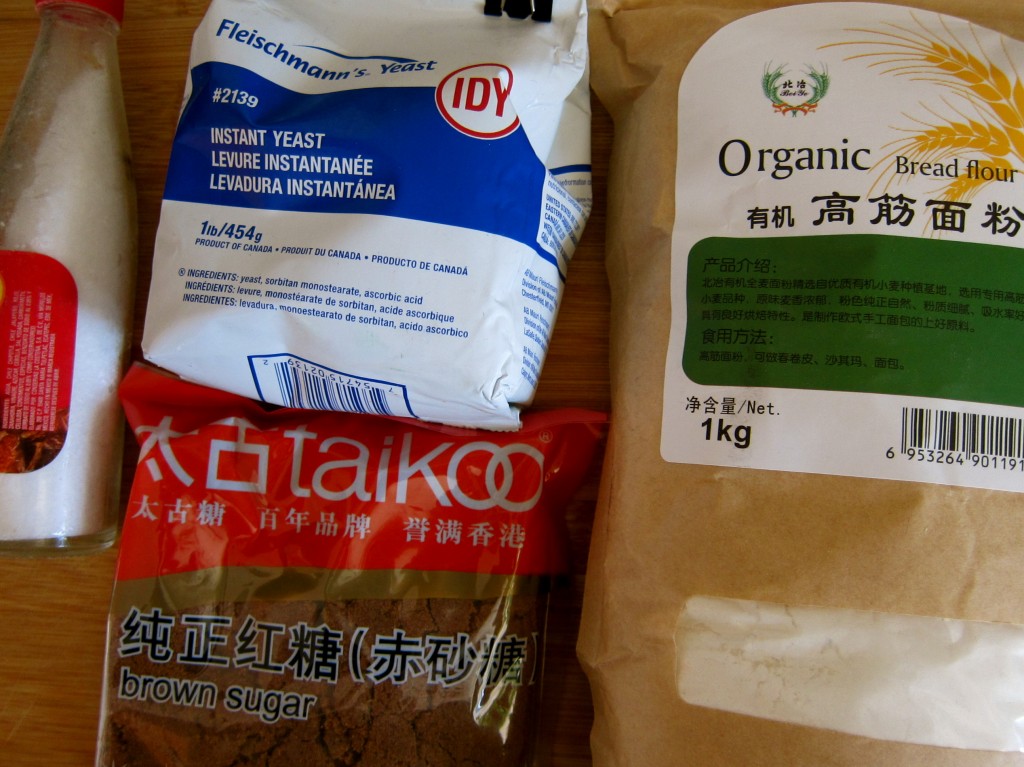 Anyway.
In a big mixing bowl, throw in the flour, yeast, sugar, salt. Mix them together. Unclump the sugar as required.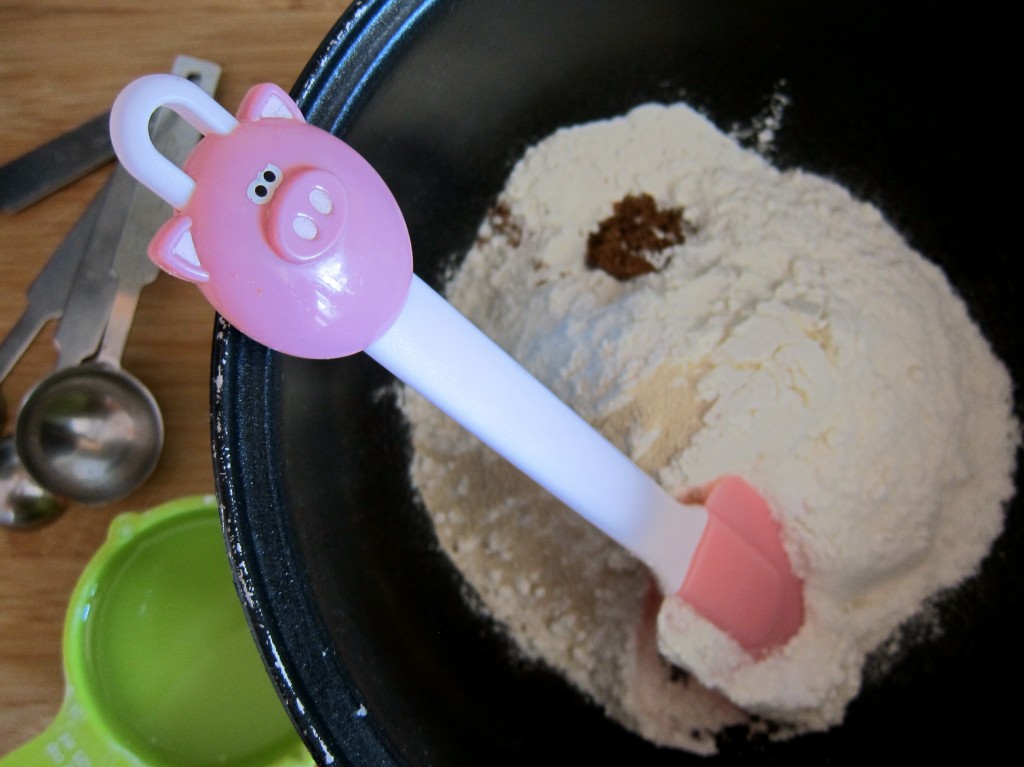 Stir in the water to make a dough, then turn it out onto a floured countertop or board or whatever makes you happy. Knead it until it's like a baby's bottom- about 5 minutes. Ball it up and oil it so it doesn't dry out. Let it rest for about 90 minutes, or overnight somewhere cooler. I put mine in the rice cooker bowl and covered it loosely with a tea towel.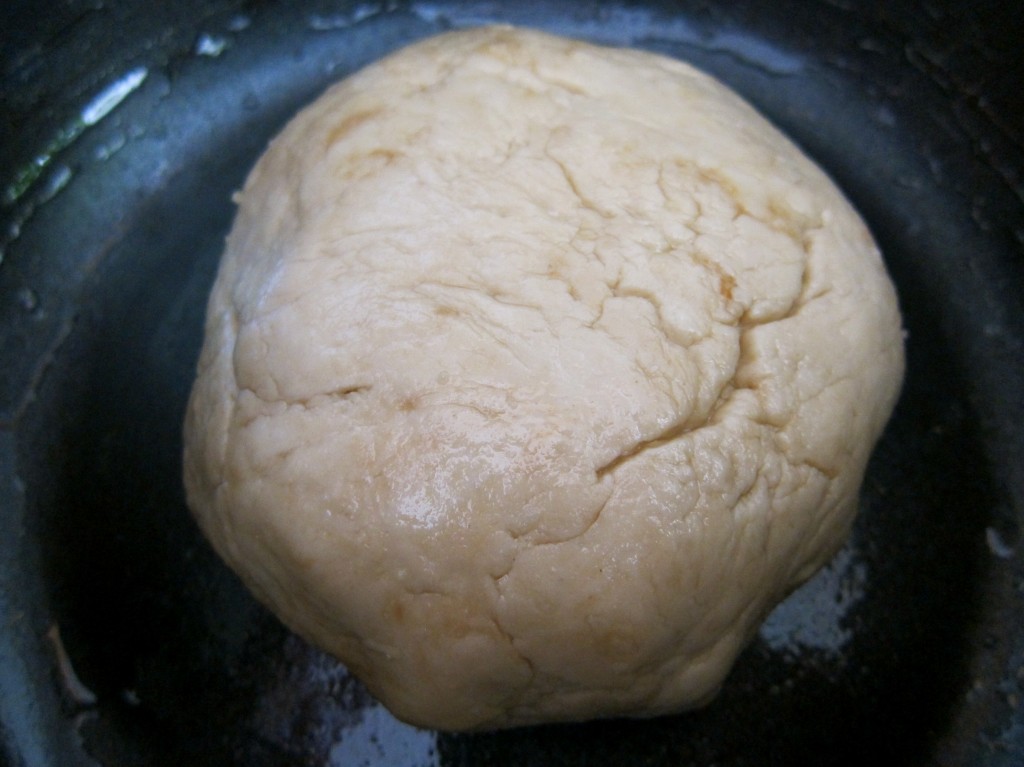 Liberally flour up your cutting board/countertop. Cut the slightly puffier ball of dough in half and form it into a rough rectangle. Don't do as I did, as I ended up with a weirdly shaped oval.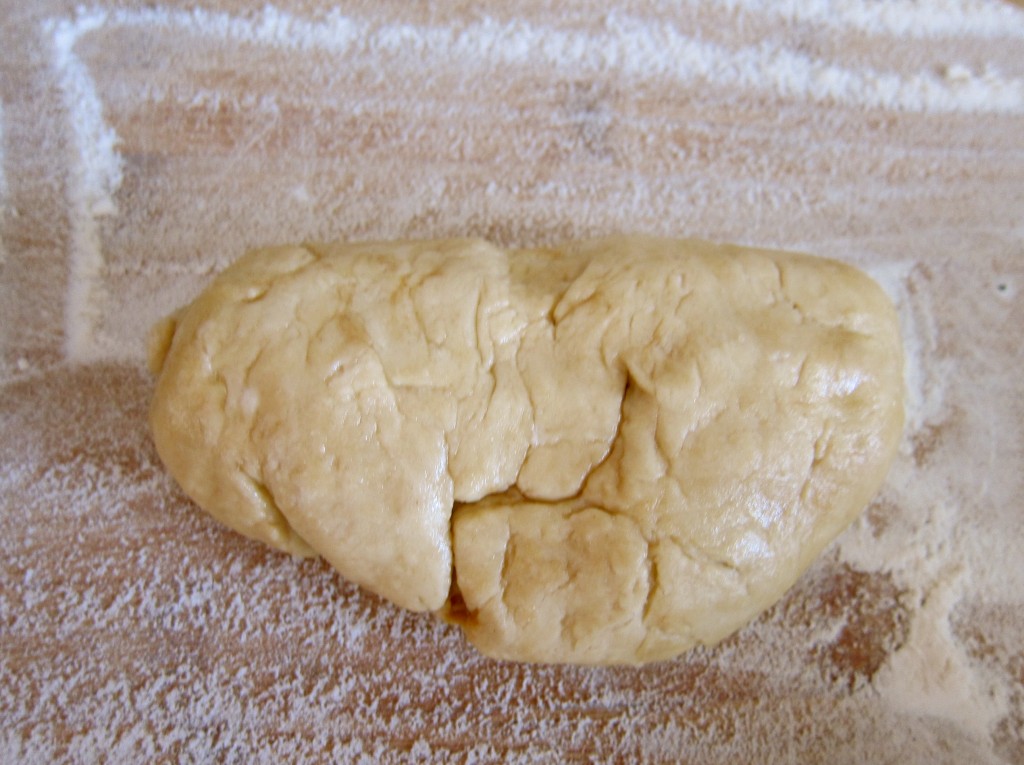 Roll it out with a rolling pin, dusting with flour as needed, until quite thin. Think, cracker thin. Then go thinner. Think  Wheat Thins thin.
Also, don't forget to preheat that oven.
Oh, and get a baking sheet out. Mine, alas, is round and not rectangular, which makes it a bit awkward to make a rectangular sheet of cracker. I did, however, come equipped with parchment paper this time (no more oiling up notebook paper!). I finally tracked it down, thanks to the lovely Fiona's tips.
This is what parchment paper looks like in China.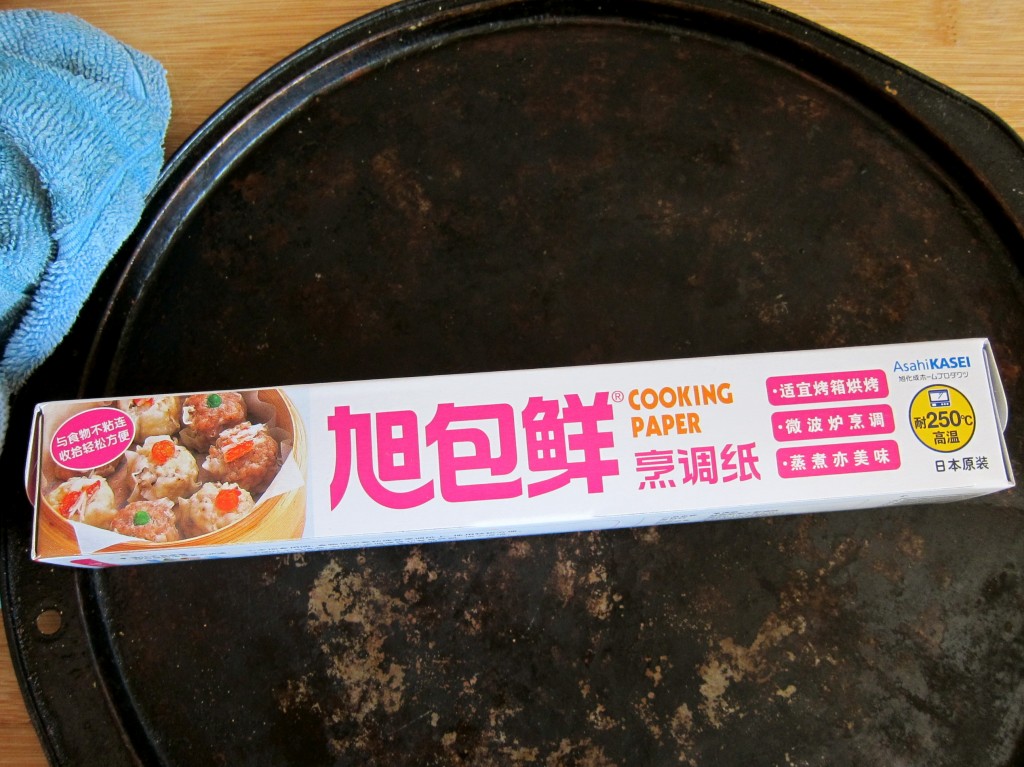 Carefully place your rolled out dough onto the parchmented baking sheet. Assemble your sprinkles. I used kosher salt, fresh rosemary from our windowsill herb factory, and ground Kampot black pepper (from our kilo bag bought in Cambodia last year).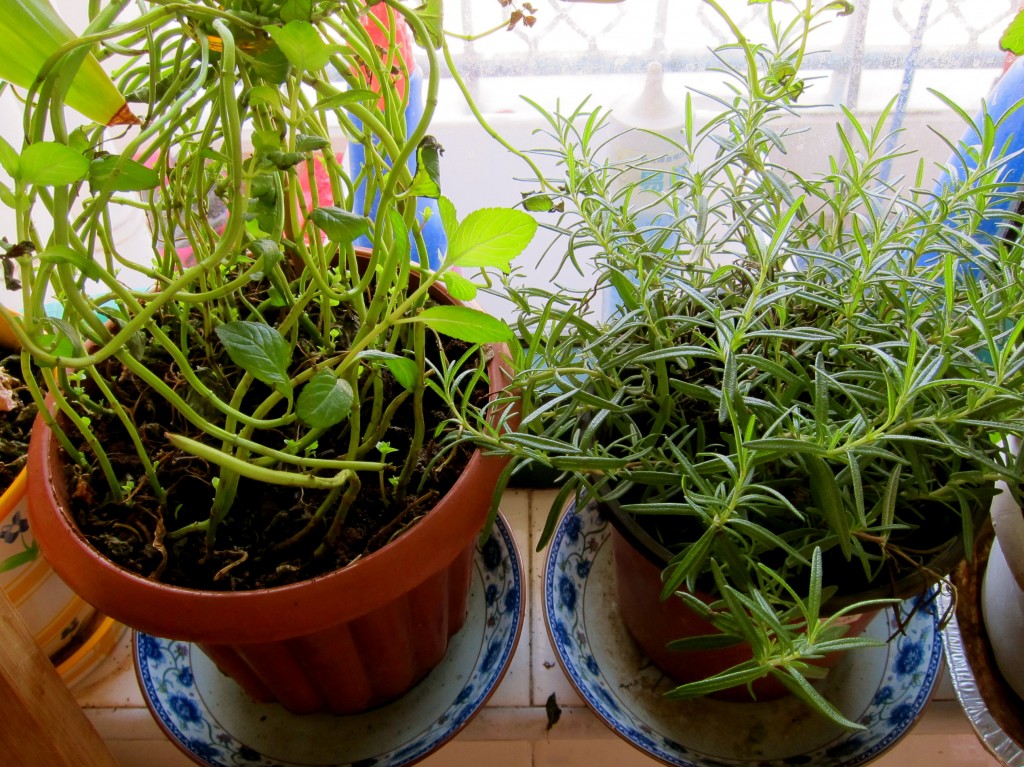 Oil up your cracker dough, ever so lightly. Enough to give it a sheen rather than a slick. Sprinkle it with savoury goodness, then with fingertips, massage your sprinkles into the dough. Press press press.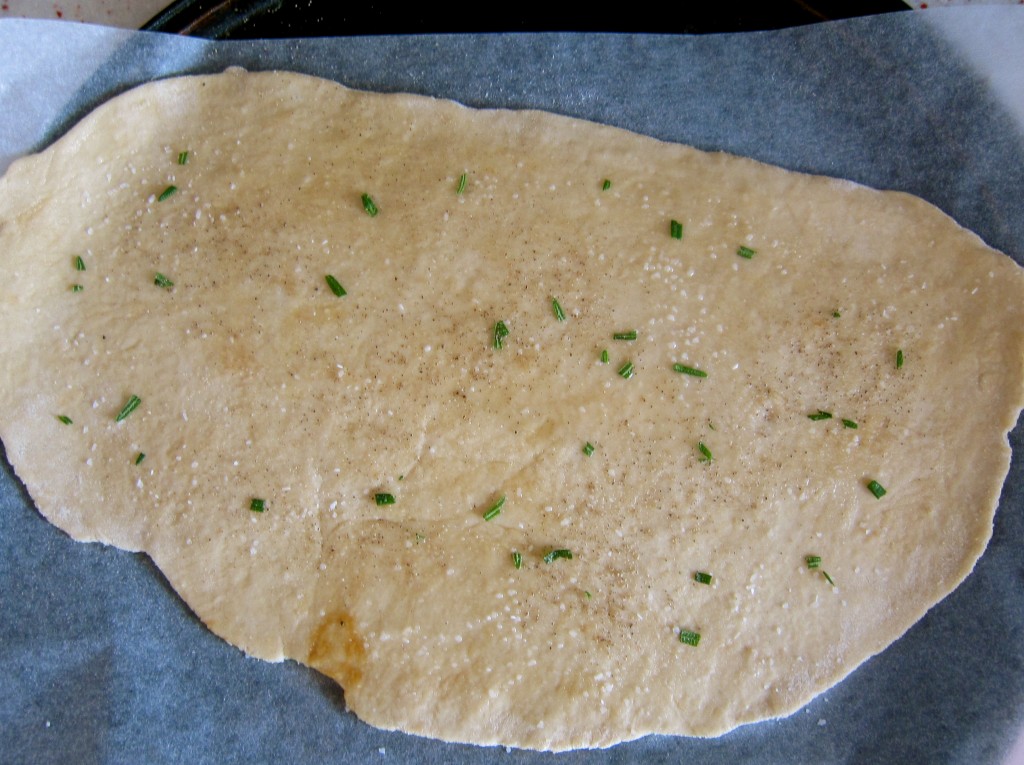 Bake in the middle rack for 15-20 minutes.
The bottom lavash was thicker and chewier; the top one was rolled out thinner. The top one, I think, was better.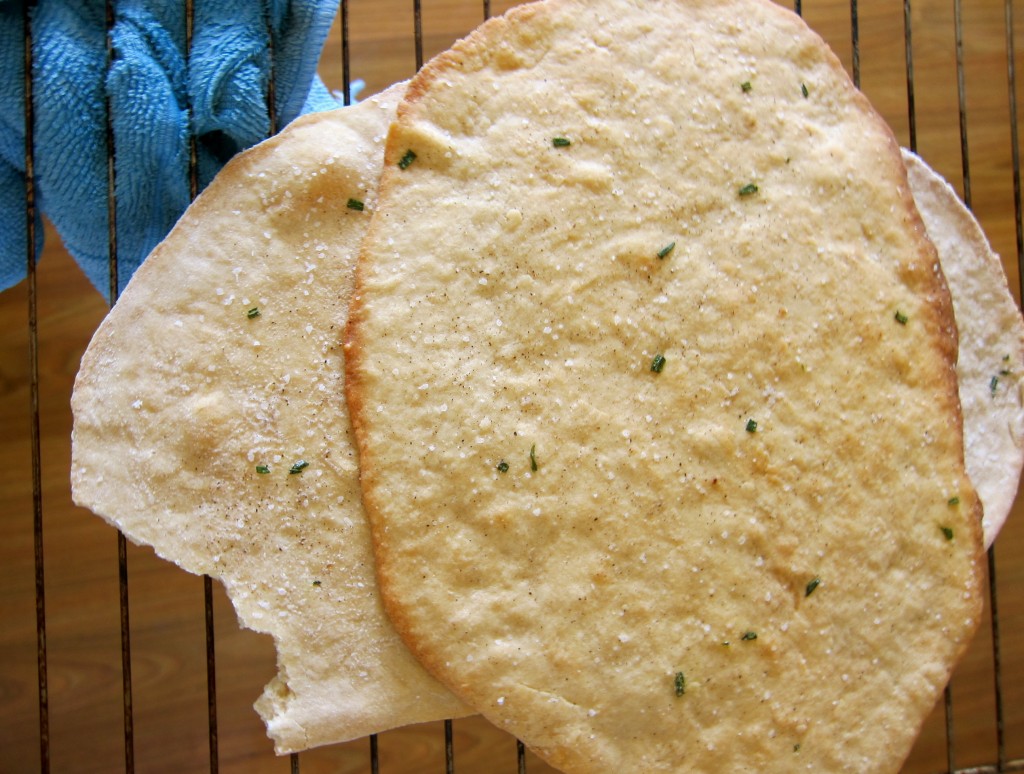 Oh. And the hummus.
This was based on hummus I used to make back home. It's very intuitive, measurement-wise. I'll give you a rough idea.
You'll need:
chickpeas (I used dried ones from Metro), about a cup
oil
garlic
something citric- lemon or lime (I used one lime)
salt and pepper
If you have tahini, go for it. Add to taste.
First, get them chickpeas cooked, if they aren't already (tinned ones are an overpriced luxury item here).
I did them in the crock pot, with about 4 inches of water. I think it took about 2.5 hours on high. Boil until soft enough to eat. It really depends on your cooker.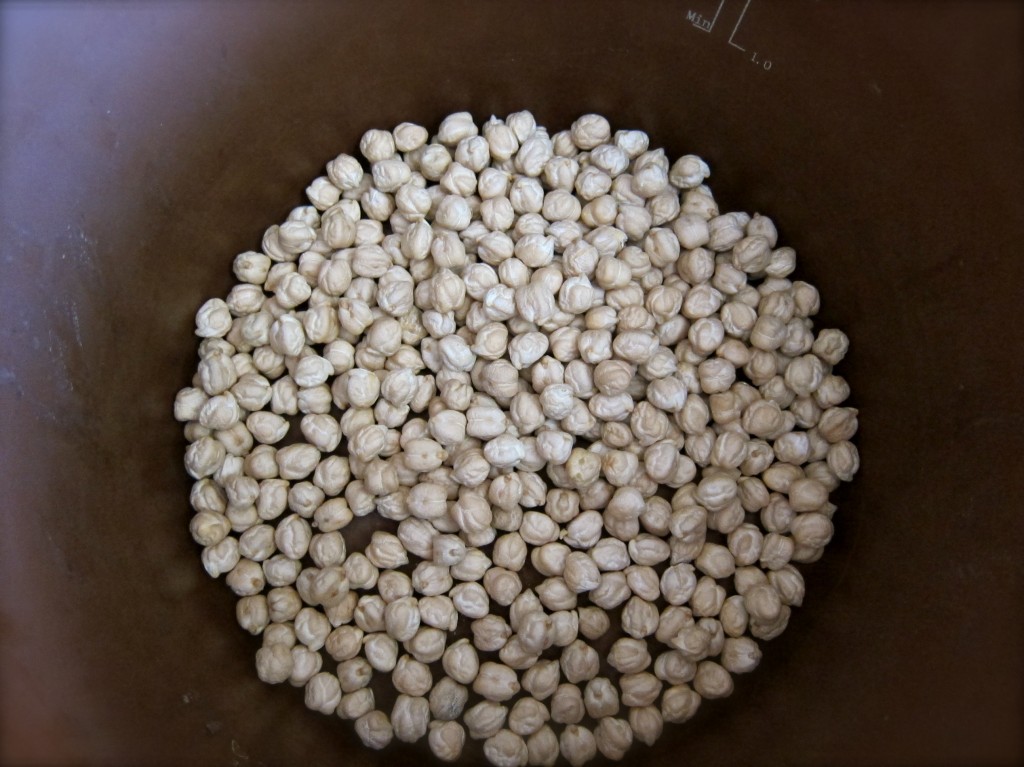 Drain. You can leave a little chickpea water in the pot, as it will need some liquid when mashed. I kept about 1/4 cup.
I minced most of a garlic for this. Again, adjust to taste. More garlic, in general, equals more better. You may disagree.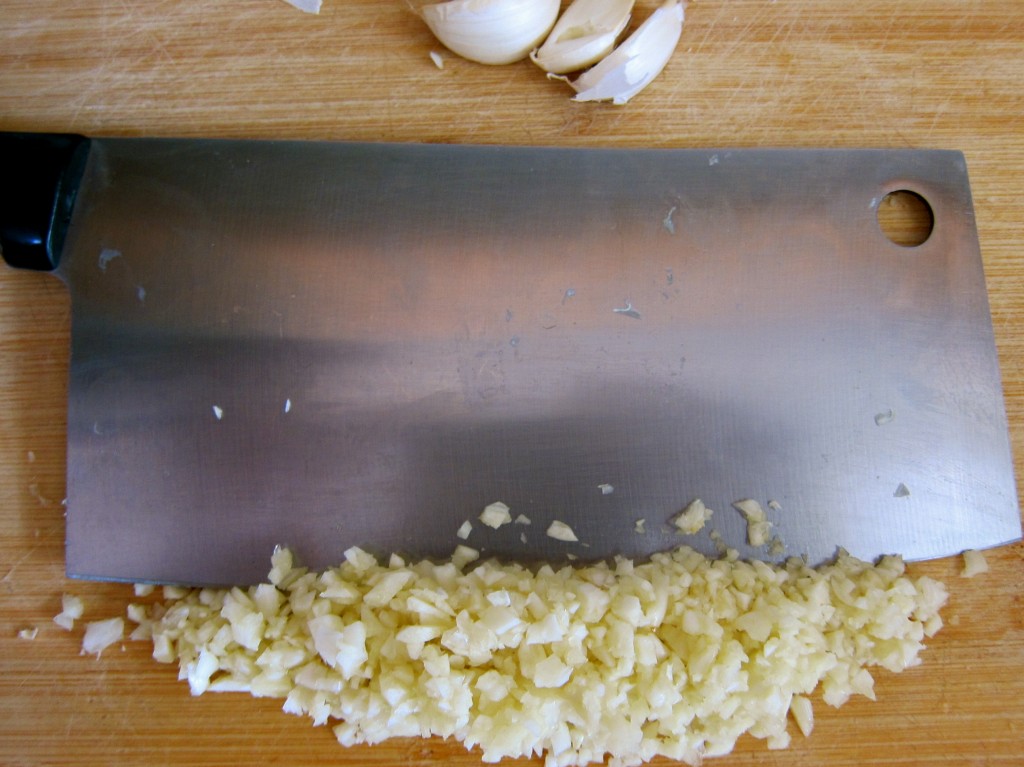 Toss the garlic into the bowl, along with a few table spoons of oil to begin with. You will add more as you go along, as the more mashed the chickpeas are, the more you'll need to grease up their insides.  I think I added about 4 or 5 splashes of oil in total (about 1 tbs each).  You may need more or less.  Taste it to see if the texture pleases you: if it's too grainy, add oil.
Also, throw in the juice of a lemon or lime. And some salt and pepper.
Get a mashing implement out.  Or a Kitchen Aid.
Unfortunately, I had but a fork. I mashed every single one of those little buggers.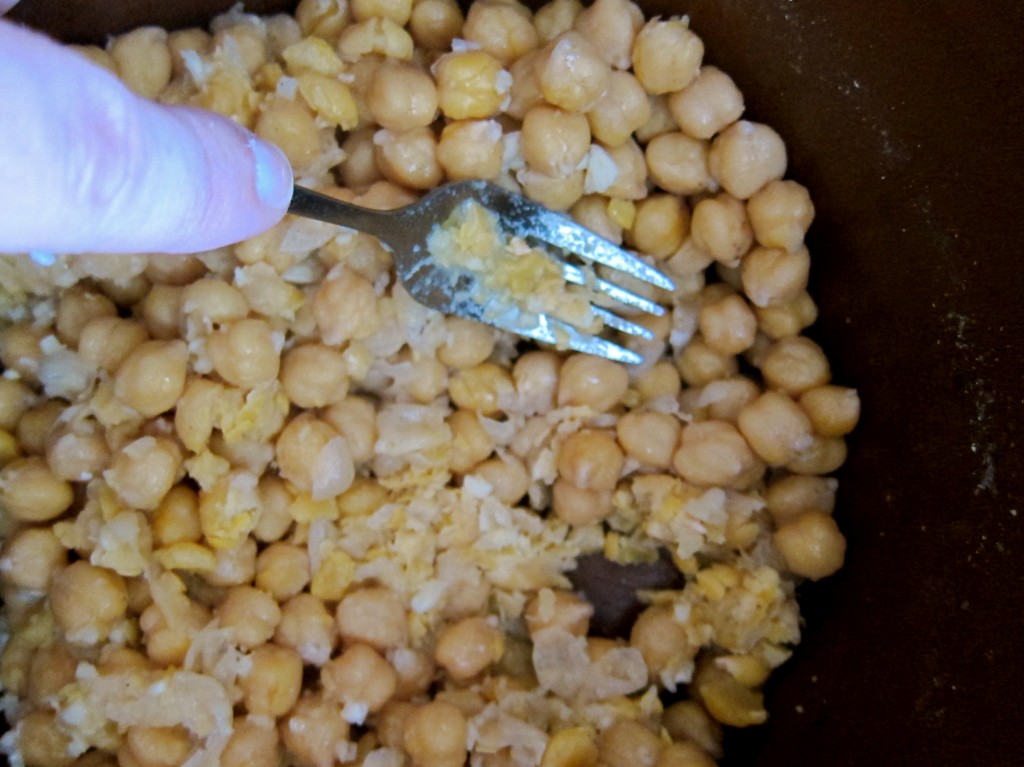 About ten minutes later.
Ow.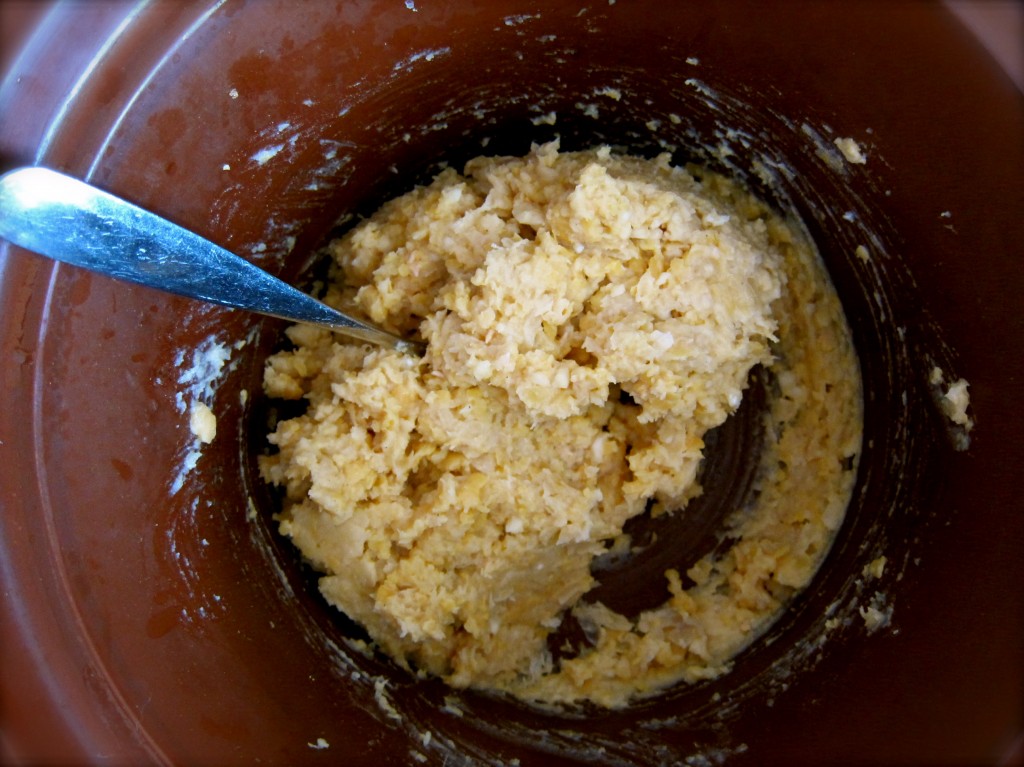 But look! It turned out brilliantly! Lunch of champions!
PS In case you didn't get the very bad pun in the title, see here.