This one started out as just a sauce, intended to use up the tin of coconut milk that had been hanging out in our cupboard for at least the past six months.  The recipe had promised me a multitude of uses- drizzled in soup, swirled into eggs, spooned into spring rolls. It was going to be my go-to sauce this week, just as the roasted garlic oil holds a permanent position in the fridge door.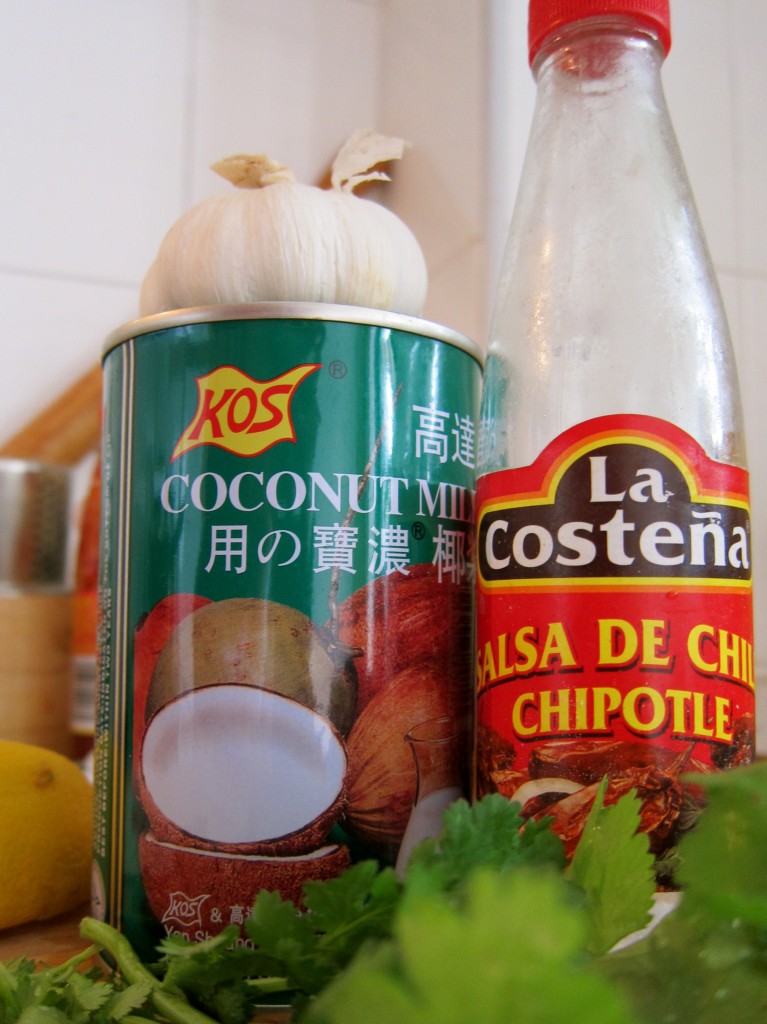 Her recipe is very straight forward and quite China-friendly (if you can get proper coconut milk).
1 clove garlic, peeled
1 medium jalapeno (or serrano) chile, deseeded and chopped
1/2 teaspoon fine grain sea salt, plus more to taste
1 tablespoons sunflower oil
1 small bunch of scallions, thinly sliced (~8 scallions)
1/2 cup finely chopped cilantro
1 14-ounce can of coconut milk (full fat)
3 tablespoons freshly squeezed lemon juice, plus more to taste
I had no jalepenos, but I did have finger-length green chillies. I think I ended up using a half dozen cloves of garlic because, seriously, who only uses one freaking clove in anything? I mean, what would be the point?
I had no scallions at the time, so I just left them out. I had a fistful of cilantro, so that approximated a half cup.
I had half of a lemon. I don't know if it was 3 tablespoons of juice or not.
How to make the sauce
Mince the garlic, cilantro, chillies (and scallions if you have them).
If you have a food processer, whizz them through into a paste. If you don't, do as I did and mince and mash them with an enormous knife. I used the side of the blade to pulverize it all. The kosher salt's graininess helps with the pulverizing.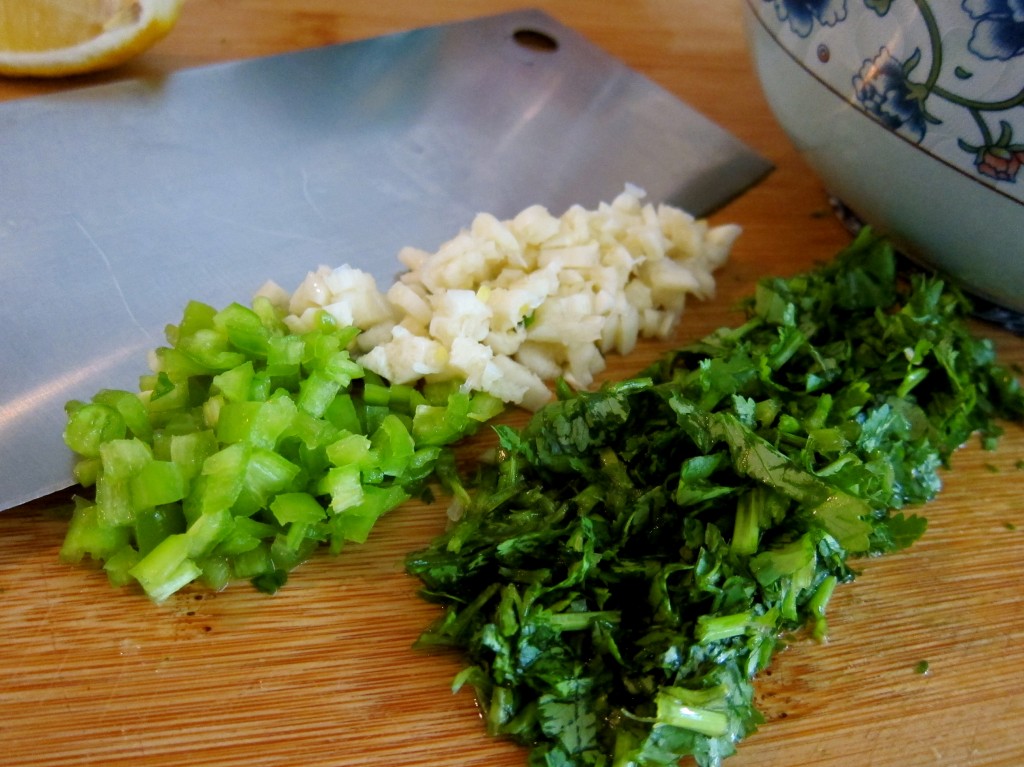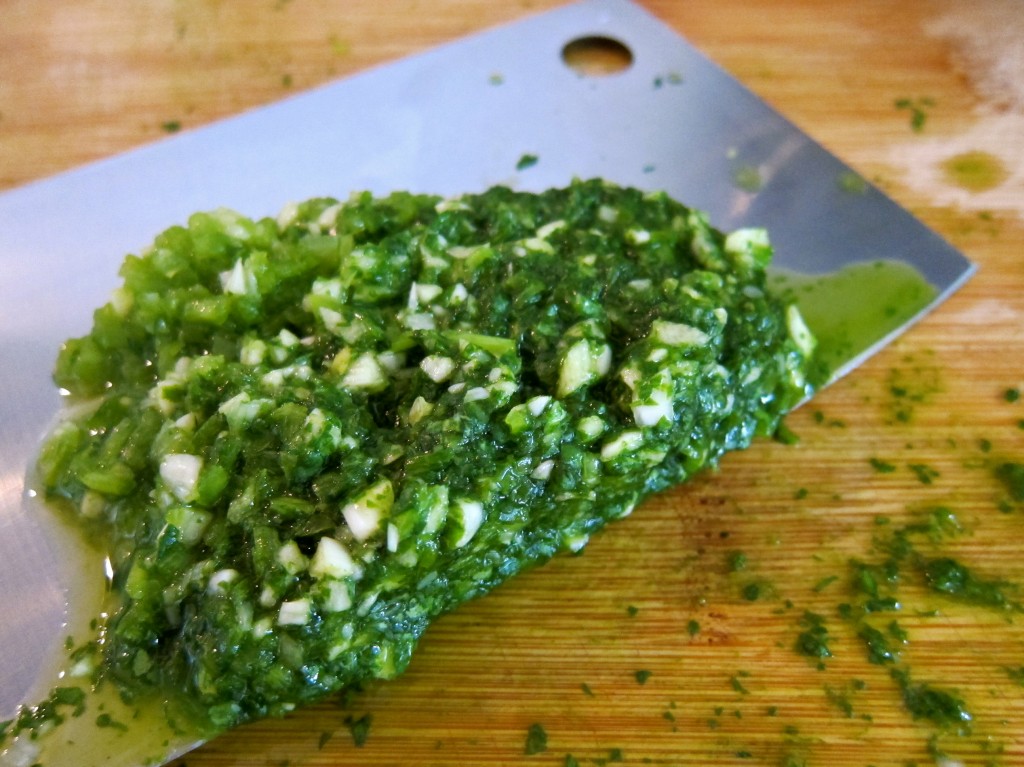 Throw the mash into a bowl and squeeze in the lemon juice.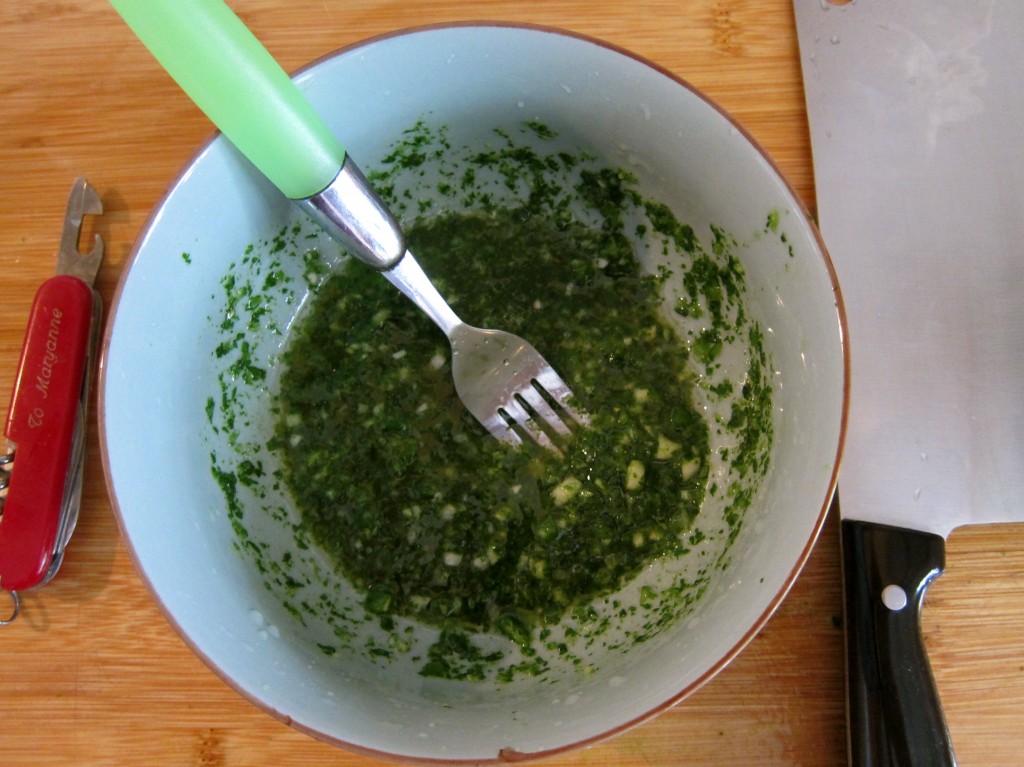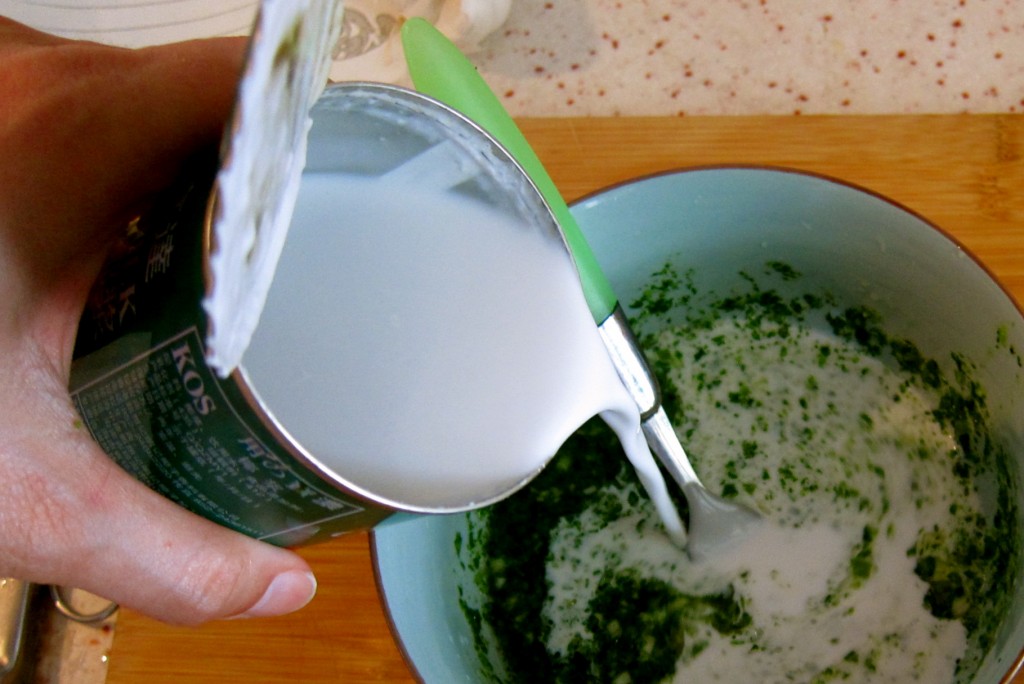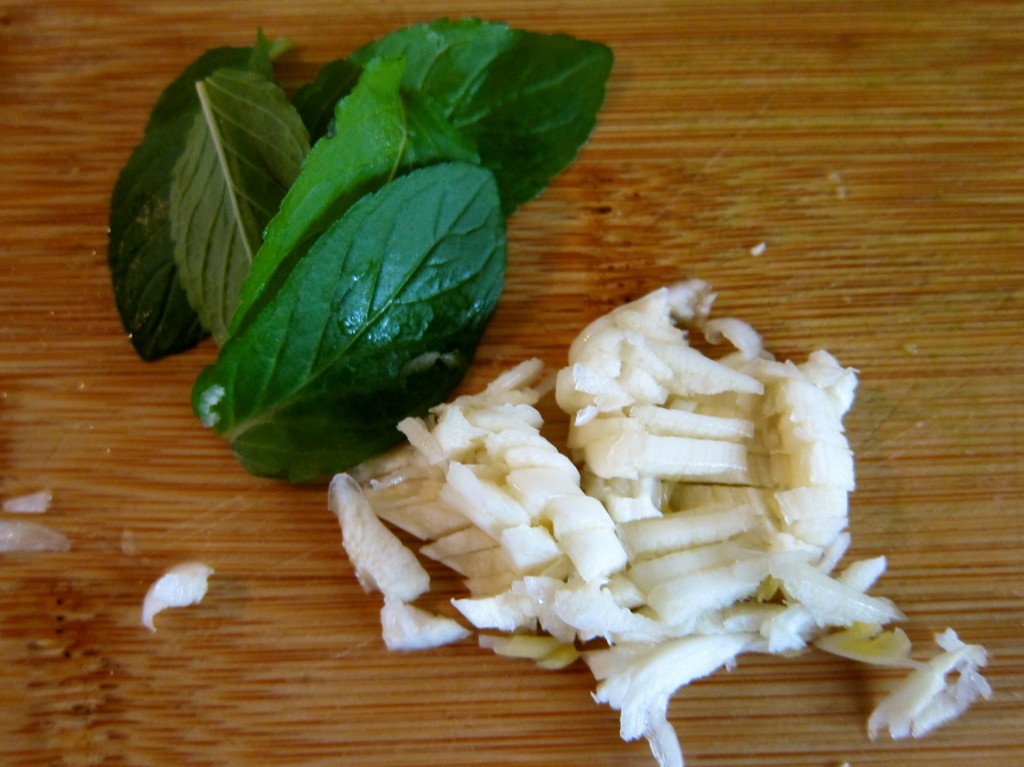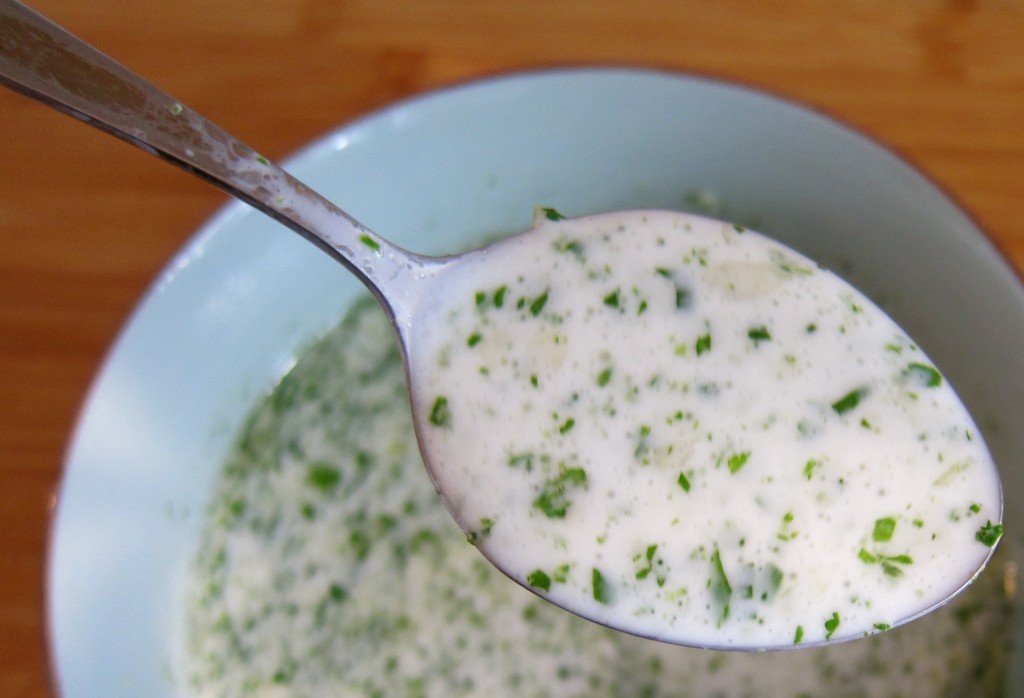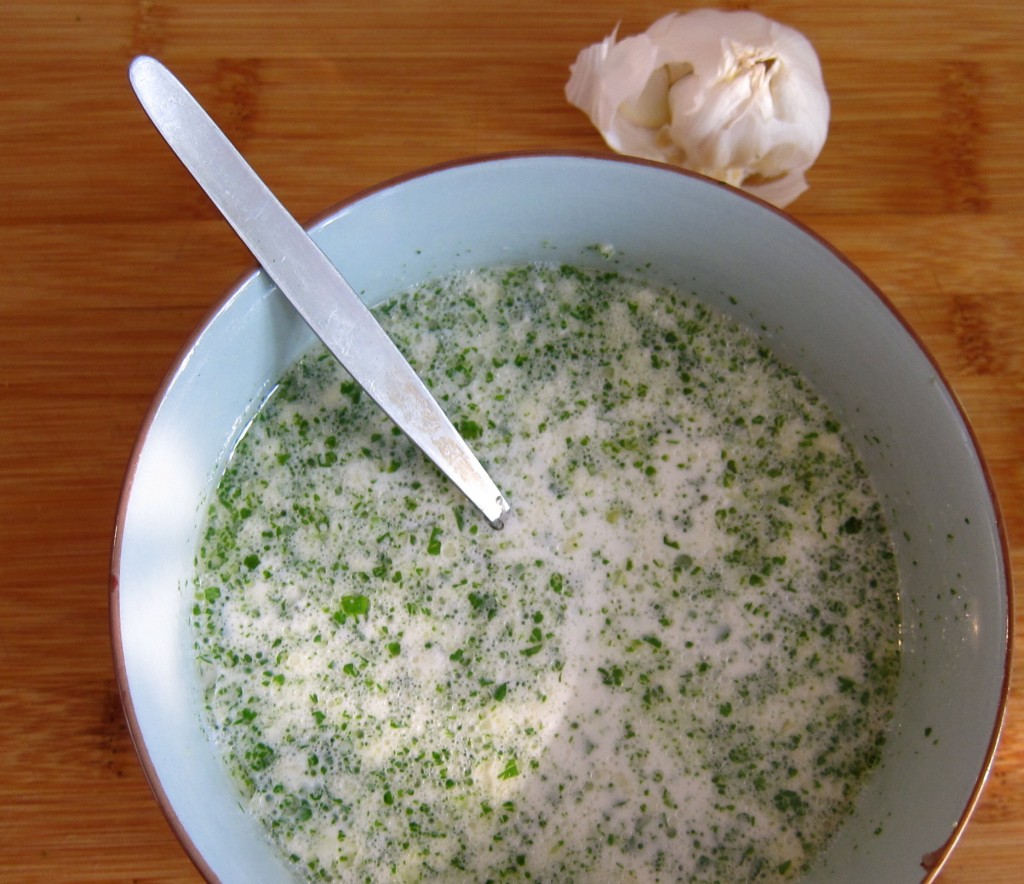 After a few furtive spoonfuls, I reluctantly put it into the fridge in a storage container (an old salsa jar scrubbed clean) to marinate in its own juices for a day or two
Then, two days later, I decided to make soup.
 How to Make the Soup
Originally, I was going to just make our usual crock pot chicken soup. We're both busy with work this long weekend, which is ironic in an Alanis Morrisette kind of way, since it is the May 1st Labour Day holiday today.  Doug's trying to mark bizarrely incomprehensible term papers; I'm trying to plan an entire curriculum for a kids' summer school program. Like I said, busy.
For some reason, I decided I fancied seeing if I could poach the chicken in the crock pot in some of the herbed coconut milk. I had visions of the tom ka gai we'd often eaten in Thailand (and in bastardized forms all over the world) and wondered if I could come anywhere close to replicating it, lacking the galangal, lemongrass, bullet chillies and kaffir lime leaves.
As I tend to do when delusional in the kitchen, I decided to find out.
I roughly chopped up a few more finger-sized peppers (2 red, 2 green, both of medium heat, seeds in) and threw them into the crock pot along with 4 quite small chicken breasts.  I think there may have been 400g worth, but I forgot to check the label.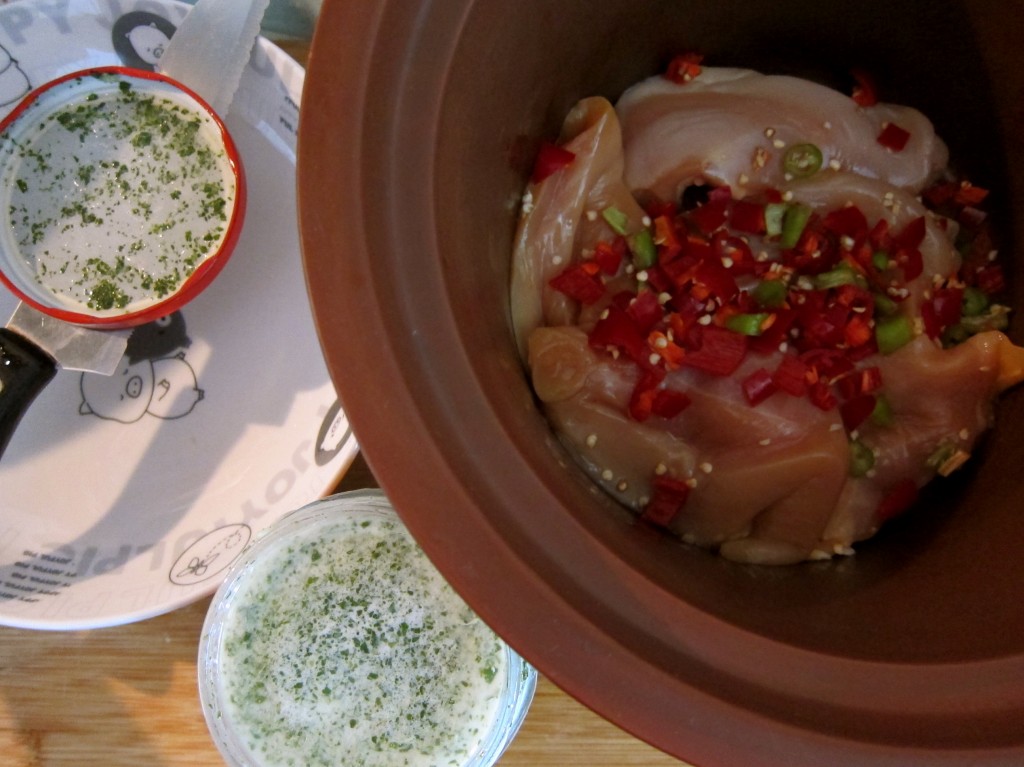 I poured in about half of the coconut milk mixture.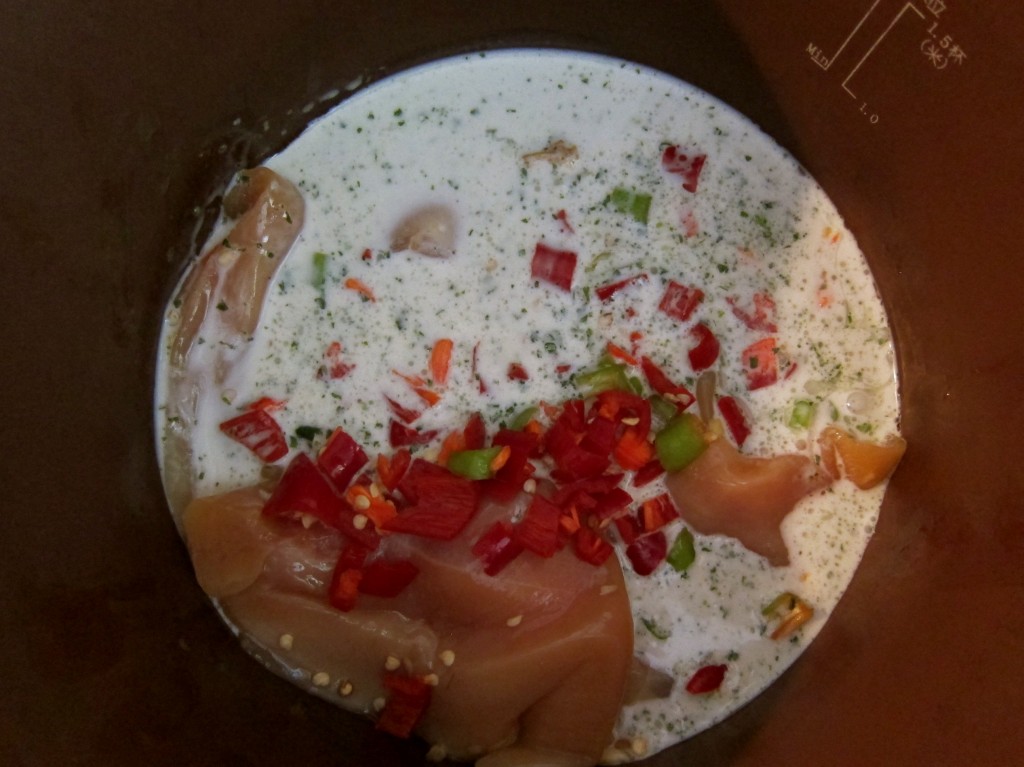 And, um, more garlic. About half a head. It just seemed like the right thing to do.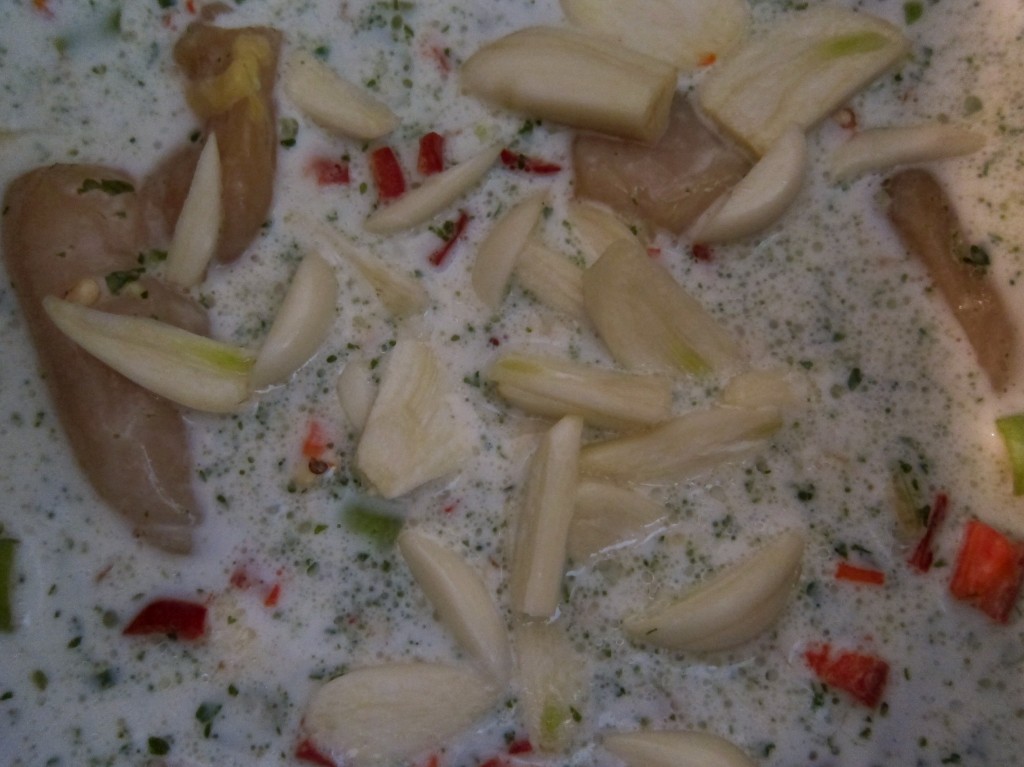 I let the chicken poach in the coconut milk for about 2 hours on the lowest setting.  I fished out the chicken breasts, let them cool on a plate, then pulled them apart a bit, keeping chunkiness intact.  They went into the fridge to wait until dinner.
Meanwhile, over at the crock pot, I added the rest of the coconut milk and a cup or so of water and let the broth simmer ever so gently on low to get the garlicky-chilli flavours going.
I let it simmer about an hour, then poured it into a storage container and let it join the chicken in the fridge until dinner.
How to serve the soup
Here's where the Mexican caldo xochitl comes in.  The ones I used to live on whilst travelling around Chiapas were simple, light bowls of broth (often with a chipotle pepper bobbing in the bowl), with a few scoops of pre-cooked chicken, maybe a little rice, maybe something pumpkinny, maybe some potato. On the side were many little bowls of raw veggies: minced onions, minced tomatoes, cilantro, avocado, chilies, chunks of lime. You just added whichever of these you fancied to your soup. It was different every time. And it was awesome.
And so I started chopping.
I chopped up some more chilies, some chives, some long strange crunchy green onion-like thing from the street vendor guy, some cilantro, some lime.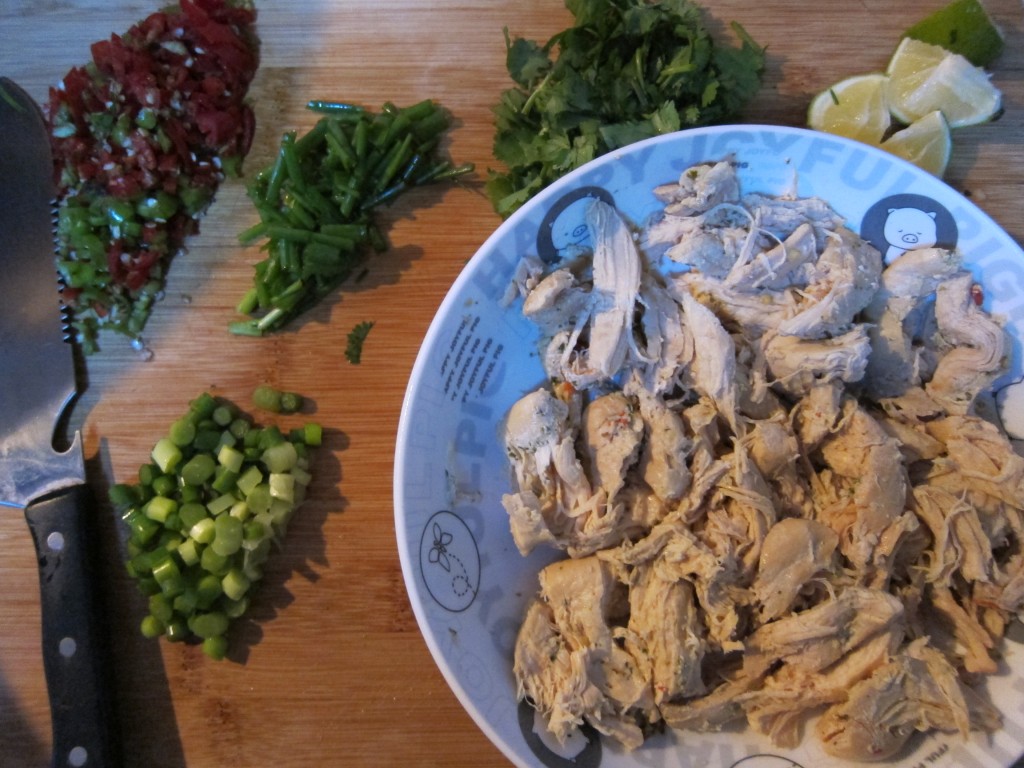 I reheated the broth on low, careful to not let the coconut milk fat separate. I threw in the shredded chicken and let them heat together.
I cooked up a cup of brown rice in the rice cooker.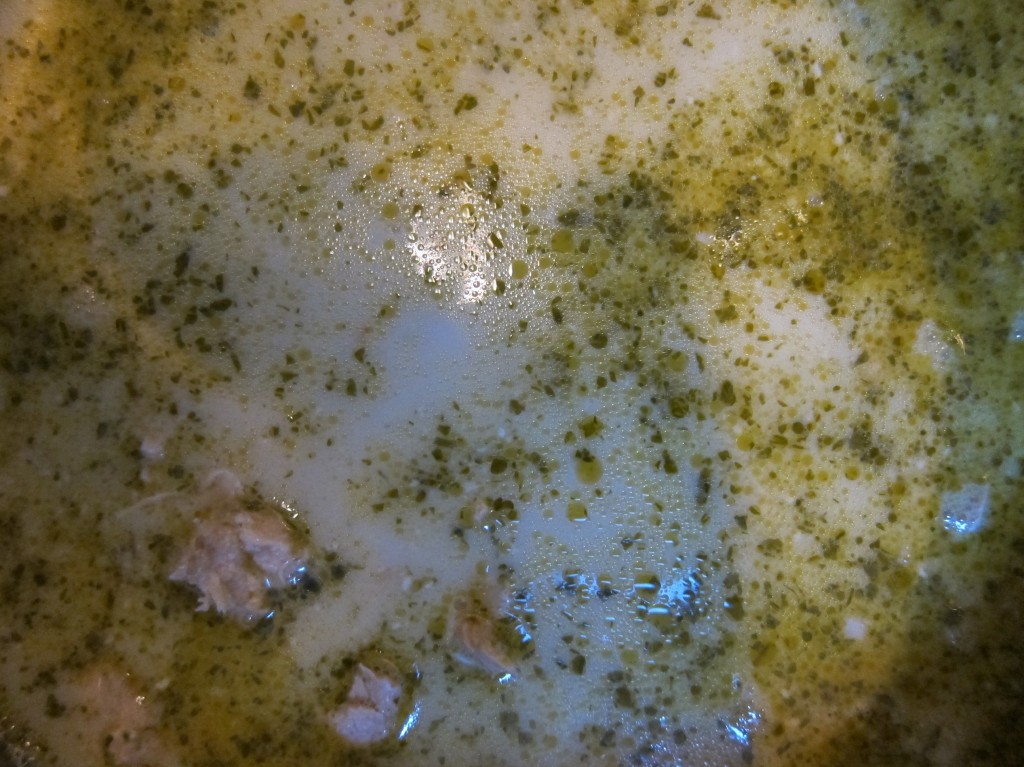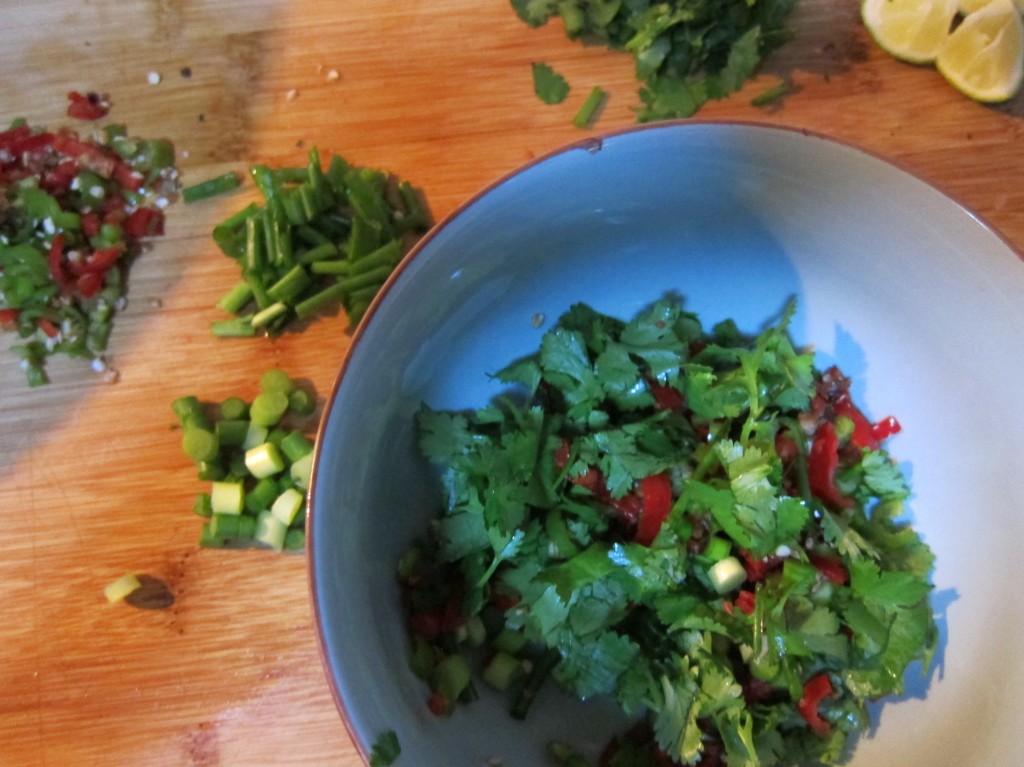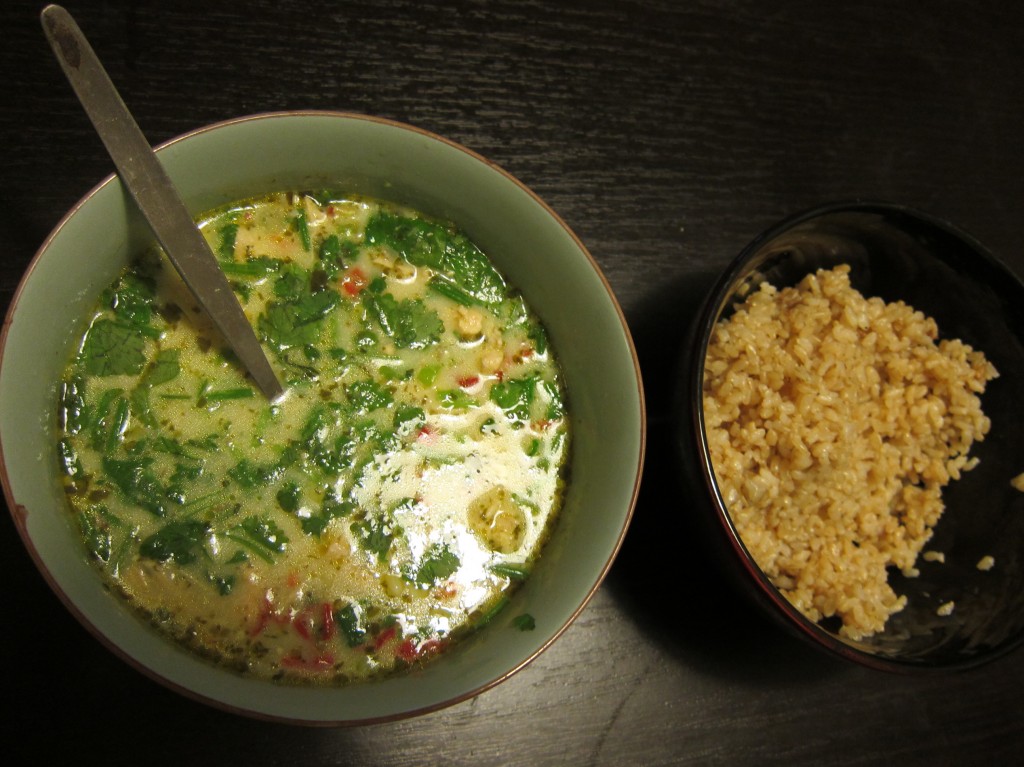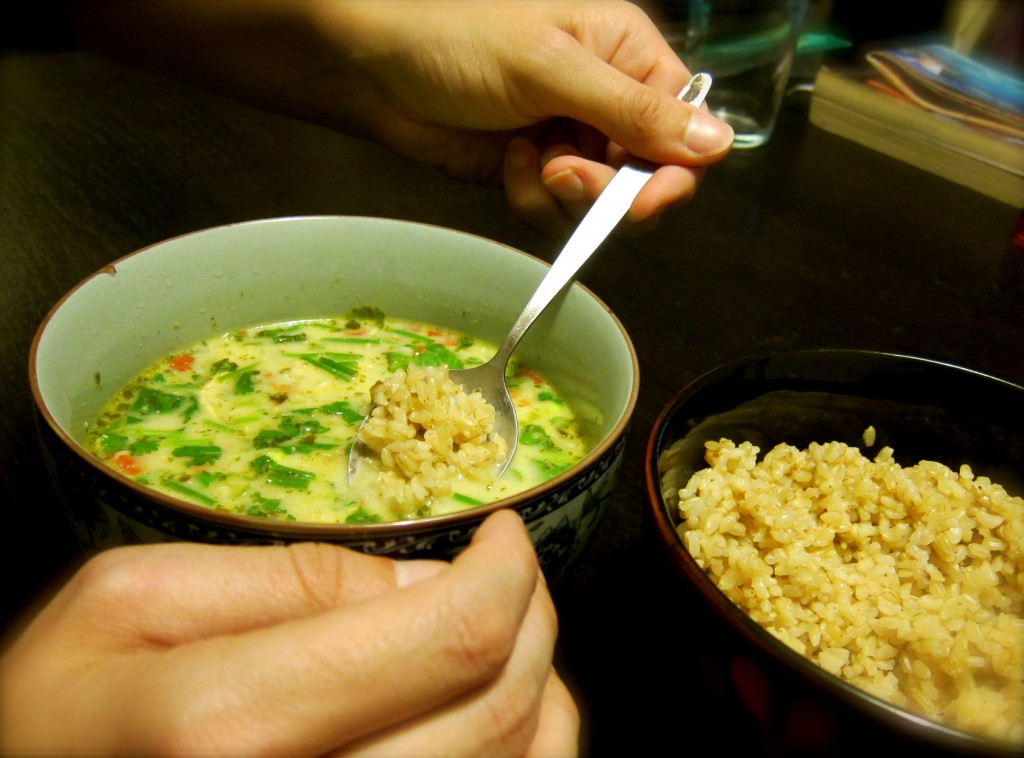 For the record, it made two rather large bowls of soup, with one more bowl-sized amount leftover for tomorrow's lunch. And as for the flavour, much to our surprise, it tasted exactly like something that was a delicately balanced mixture of both Thai and Mexican soups ought to taste. It was lovely.
You really should make some. Go on, really. Go make some.