As you've probably noticed by now, I have a thing for unleavened bread, especially unleavened bread made in the wok using a highly unlikely Uyghur noodle dough recipe. I've turned that into chapatis, tortillas, pierogies, spaghetti, medieval dumplings and ravioli. I keep a ball of it in the fridge at all times, just as others might keep, say, a tube of Pillsbury Crescent Roll dough or a jar of Velveeta.
Now, although I still have my softball sized lump of Uyghur dough in the fridge (made lovelier by using the leftover whey from last week's foray into cheese making), I wanted to celebrate the fact that neither I nor Doug is working this weekend. You have no idea how rare an occurrence this is. Usually I'm away, and sometimes if I'm not, he is.
This weekend, we are both at home and we're honouring this by barely leaving the house, drinking a ton of coffee, watching Ancient Aliens (Mayan Prophesy! The Greys! Giorgio and his enormous hair!) and generally being immobile sloths. I made tacos for lunch yesterday (noodle dough tortillas!) and we ordered pizza for dinner.
And that pizza got me thinking.
Pizza here, the edible kind, doesn't come cheap. I think we paid about 120rmb for ours from a place in Taikang Lu, from a joint that has access to proper jalepenos, ricotta, artichoke hearts, salami and all. I think that's approximately the monthly salary of a goat herder in Yunnan.
I thought, hm, I wonder if I could make pizza? I mean, if not in my wok with Uyghur noodle dough, then maybe in our oversized counter-top toaster oven?
I did some leavened dough research online and compared notes. Through a process of elimination, I decided to go for a no-knead, slow rise dough because, well, I'm lazy. Really lazy. I just couldn't face kneading dough all morning- I do that enough with the Uyghur dough as it is.
This one makes one round baking sheet worth of pizza base, which I repurposed for focaccia when I realized we didn't have enough tomatoes to make a sauce without leaving the house to buy more. As I said, I'm lazy this weekend. Also, it's grimly mid-winter and the wet market's tomato selection has been mealy and pallid for a while now. Hardly enticing.
The Dough
This is actually a bread dough recipe- specifically, a Le Creuset Dutch-Oven bread dough recipe found here.
3 cups unbleached all purpose flour
1 3/4 teaspoons salt
1/2 teaspoon yeast
1 1/2 cups water
I don't have unbleached, all purpose flour, but I have my trusty bag of organic Chinese black wheat, known as triticale in the West. It's a wheat-rye hybrid and it's amazing. You can use whatever flour you want. Whole wheat would probably work too, but you might need to use slightly less flour or slightly more water so it isn't too dry or heavy.
Note that I'm using instant yeast. The recipe just called for 'yeast' so the regular kind might be okay as well. There's no sugar or warm water involved in the process though (which would be how you get the regular stuff going) so I'm not really sure.
Here are my ingredients, minus the water.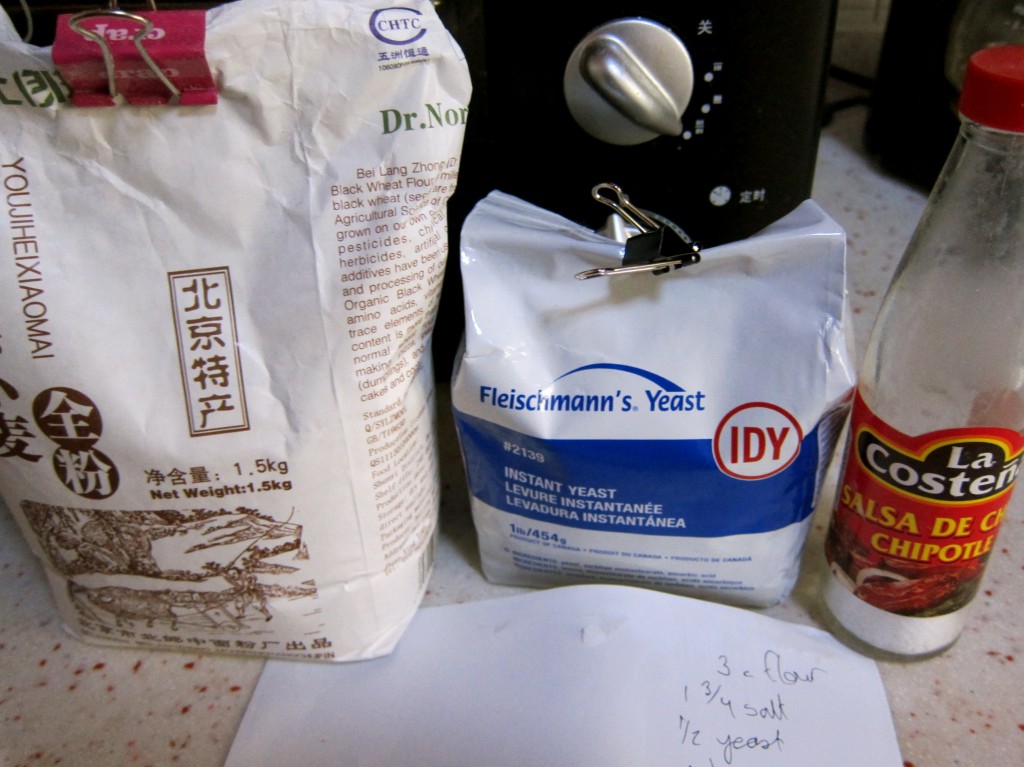 I used my rice cooker insert for mixing and for the overnight rising, as it is non-stick and big enough to handle expanding dough.
Throw all the dry ingredients into the bowl. Give it a stir.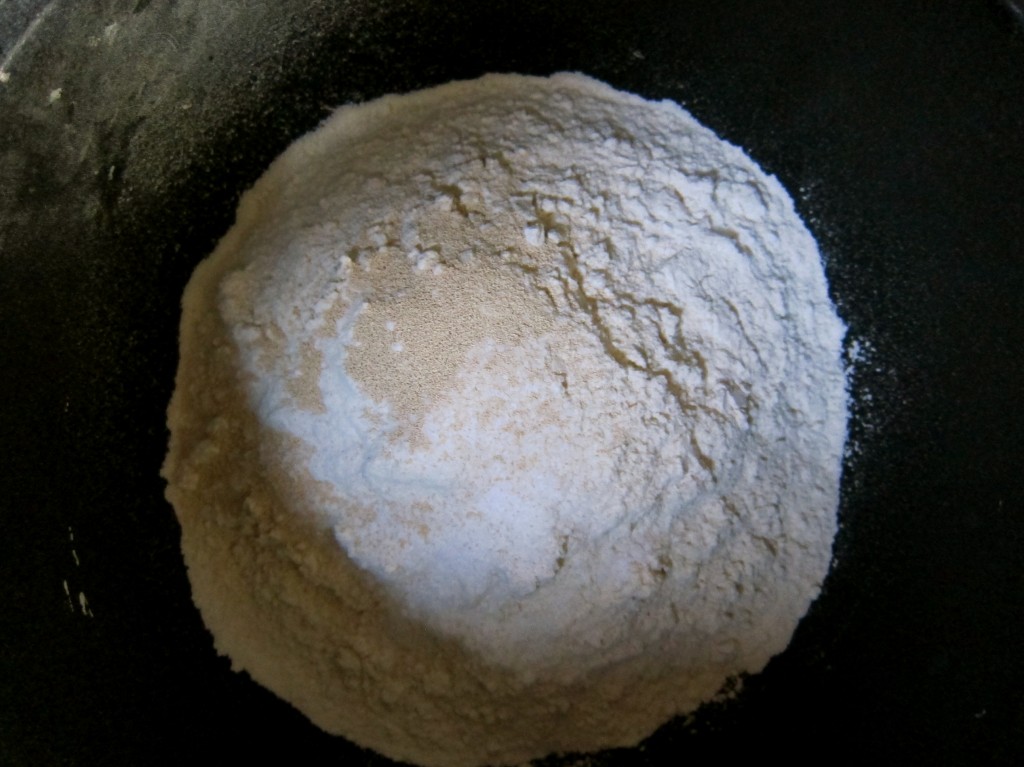 Add the water. Again, give it a stir until the water is mixed in and a goopy dough ball is formed.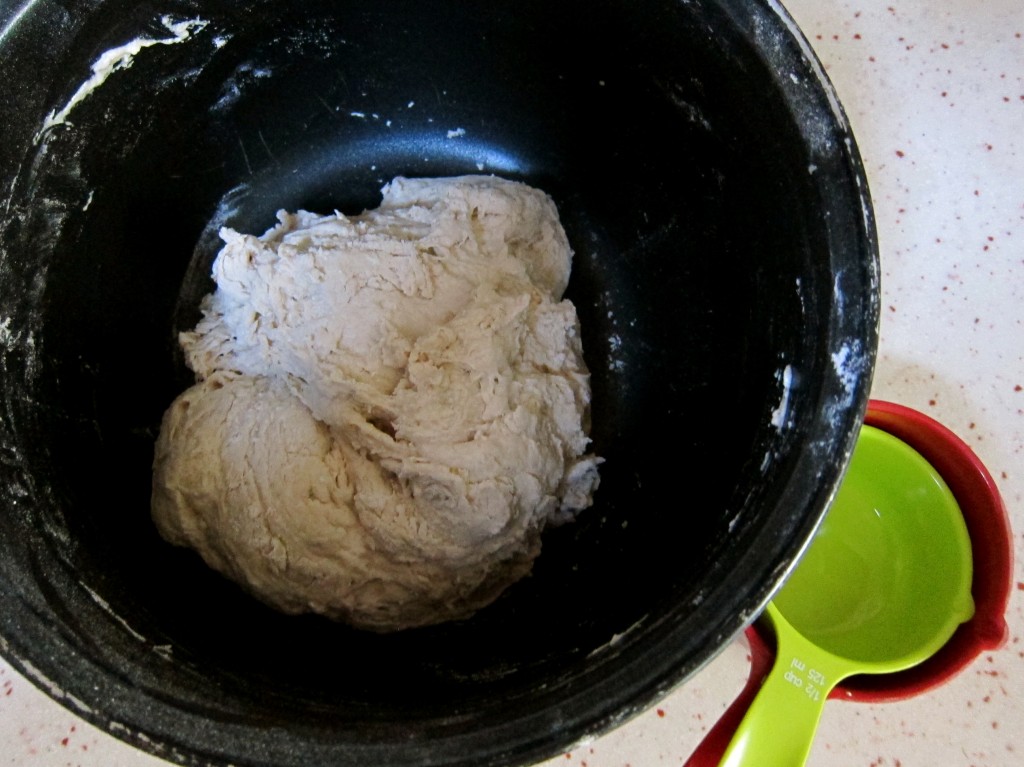 Now cover it and leave it 12-18 hours. I left mine overnight.
Look what I found this morning—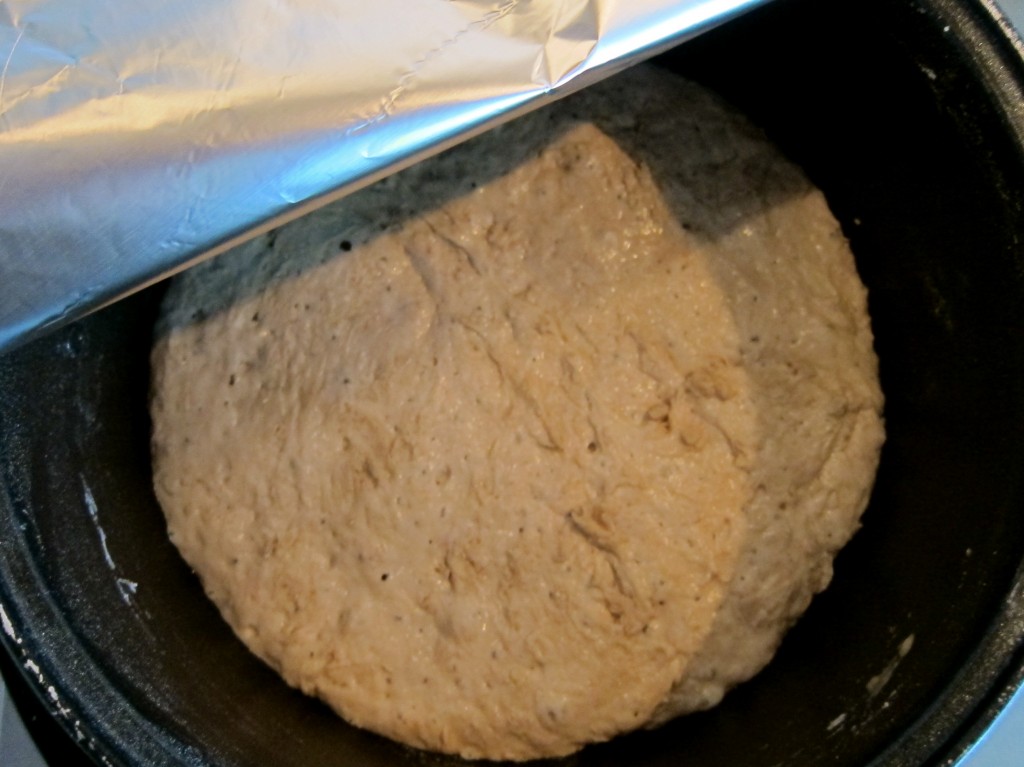 This is a very soft, bubbly, slightly gooey dough, much more delicate than the baby-bottom kneaded kind I'm used to.
Turn it out onto a heavily floured board. Flour your hands and dust the dough ball with flour until it has no sticky bits left on its surface.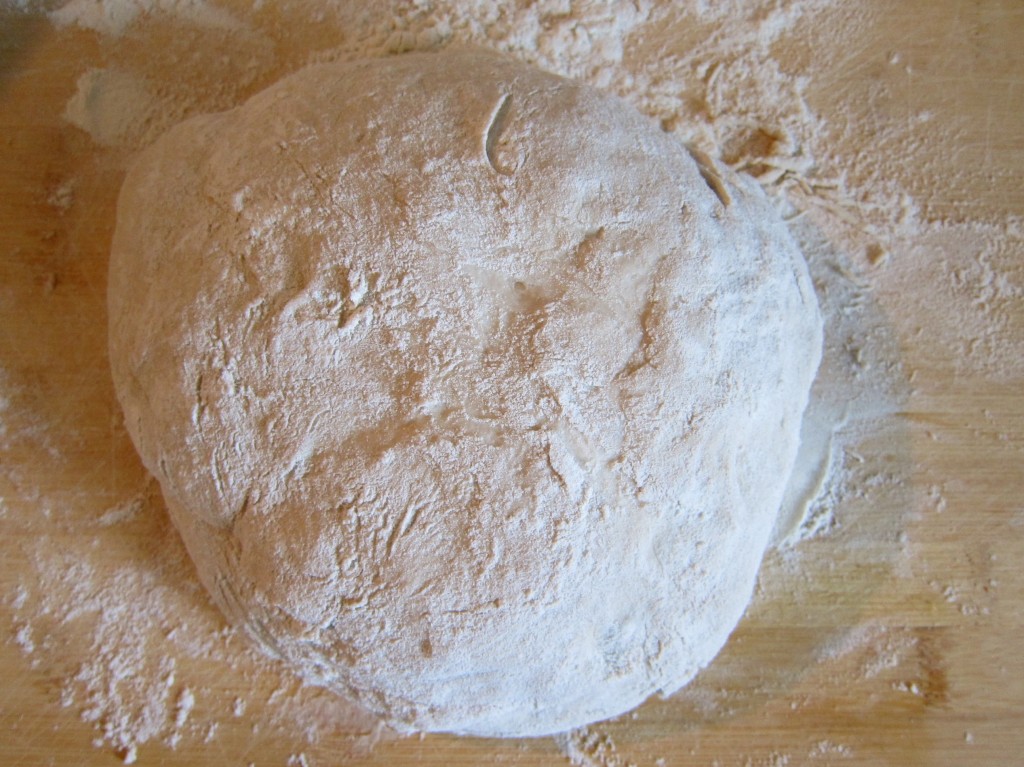 Get a baking sheet. I have a pizza-sized one that I brought from Canada. Our oven is bigger than a regular 2-slice toaster oven but it can still barely accommodate a baking sheet. If you have one of the smaller ones, I recommend cutting the dough in half and doing this in 2 rounds.
Dust the baking sheet with corn meal. This is to keep the dough from sticking.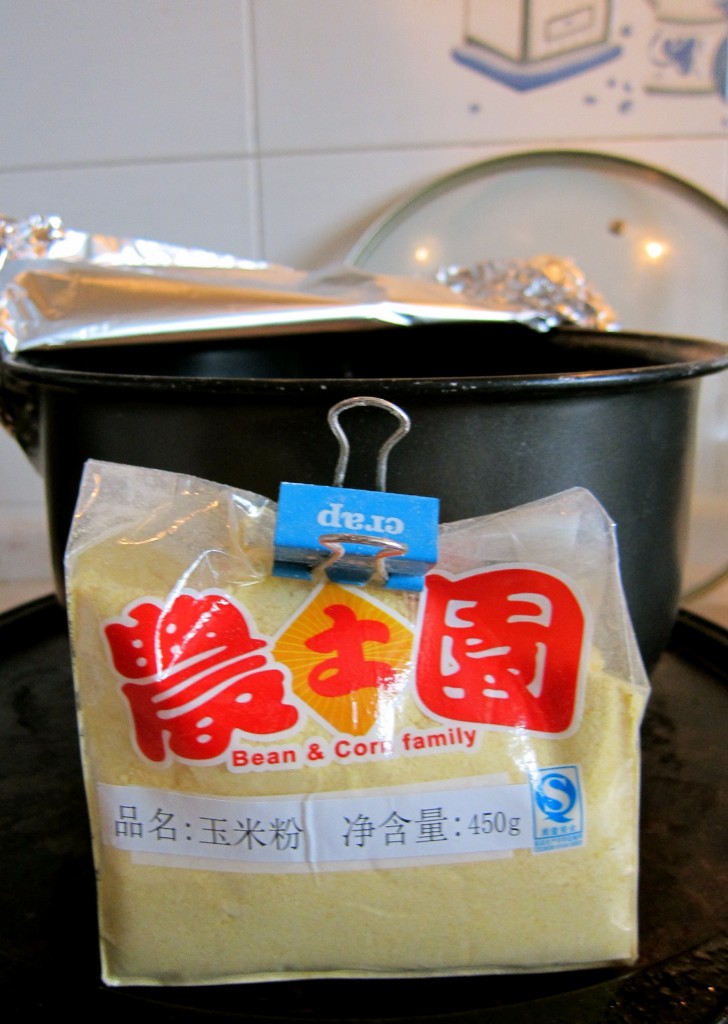 Take the dough ball into your well-floured hands and stretch it out carefully into the approximate size and shape you desire.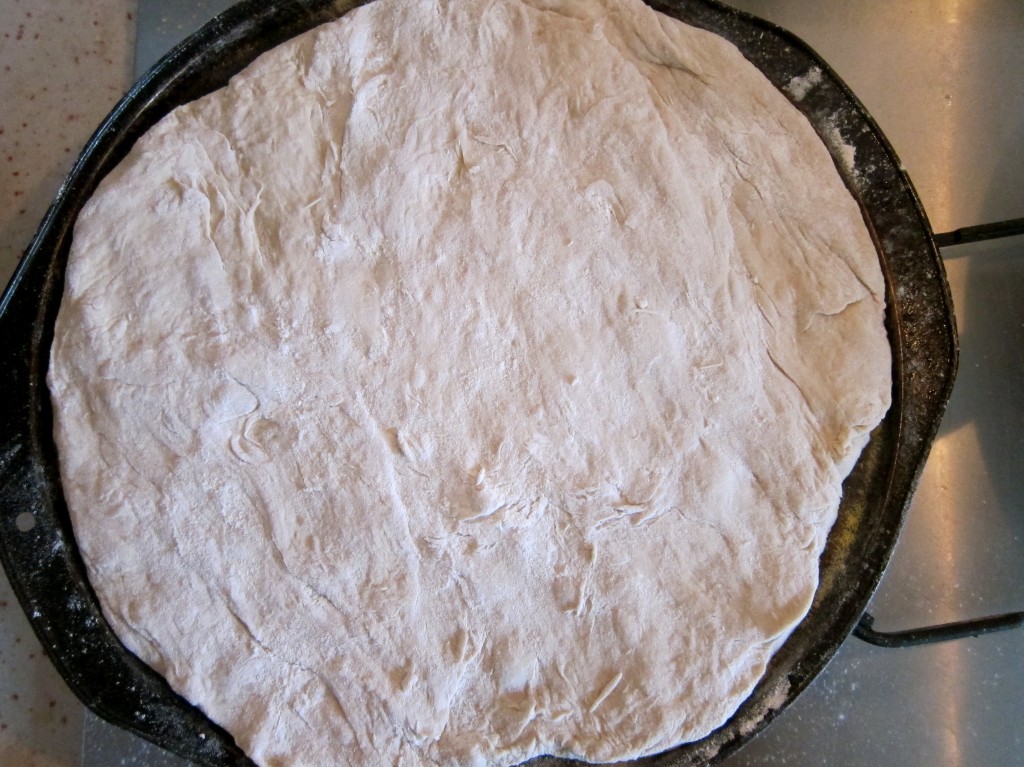 Now, to make the topping.
I had had some rather grand, aspirational thoughts at first- I'd make a shallot-infused, buttery white wine sauce, perhaps, and some thinly sliced roasted potatoes, all sprinkled with lovely fresh mozzarella. Then I remembered (at 9am, Sunday) that we had no shallots, no white wine, no potatoes, no cheese.
So I went for a sauteed garlic oil brushed top, with the dried herbs I found in our spice drawer.
I used the following for the topping:
1 head of garlic, peeled and sliced lengthwise
a few tablespoons of sunflower oil, enough to cook the garlic and then to brush over the focaccia
a few pinches of unimpressive dried oregano and rosemary
a few pinches of kosher salt
the last few spoonfulls of paneer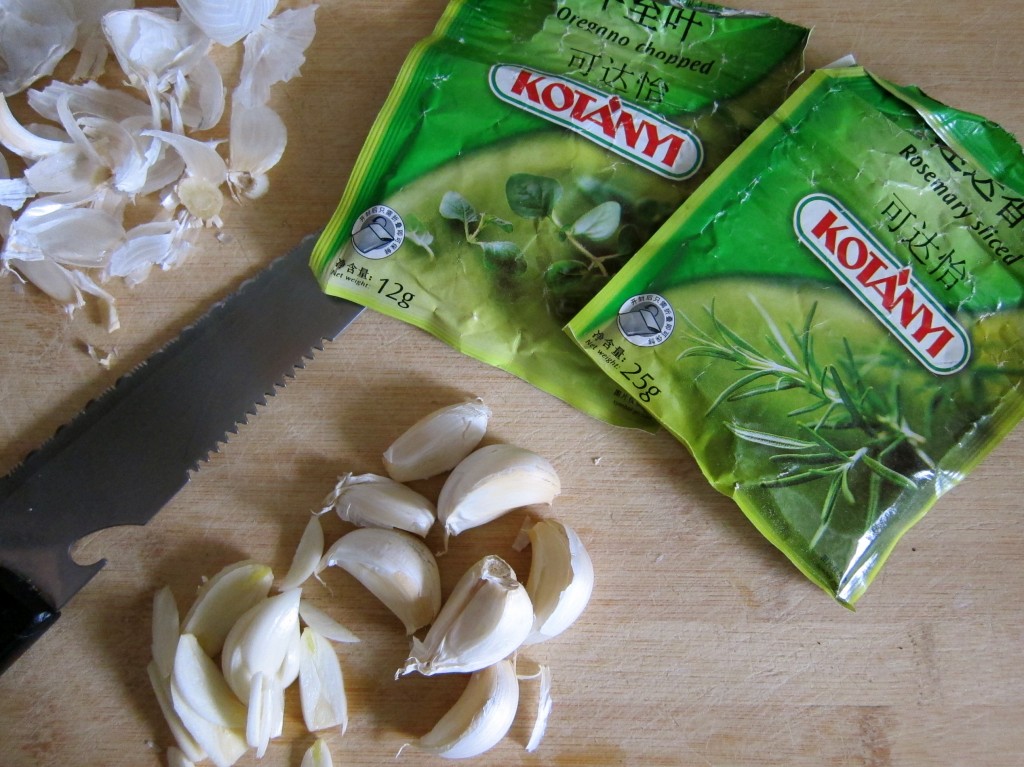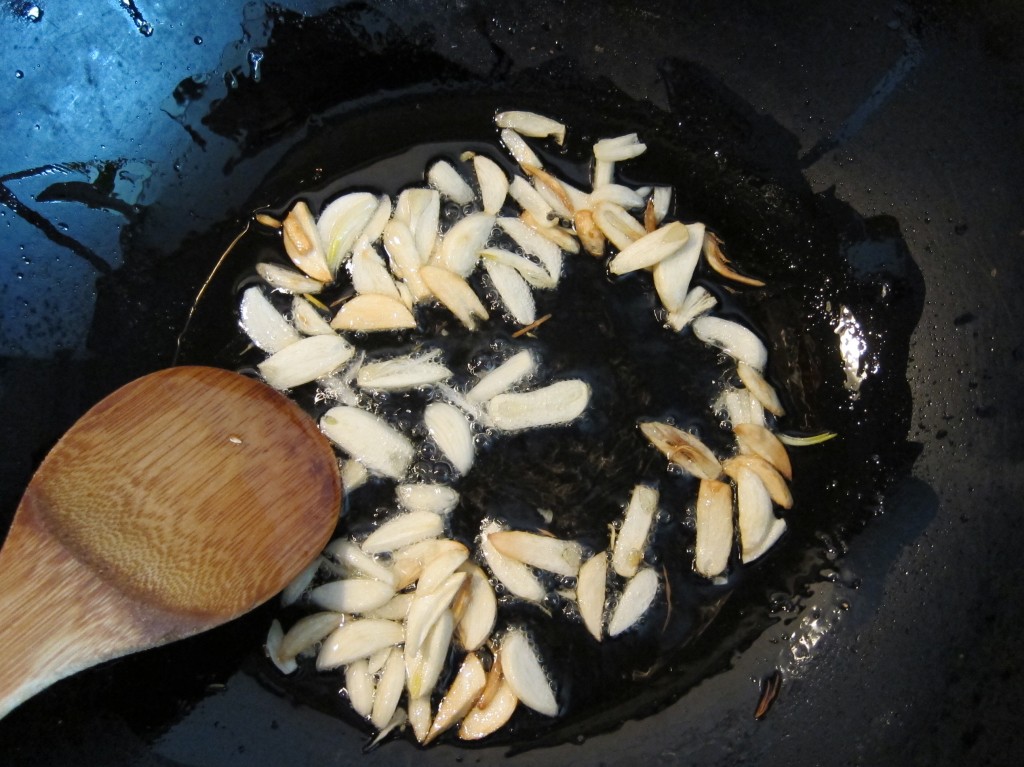 When the garlic is slightly browned (but not too browned, as it will brown more in the oven and you don't want it to turn to charcoal), remove it from the heat and spoon it onto your flattened dough. Distribute it as evenly as possible.
Brush oil onto the dough. I spooned it on then brushed it around with my fingers. If you have a pastry brush, go for it.
I then added blobs of the last of the spicy roasted garlic paneer– maybe 3 tablespoons or so. Add more if you have it. To top it off, add a pinch or two of the herbs, evenly around the surface. If you have fresh ones, awesome. Add a pinch of salt too. It brings out the flavours nicely.
Now to get the oven going. The recipes I looked at casually suggested you crank the oven up to something absurd, like 500F. I think that's about 270C. Mine goes up to 250C in theory but not really in reality. Because the oven is so small, however, it preheats very quickly. I cranked mine up to max and let it go for about 10 minutes before slamming the focaccia in.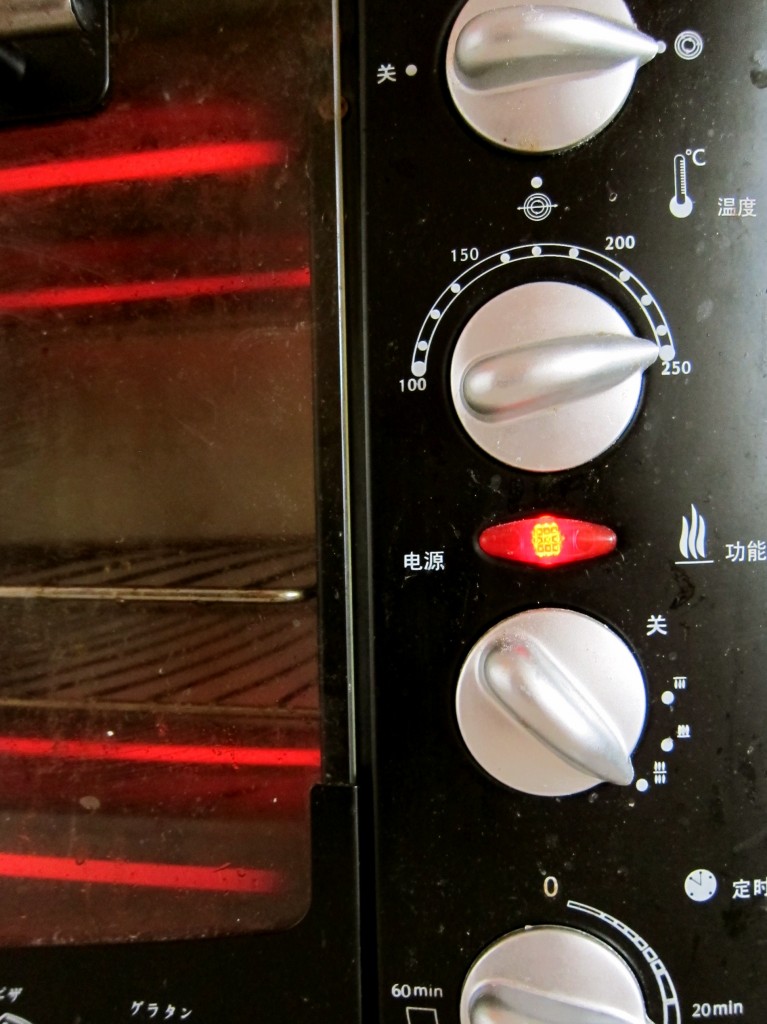 I baked it for 20 minutes.
Look what came out! It's gorgeous- crispy outside, chewy inside. Fragrant as all get out. Doug said it was probably his favourite thing of all the things I've baked so far.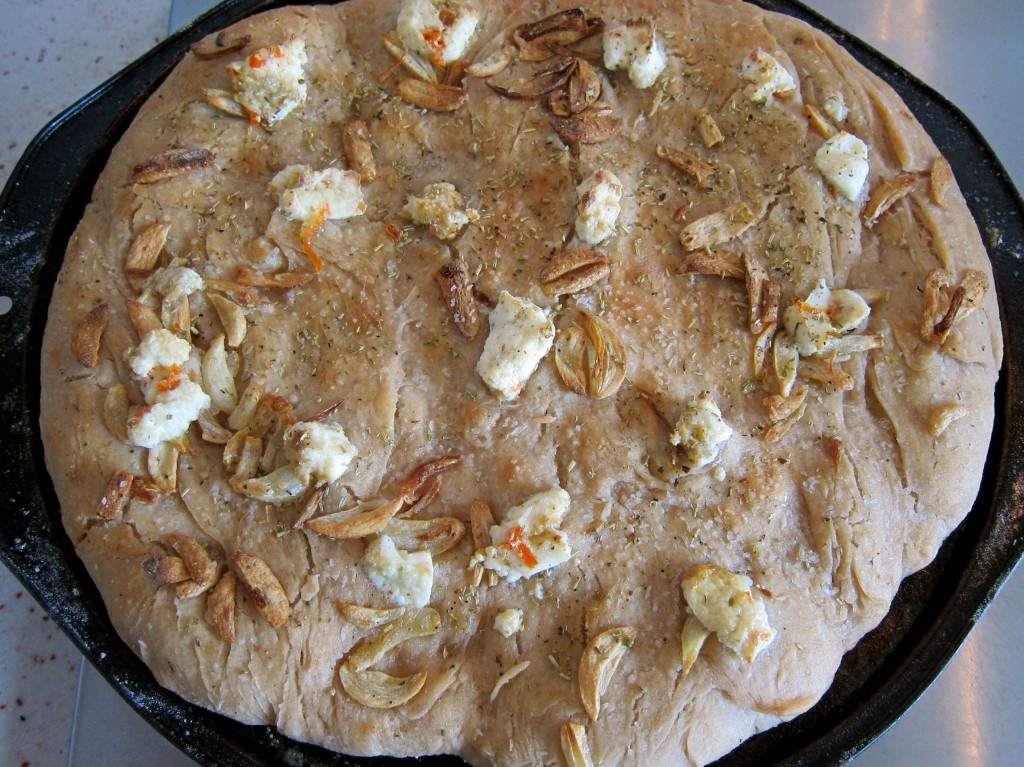 Look, one more close up. You need this. Really.