I've made cheese here before. You may recall my happy forays into mascarpone and ricotta a few months back.  As well, over on my other blog, the non-foodie one, I delved briefly into goat milk paneer when I went home last summer.  It was creamy and gorgeous and fantastically goaty.
Alas, I have no access to goats here. Also, one of the key ingredients that I had been using for all my previous soft cheeses- lemon juice- seems to be out of season right now in Shanghai. There are a few over priced limes in a few shops but no lemons. I wanted to make paneer again, just to see if it could be done in a wok with irradiated, non-organic, non-goaty Chinese milk and rice wine vinegar.
It can.
I'm starting to wonder if there's anything that can't be done with a wok and rice wine vinegar. Seriously. I think I may need to include them in my Take Over The World tool kit. And maybe a goat, too. To make a nice wheel of herbed chèvre to spread on crackers when I'm taking a break from ruling said world.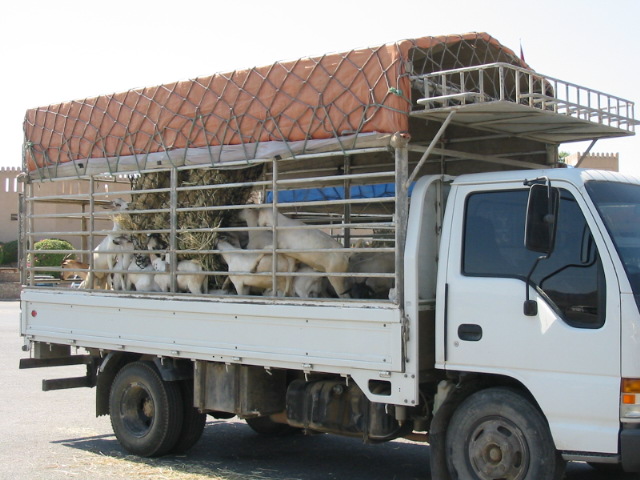 Anyway.
I was on a bit of a culinary bender yesterday, from which I'm still recovering. One of the things that emerged from this frenzy is a great big slab of fresh, white cheese marbled with a chili-garlic paste, made from mashing up the solids in my  jar of roasted garlic oil.  I'm on my second jar, by the way. It's useful in so many ways.
That slab of cheese, now somewhat diminished from being used in last night's dinner, is now resting in the fridge in a brine made of kosher salt and potable water. I'm trying to pretend it's a hunk of sharp Turkish Ezine beyaz peynir that I can crumble onto future salads. We shall see how that turns out.
Here is a very simple recipe for making a brick of fresh white cheese in China, with just a few boxes of nuclear milk, some rice wine vinegar, some porous clean cloth and extra flavourings of your choice.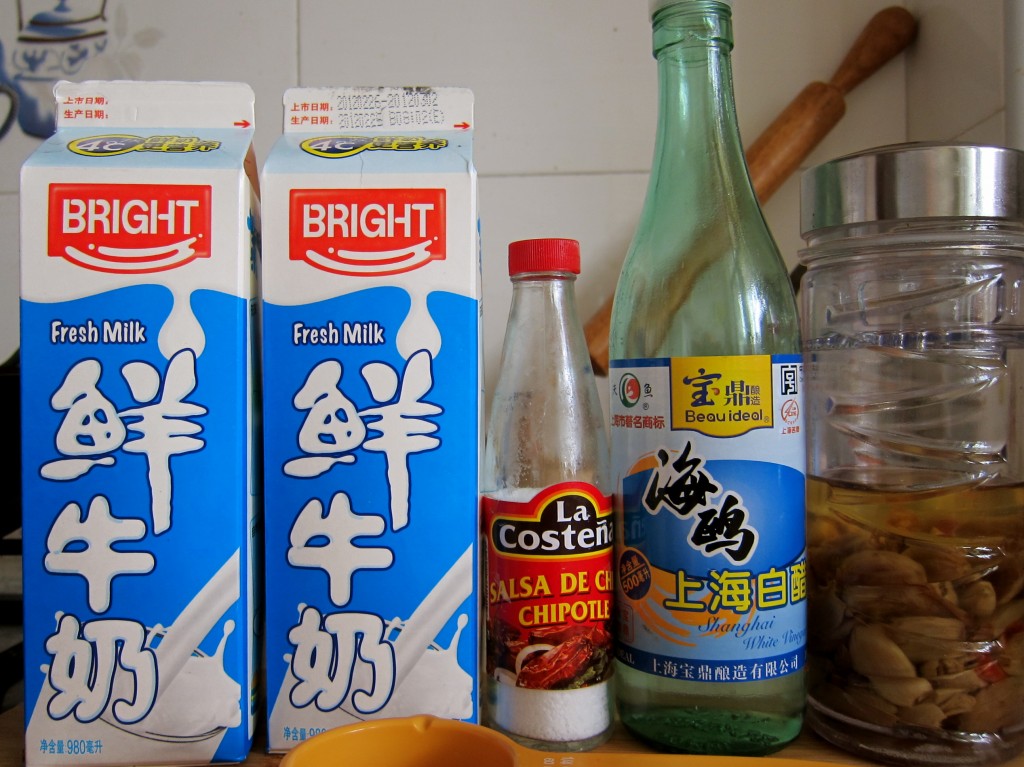 I used 2 liters of milk and 1/4 cup of vinegar. It really reduces in size when it drains, so to get a reasonably sized brick in the end, I'd recommend going with the 2 liters although it sounds like a lot.
Pour the 2 liters of milk into the wok, and heat it over a low flame. You don't want the milk to curdle or boil. Slow and steady, stirring all the while. This will take a while. Be patient.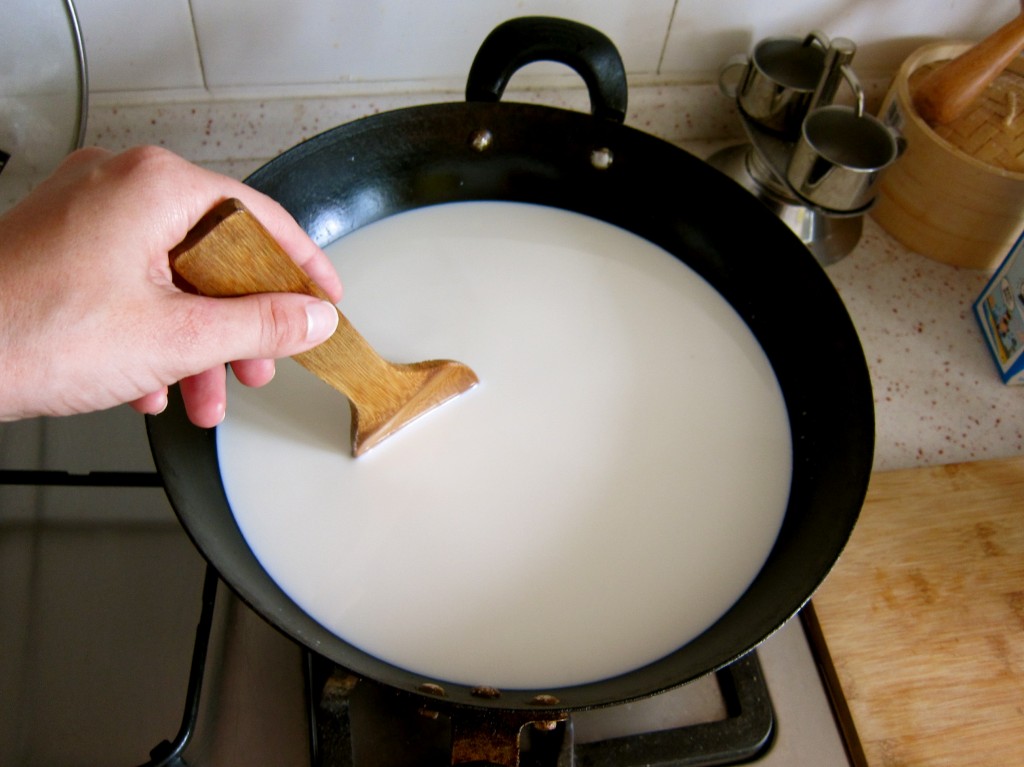 After about 10 minutes, more or less, it will start to steam and you'll sense some rumblings under the surface. If you poke a tentative finger under the surface it will be hot. Before the milk erupts into a full volcanic boil, turn off the heat and dump in the vinegar.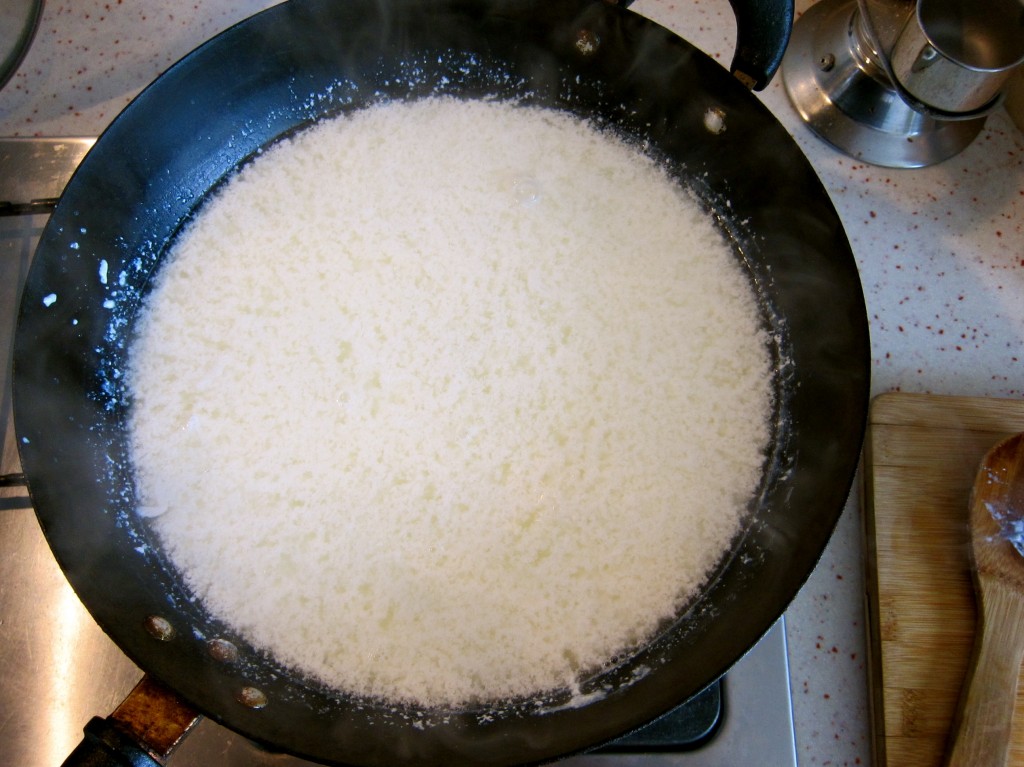 Let the milk and vinegar curdle together for about 10-15 minutes in the wok. Go off, read a book, drink some tea, call your mother.
Get a colander and line it with a clean, porous cloth. I have a length of cheese cloth that was purchased specifically for cheese making but I've been told that clean cloth grocery bags work well, as do thin-weave tea towels.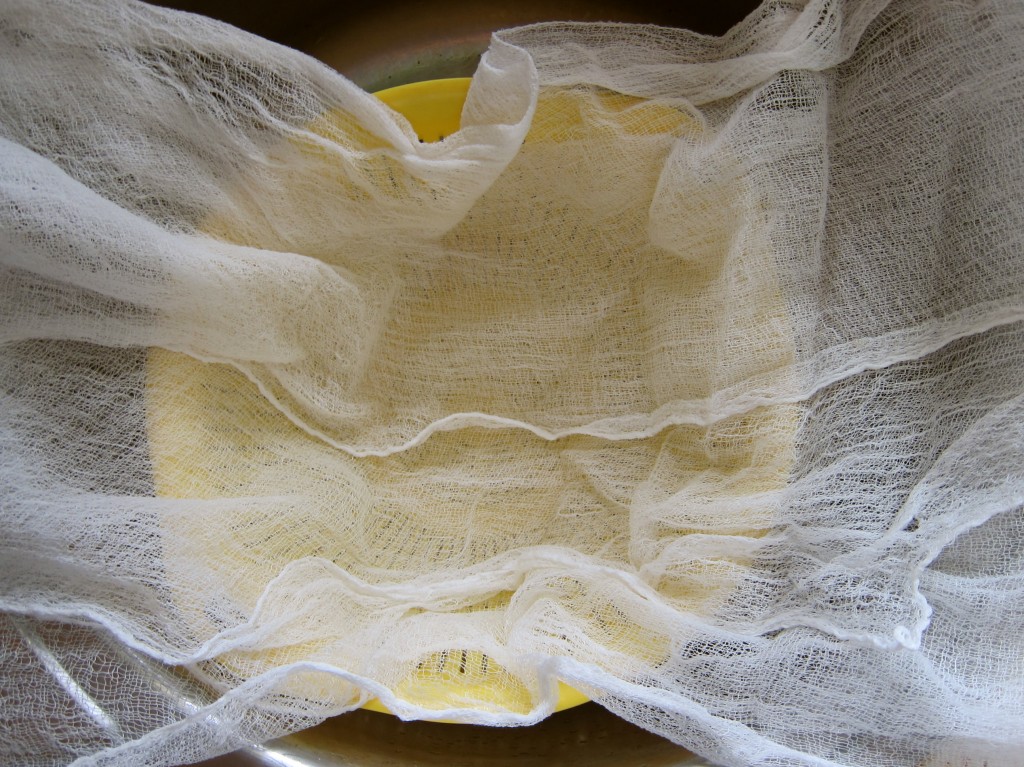 If you want to add any special flavouring to the cheese (herbs, garlic, black pepper, mashed up tangy berries), now is the time to get that sorted out. I used the roasted garlic from my jar of roasted garlic oil, mashed up with a bullet chili and a teaspoon of kosher salt. To be honest, I could have easily doubled the amount. Fresh white cheese is pretty mild on its own and could use a little prodding.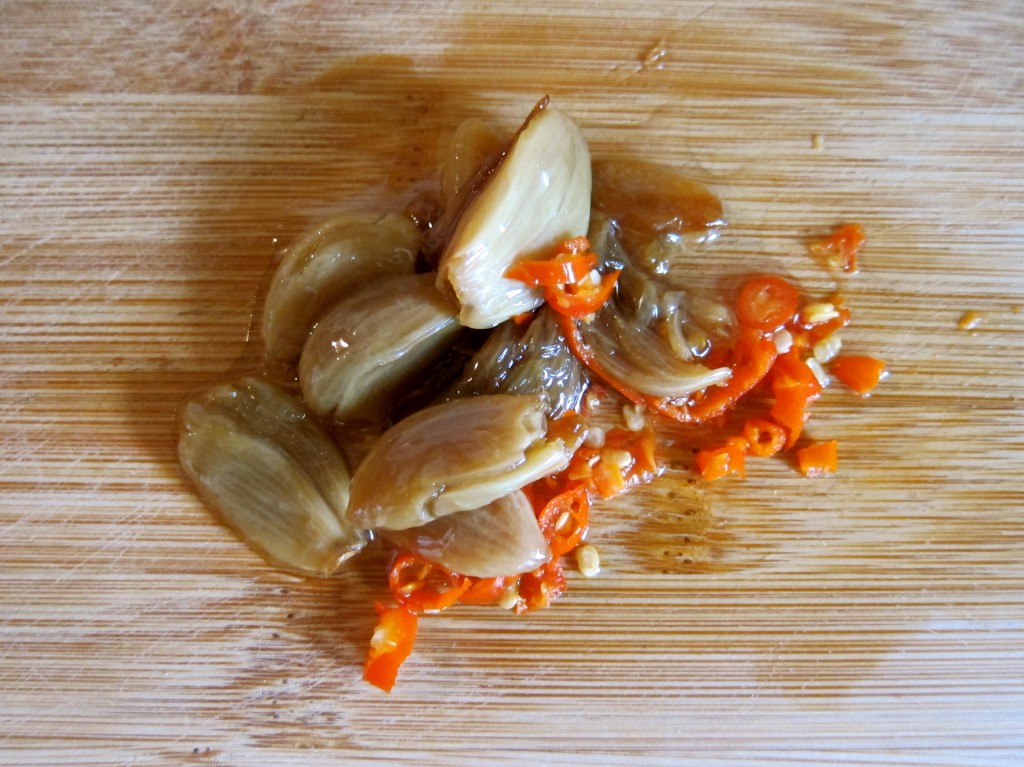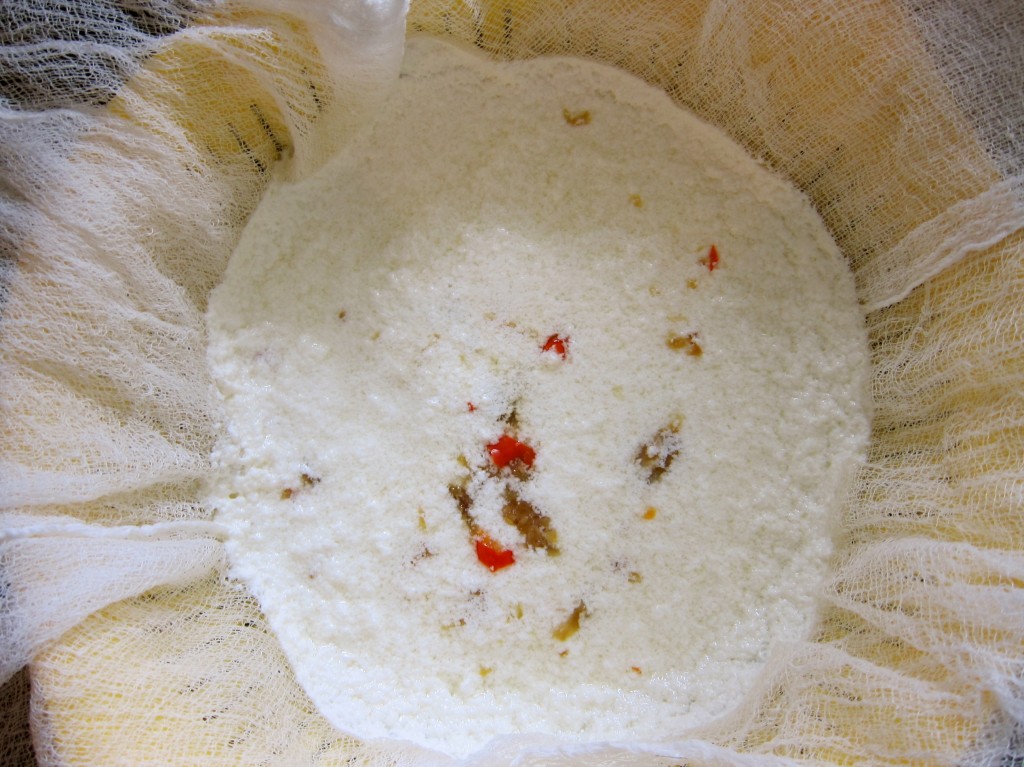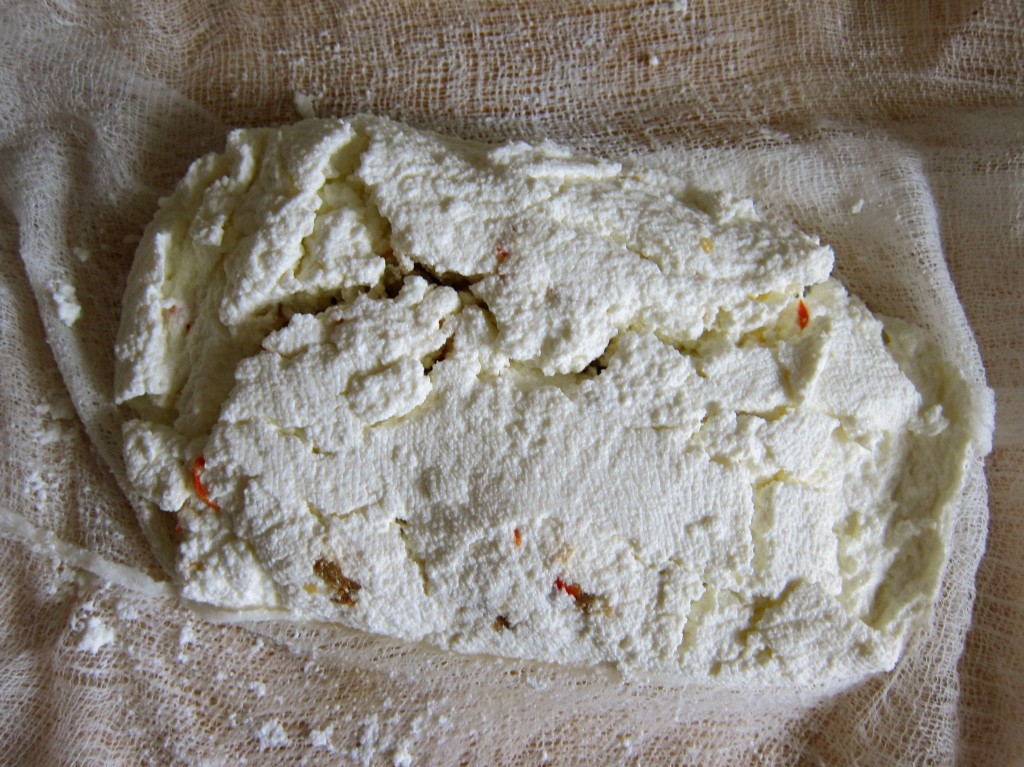 If you just leave it to drain for about half an hour, you've got a fine ricotta that can be used in, say, lasagne or ravioli. If you leave it longer, it drains more and gets firmer. I let mine go an hour.
One thing that is useful when draining is to place the colander over a big soup pot to catch the whey. Two liters of milk makes a lot of whey and oh, whey is useful. It makes lovely, soft dough- all the protein in the whey does wonders to a chapati. It's also good for making soup or dhal or stew. I saved my whey in little take-away containers stacked in the freezer.
After an hour or so of draining (you can let it go for two- it doesn't really matter), take the cloth wrapped bundle of cheese and form it into a brick with your hands.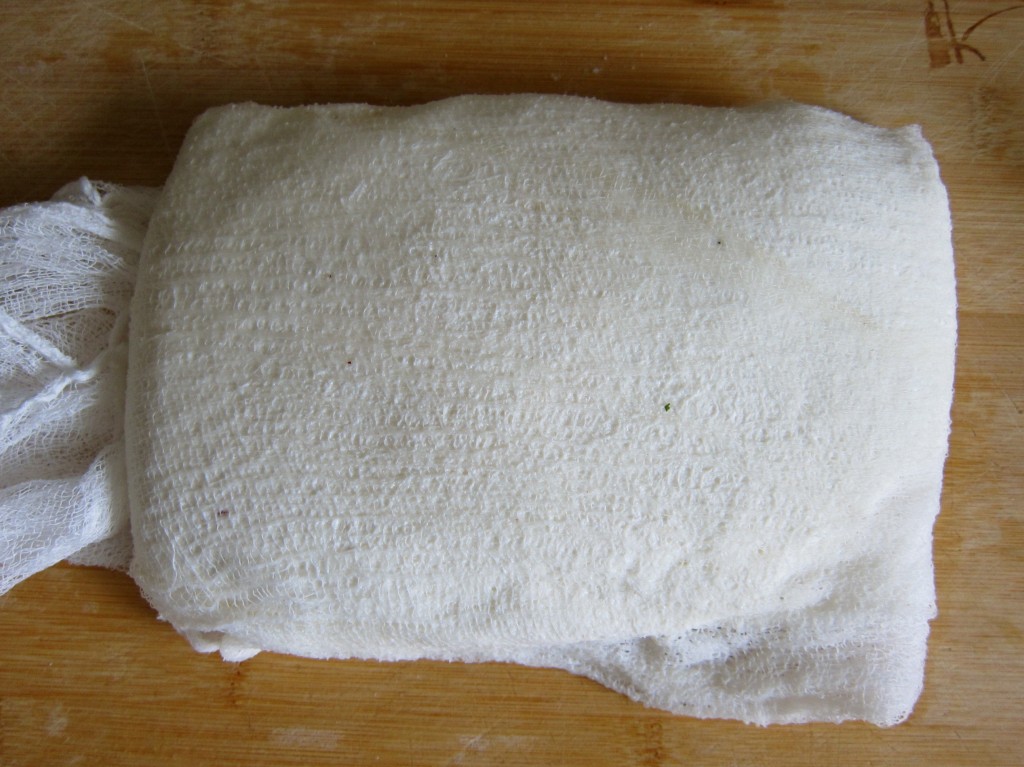 Once you have a brick of cheese formed, put something flat and heavy on top of the still-wrapped bundle. A cutting board will work, held down by, say, a bottle of water.
I used our sugar jar. I probably should have put a cutting board on top of the cheese to keep it flat, so there wouldn't be a jar-shaped indentation on the cheese. It adds character, I suppose.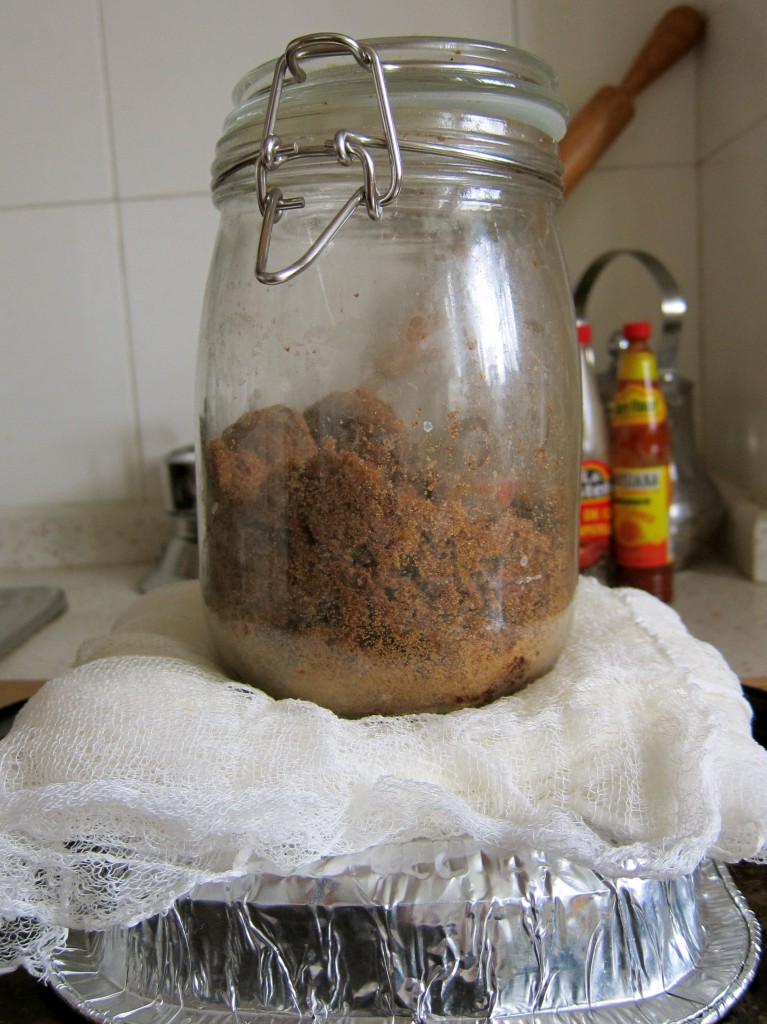 After an hour or so of being pressed like a torture victim from the Spanish Inquisition, you'll have cheese. It won't be like cheddar or mozzarella or even parmesan- those cheeses need rennet to set and carefully controlled conditions in which to age and ripen. This is a soft, fresh cheese that is creamy, mild and has the same shelf life as the milk you used (unless you used that tetra-pak nuclear long-life milk, which never dies).
What can you do with it?
So many things!
I've used it in curries. It does well in place of meat in a vindaloo or jalfrezi. Get some spinach going and add it to make a nifty palak paneer. I've also spread it on crackers, with a few turns of freshly cracked black pepper on top.  It's lovely crumbled up in mashed potatoes. It makes a nice substitute for Oaxacan farmer's cheese on tacos.
This time, I used some of it for cheese sticks. I did these in the oven because the wok was being used for other things, but if you fancy a fine fried cheese, I recommend going whole-hog and pan frying them. They aren't exactly mozzarella sticks but they're gorgeous in their own right.
For the paneer sticks you need:
1/2 cup very fine bread crumbs
salt and pepper to taste
1 beaten egg
Cut the cheese into short sticks (mine were about 4 cm by 1.5 cm) and dredge them one by one in the beaten egg then roll them around in the crumbs. Place them carefully in a lightly oiled baking pan. Preheat the toaster oven to about 160-170C while you're doing this.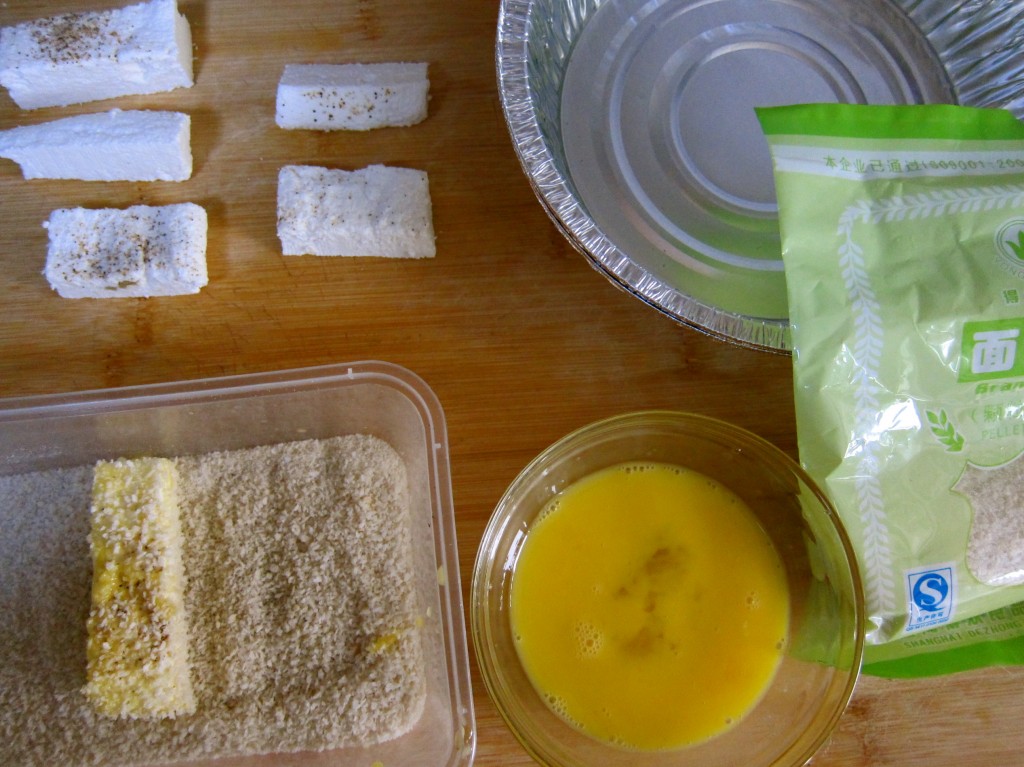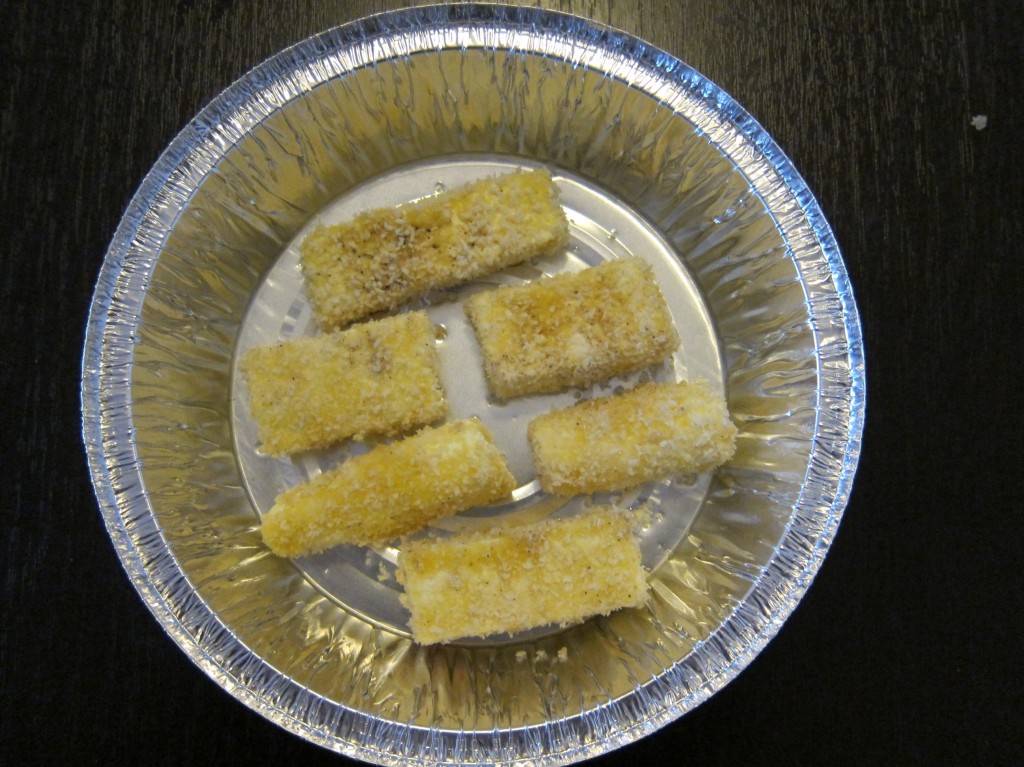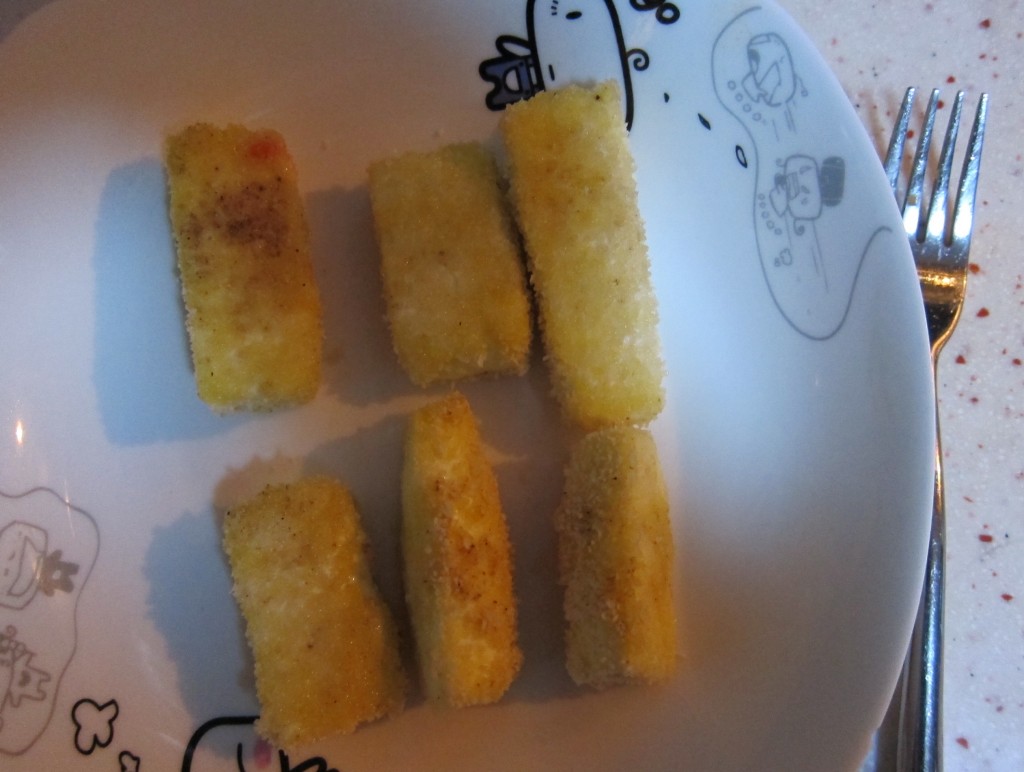 I made the cheese sticks with just trimmings from the perimeter of the brick, trying to make it straighter and more even. The rest is currently in the fridge, bathing in brine, awaiting its next task.