With my crock pot full of fermenting cabbage this month, I've had to start re-thinking my usual culinary fall-back techniques of, well, throwing everything in the fridge into the crock pot and hoping for the best.  Since I went a bit overboard on tacos and spaghetti bolognese last week, I thought I'd veer out into a whole new direction.
Enchiladas!
Now, when we were parked down in Oaxaca about three years ago, en route to wherever our money ran out, I ate a lot of enchiladas. I even ate zucchini blossom enchiladas on the Day of the Dead. I've had mole enchiladas of all hues, and have delved into both the roja and the verde. I've also had some lovely, bastardized, gringa'fied ones since- even some surprisingly good ones here in Shanghai.
I haven't, however, made enchiladas in Shanghai. I have no idea why, as I'm pretty much the Queen of Tacos and Quesadillas in this household (mainly because Doug can't exactly be crowned Queen).
However, with the crock pot being used elsewhere and my desire to delve into unexplored realms at a reasonable high, I started researching chicken enchiladas.
Oh, Google, you kill me.
Or rather, oh people who make it to the top of Google's recipe-finding algorithms, you kill me.
Things they call for that I can't provide:
vast quantities of pre-shredded 'Mexi' cheese (no idea exactly what this is)
sour cream
jars of Heinz Chili Sauce
tin of refried beans
tins of Campbells' condensed chicken or mushroom soup
tinned chilies
packets of Mexican spice mix (or, ahem, 'mild taco seasoning mix')
deli rotisserie chicken
cream cheese
tinned enchilada sauce
bag of supermarket tortillas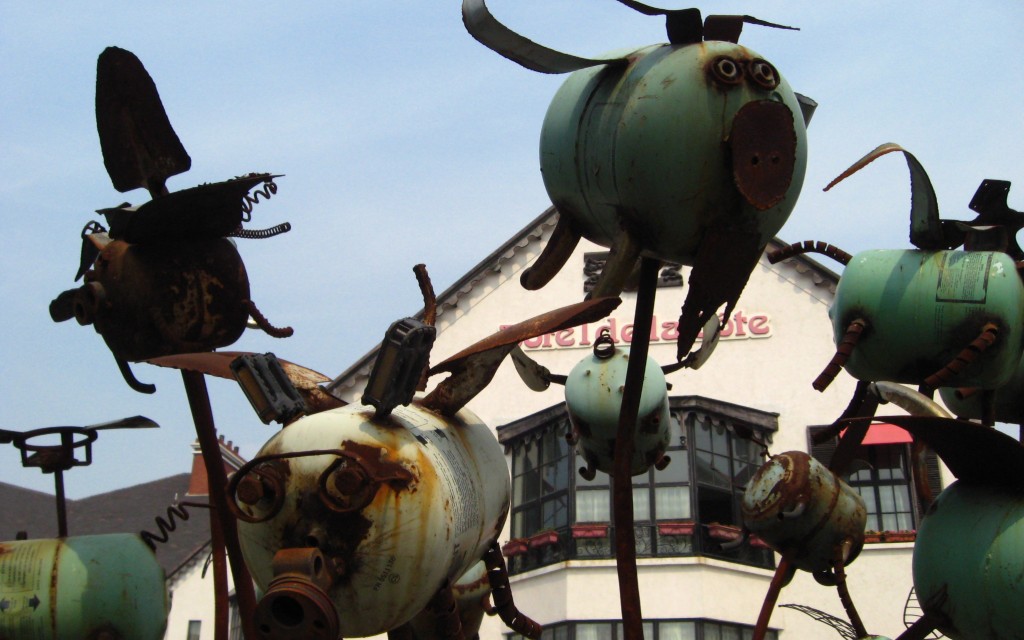 I could go on indefinitely.
I decided to venture into unknown territory. I've never actually ever made enchiladas myself, though I have eaten many and have assisted my mother on occasion. I know roughly how they are formed, what they contain, and how they ought to turn out.
Thus, this recipe is what I threw together in an attempt to follow this approximate path, whilst still managing to pretty much ignore everyone else's directions. If you have any of the ingredients that I made the hard way (I'm looking at you, tinned enchilada sauce!), by all means use them.
Also, if you make some of the bits and pieces at your leisure beforehand- the tortilla dough, the roasted veggies, the salsa– it'll all come together fairly quickly and easily.  Not as quickly or as easily as buying pre-made tortillas, rotisserie chicken, tins of enchilada sauce and pre-shredded cheese, but hey, I'm in freaking China. Slack must be cut.
You need four basic parts: tortillas, chicken, sauce, cheese. Also (optional), salsa and cilantro.
Go buy some cheese, okay? I'll wait for you here. Mine was a knob of mozza, about the size of two fingers.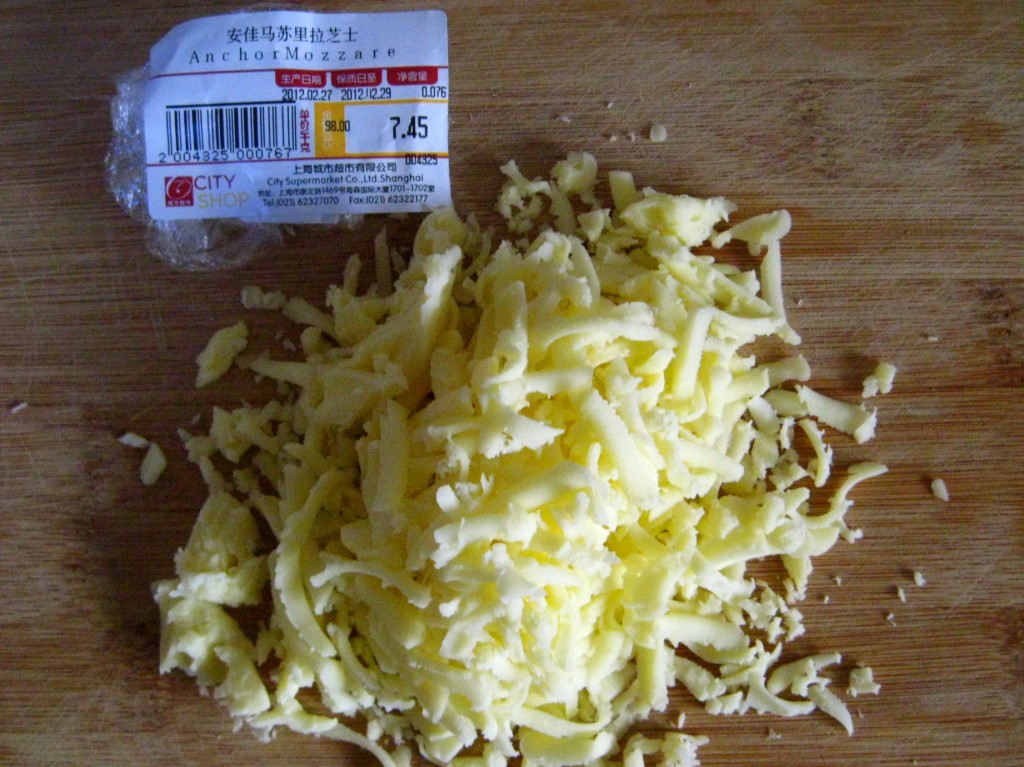 And you also need some chilies, tomatoes and onion.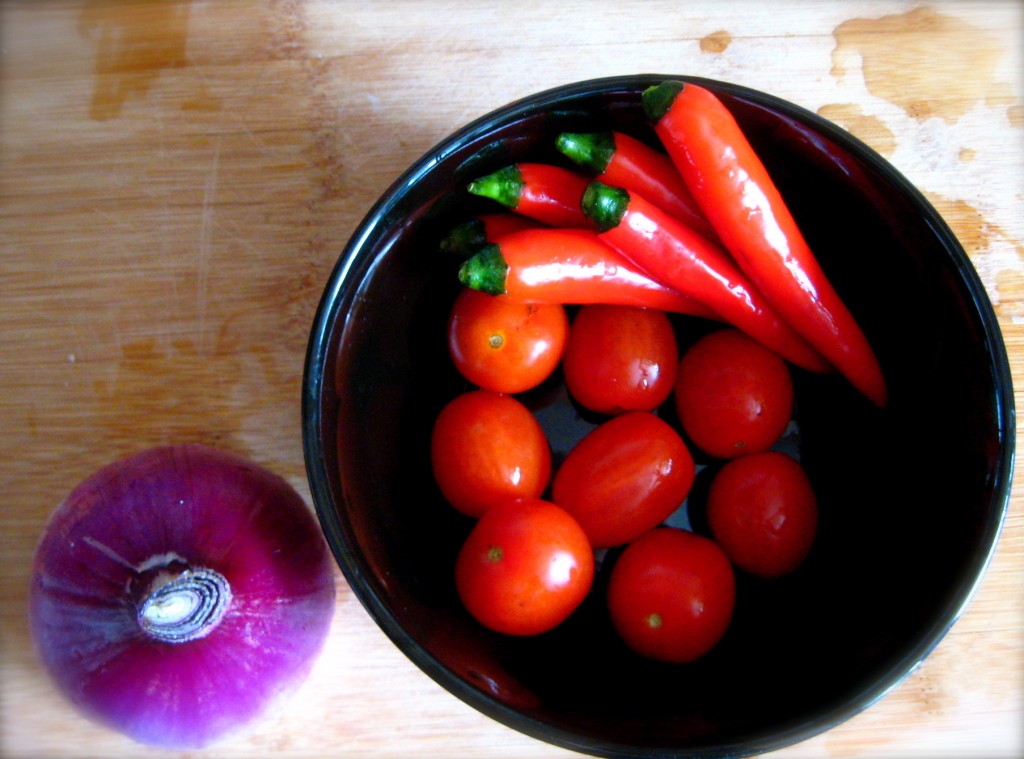 Oh, and 2 chicken breasts. I'm not going to post a photo though, because chicken breasts are not photogenic.
We'll start first with the sauce, as it can be done in advance.
The Sauce
Part 1: You first need to make the roasted veggies that will flavour the sauce.
half a purple onion (other kinds okay but I like purple)
a few chilies, medium sized (the tiny bullet ones just turn to charcoal in the oven). Bell peppers (red or yellow) are also okay if you can get them.
tomatoes (I used cherry tomatoes as the current winter crop of regular ones are mealy, hard and grim)
oil (I used last week's gorgeous roasted garlic oil)
a few sprinkles of kosher/sea salt if you have it (regular is fine)
Toss the onion, peppers and tomatoes (halved) in the oil and spread them out onto a cookie sheet. I used foil on mine because I tend to also bake cookies on it (hence the name) and am not too keen to mingle the flavours so much.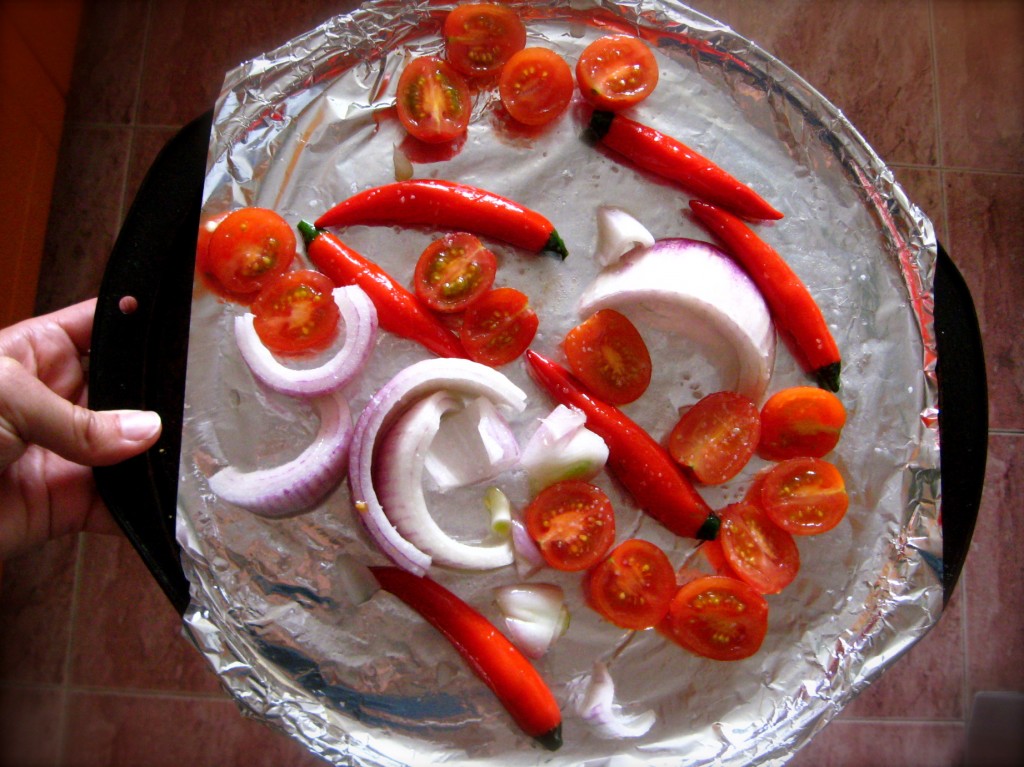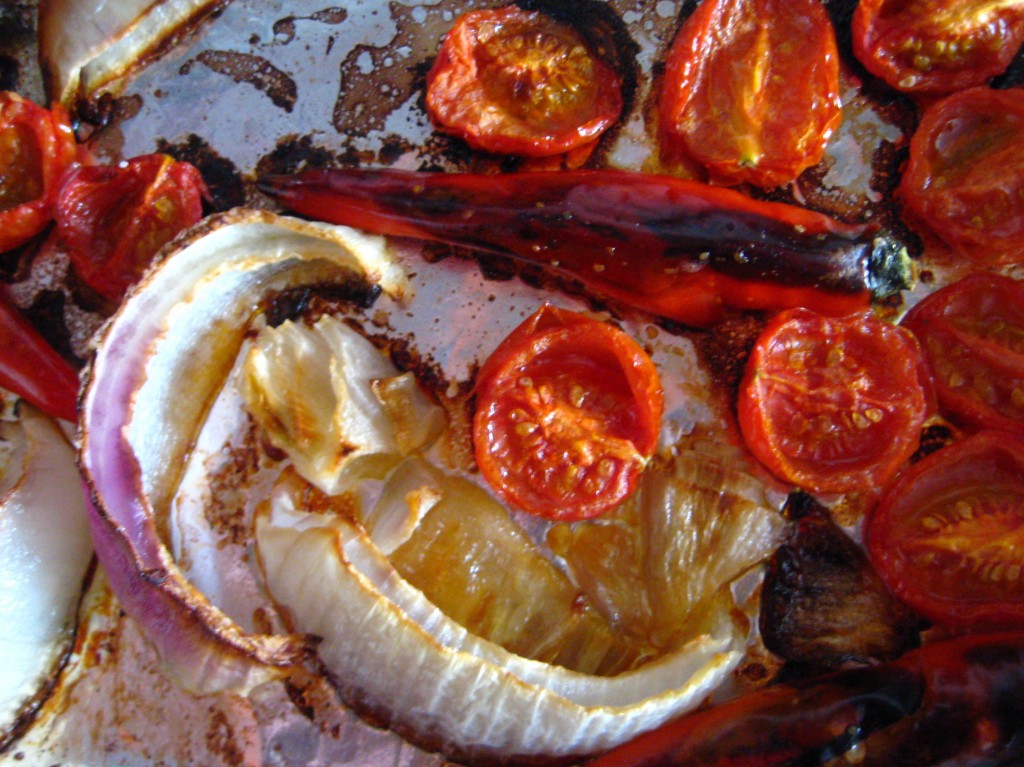 Let it all cool down a bit. The skins will separate most conveniently from the tomatoes and chilies, leaving you with just their gorgeous inner selves. Cut the onion up into tiny pieces (unless you like huge chunks of onion in your otherwise smooth cream sauces). Get a small bowl and a fork and mash the hell out of it all.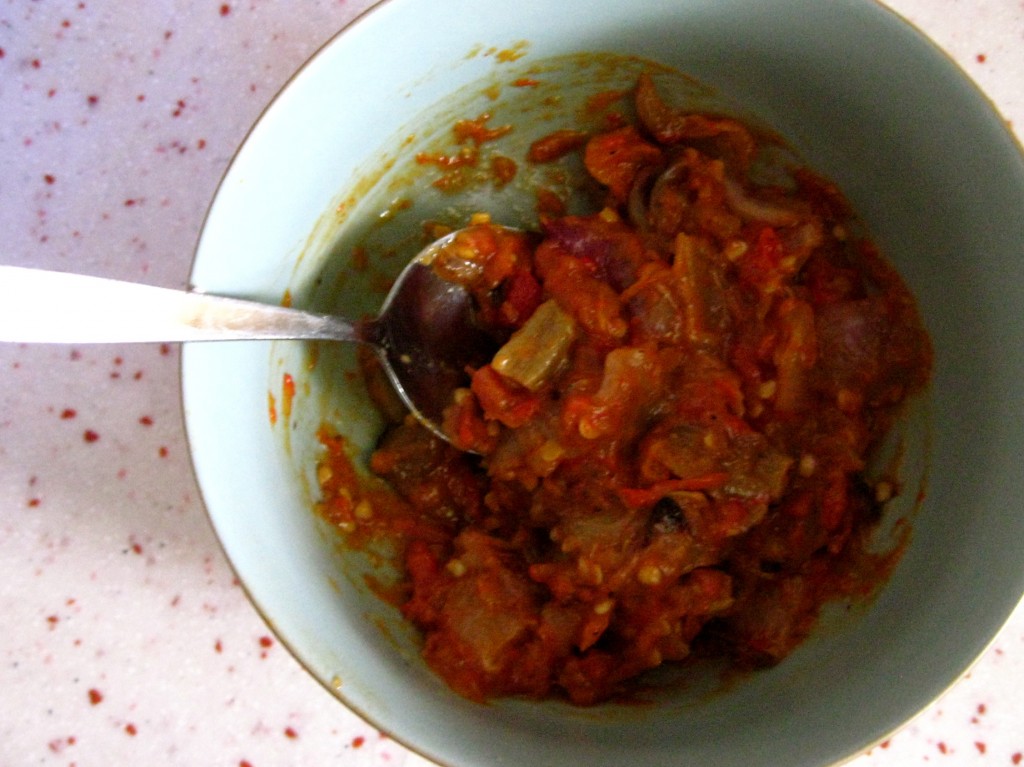 This can be put aside for another day, if you wish.
If you are feeling ambitious, you can continue on with the rest of the sauce. 
Part 2: The White Sauce (that will actually be red in the end)
You need:
knob of butter (a square inch or so)
a heaping table spoon of flour
1.5 cups of milk (or, as I did, half milk, half leftover broth from poaching the chicken– see below)
Do you know how to make a roux? You need a roux here as you'll be making a bog-simple white sauce. Here's one I made earlier (just don't go adding the worcestershire sauce, beer and mustard and all, as those are for the Rarebit only!). Here's another, with bigger photos.
The basic idea of a roux is this:
melt your butter in an adorable little sauce pan, over a low-ish flame
when the butter is melted, stir in the flour quickly, making sure it doesn't get lumpy. Stir stir stir. A little browning gives it a nice nuttiness.
slowly add the liquid (milk and a bit of the broth, if you fancy), stirring all the while to prevent lumps. Stir stir stir.
It'll start to thicken after a while, when the liquids begin to plump up the flour molecules. Stir it over that low flame until it reaches a thickness like your mother's lovely Christmas cheese sauce.
Dump the roasted red paste into the white sauce, give it a stir until nicely mixed in, remove from heat.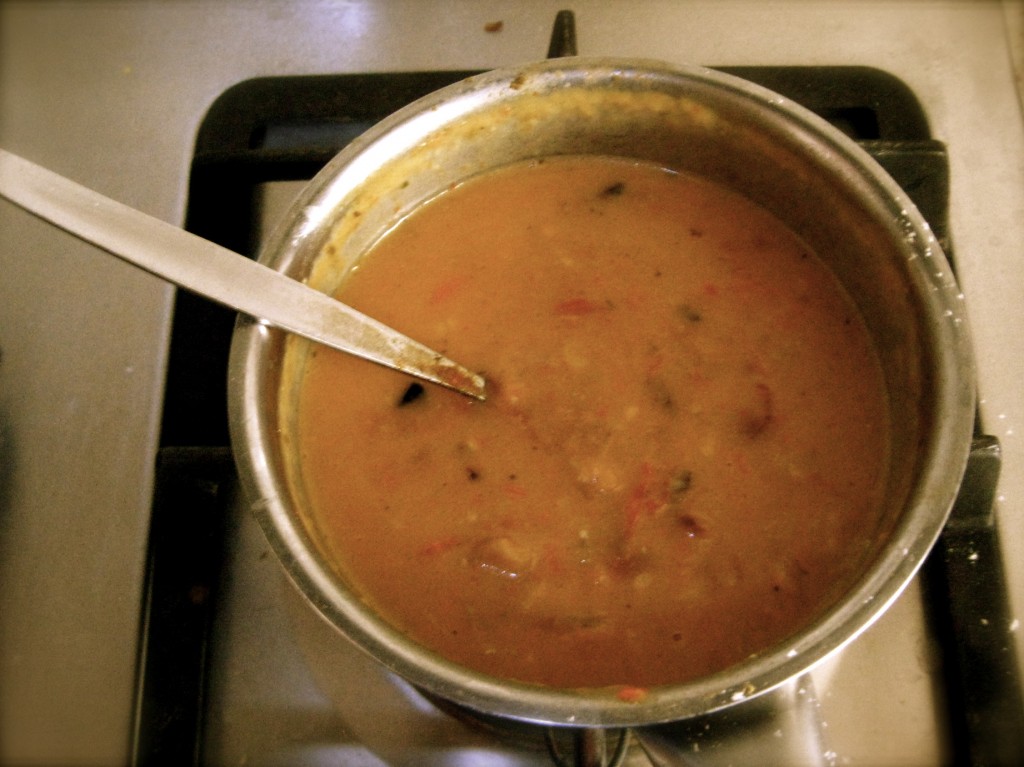 This can all be set aside for later. Put a lid on it and put it aside.
The Chicken!
I miss my crock pot, but it is busy fermenting me some experimental sauerkraut so I mustn't be resentful. I'm working around its absence by doing a lot of wok sauteeing. If you want, you could probably also sautee your chicken but I'm a huge fan of shredding.
You need:
2 chicken breasts ( or equivalent in other parts, if you prefer)
at least half a head of garlic, peeled, cut into rough slices
pinch of salt, a few peppercorns (optional but fun)
a biggish pot of potable water, brought to a gentle roil (not a burbling big boil- we're being gentle today)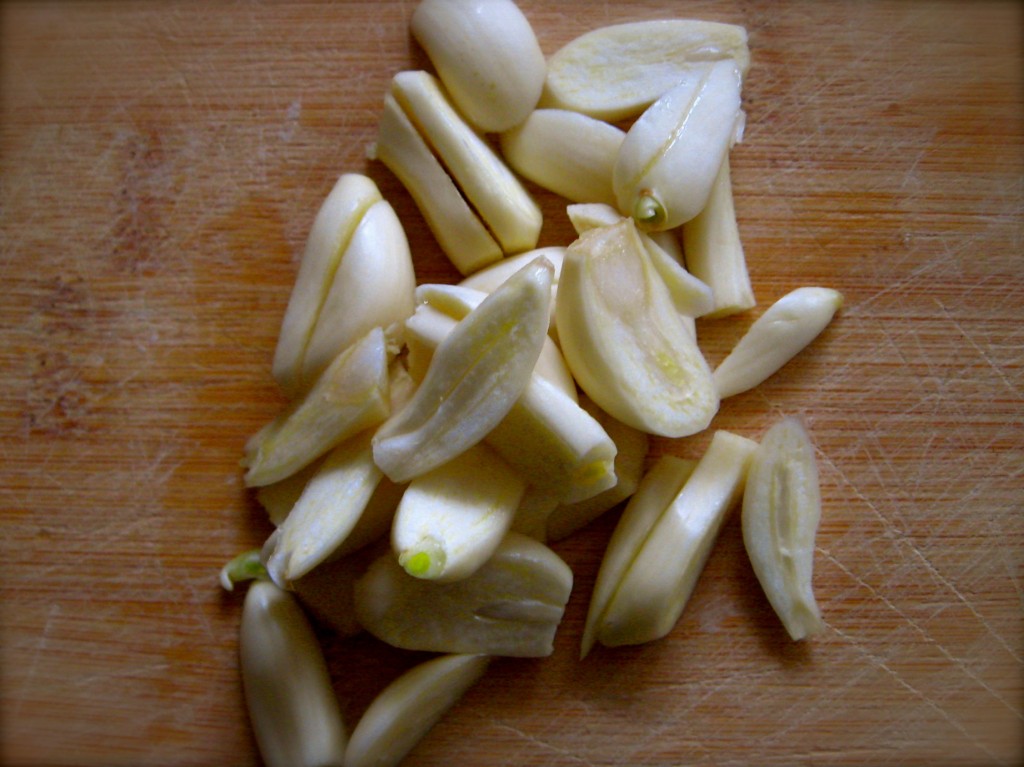 Place the chicken breasts into the pot of roiling water, add the garlic, salt and peppercorns. Put a lid on it and let it burble away gently for about half an hour or so.
Haul the chicken bosoms out and give them a moment to cool down. Then do this to them: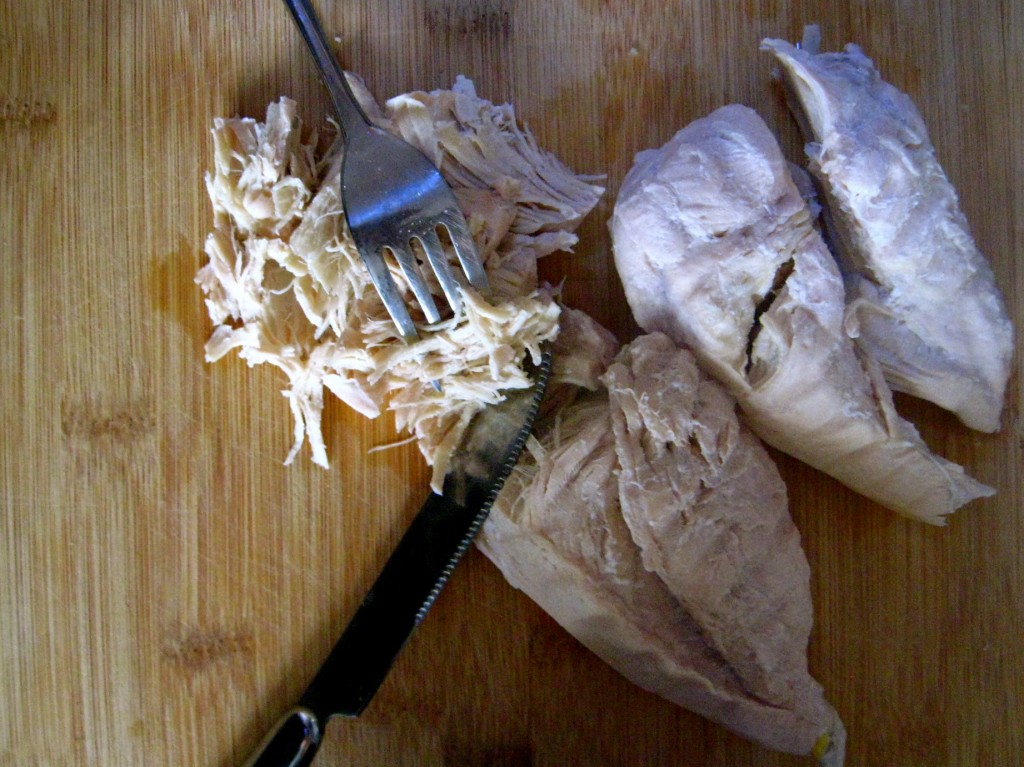 Put the shredded chicken into a biggish bowl (well, a bowl big enough to hold that much chicken) and start fishing out the garlic from the poaching broth. Mash it up in the bowl of shredded chicken.
I also spooned some of the broth over the shredded chicken to keep it moist while I did other things, which was quite lovely.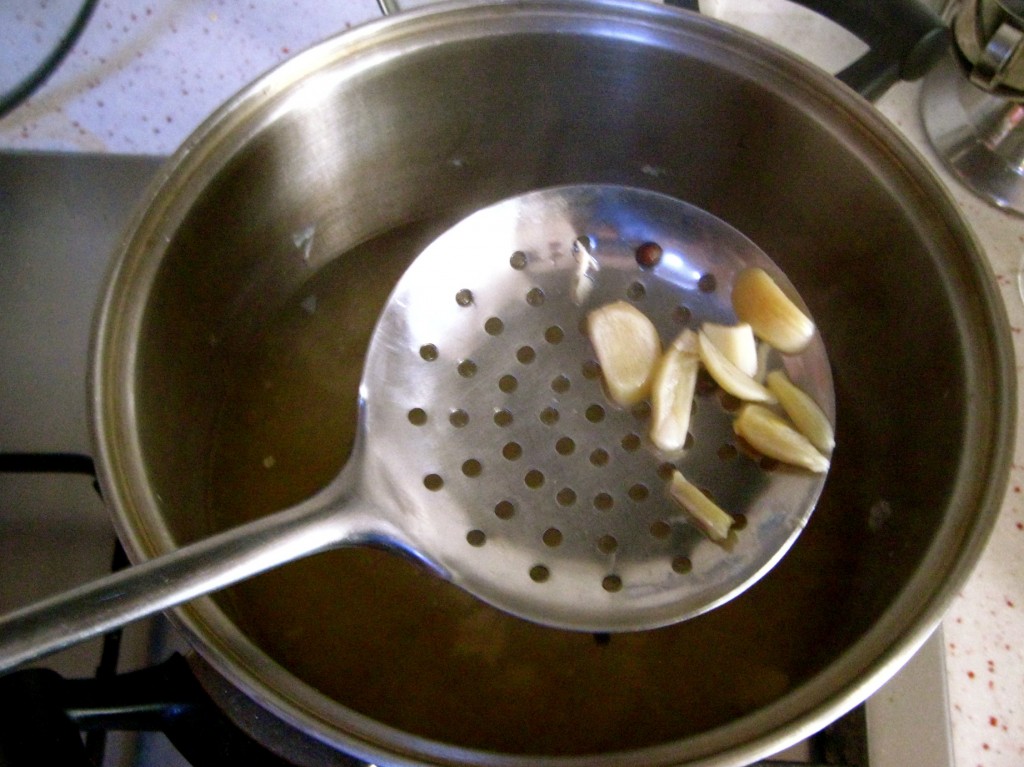 Get the wok out. You know you want to.
Chop up the other half of the onion that you roasted earlier, as well as some of those little fire cracker chilies. Heat up the wok, throw in a splash of oil, and sautee them til golden brown.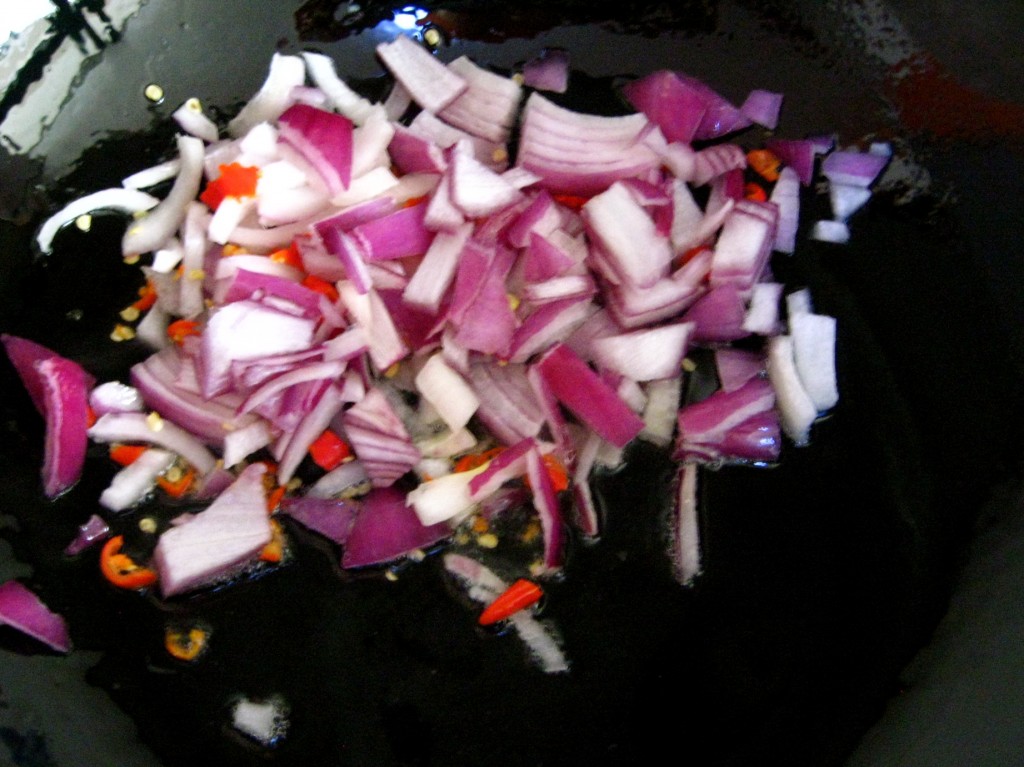 Add the sauteed onion-chili mix to the shredded chicken and let them marinate together for an hour or so in the fridge. The flavours will meld gorgeously.
The Tortillas
Er, we've been here before. See my taco post for detailed tortilla instructions.
Same dough– 3 cups flour, one cup water, 2 tsp salt. Mix, knead, rest. Slice off a golf-ball piece. Flatten with palm. Roll out thin and round'ish. Cook in dry wok 1 minute each side, then again until they puff up like a balloon.
The only difference here is to make the tortillas a bit smaller (my baking tins are kind of small so my tortillas could only be about the size of a smallish side plate, maybe 6 inches in diameter) and thinner (to avoid doughiness when baked). Try to make them close to the time that you plan to bake your enchiladas so they are still fresh and soft and pliable.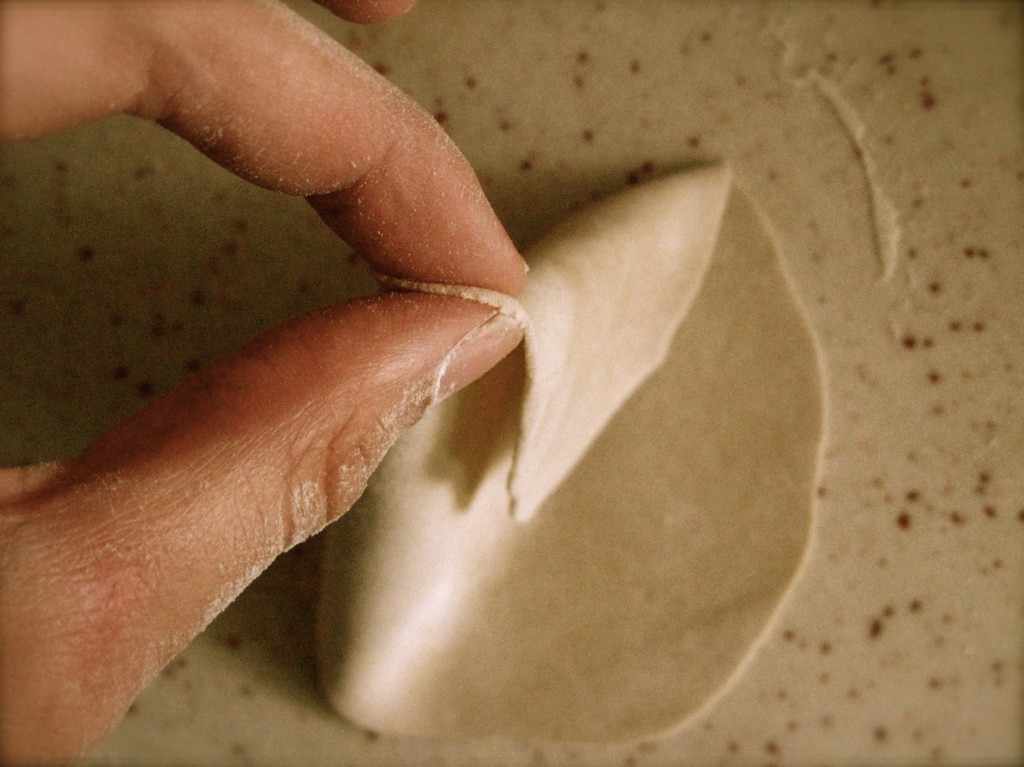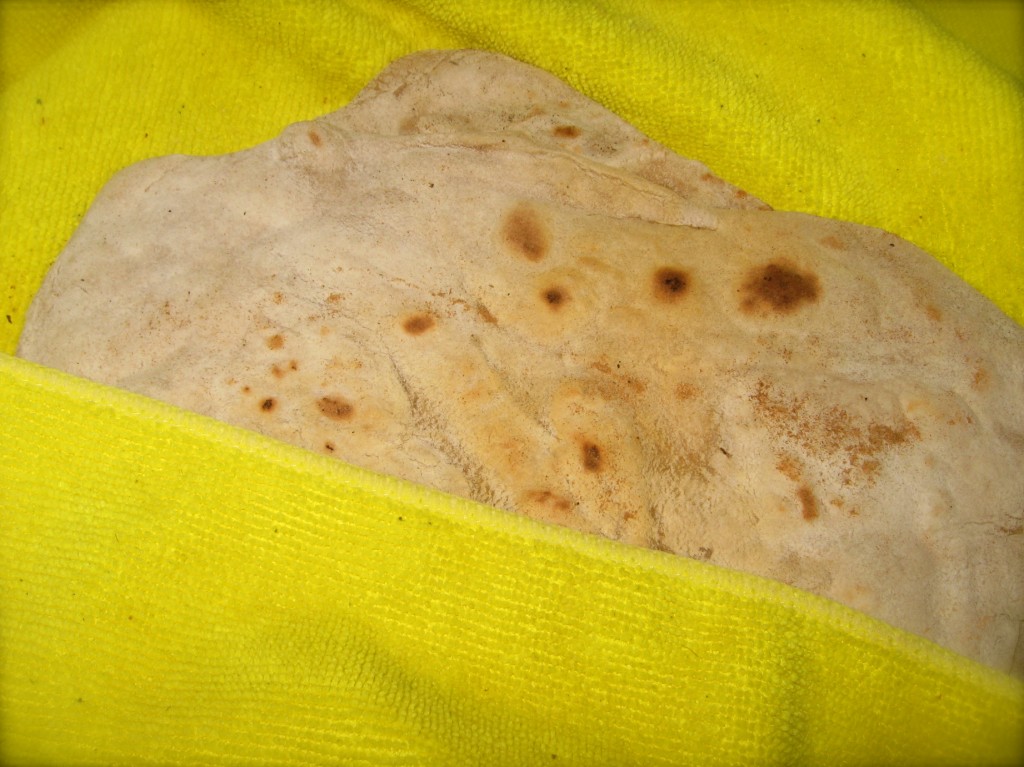 The Assembly of the Enchilada
Let's just make sure we have everything.
Chicken?
Roasted tomato-pepper sauce?
Tortillas?
Cheese? About a cup or so, grated?
Cilantro, if desired and not abhorred?
Now do this:
Pre-heat the oven to 180C.
Get out a baking dish (or 2 if it's small like mine). It needs to have sides at least 4 cm high, to hold the enchiladas and their sauce in. I use flimsy disposable cake tins (that I dutifully wash and re-use because apparently I was raised during the Great Depression).
Spoon some of the roasted red sauce into the bottom of your baking dish(es) and smooth it around so that it is coated thinly (like, half a cm will do).
Then get your chicken, tortillas and cilantro (if you like cilantro) and start wrapping.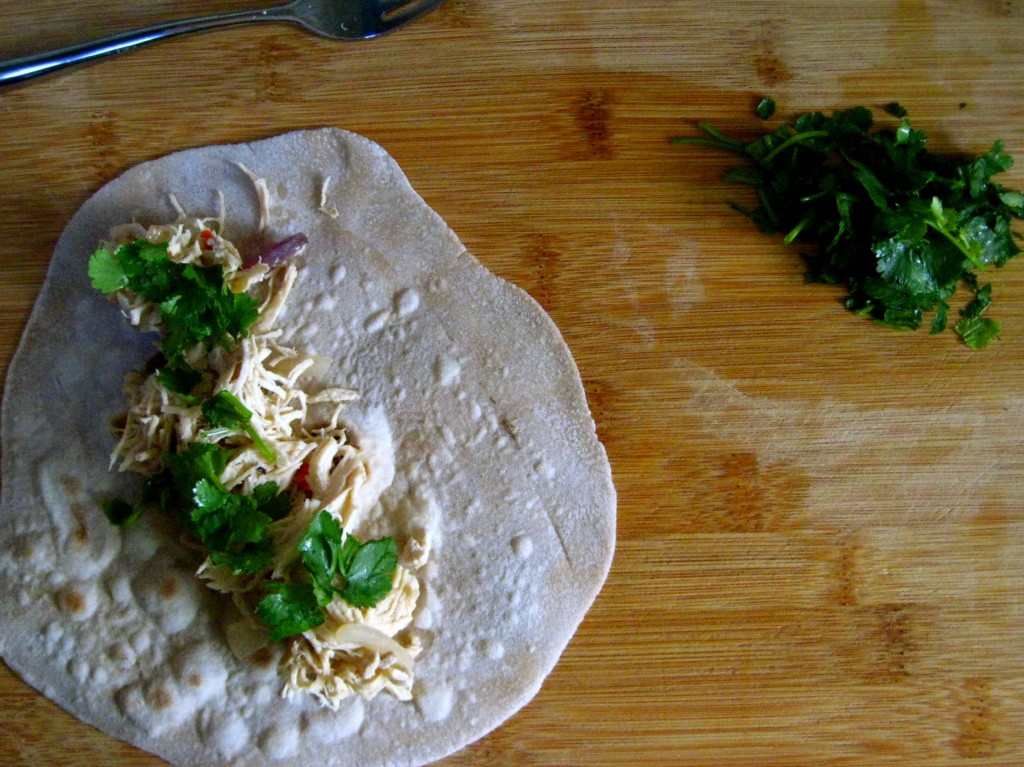 Roll up the tortilla, with the flap underneath, smooth side up. Do that for all of them. I made 6 enchiladas, spread out over 2 baking tins. If you have a larger baking dish,by all means fill that sucker up. I still have spare shredded chicken in the fridge, enough for 2 or 3 more enchiladas.
Put the rolled up tortillas into the baking dish, onto the thin layer of sauce. Fill up the baking dish with tortilla rolls.
Spoon the sauce over the rolls in the baking dish until they're well lubricated. Sprinkle with cheese. I added a decadent few gratings of cheddar too. Bake for about 30 minutes.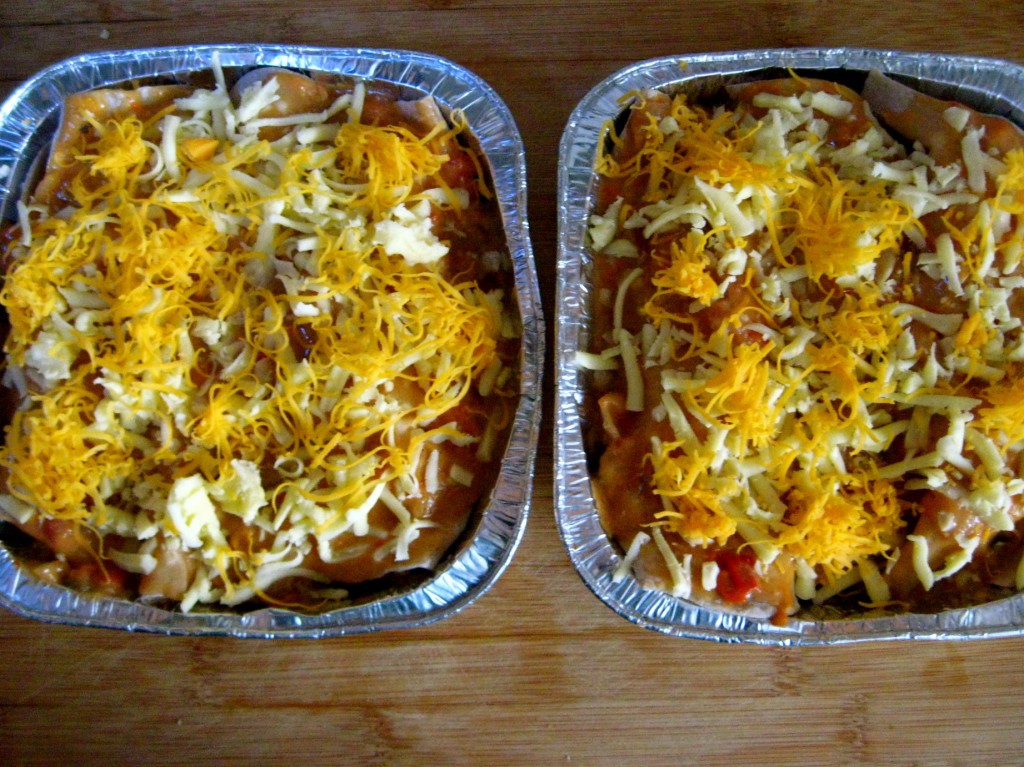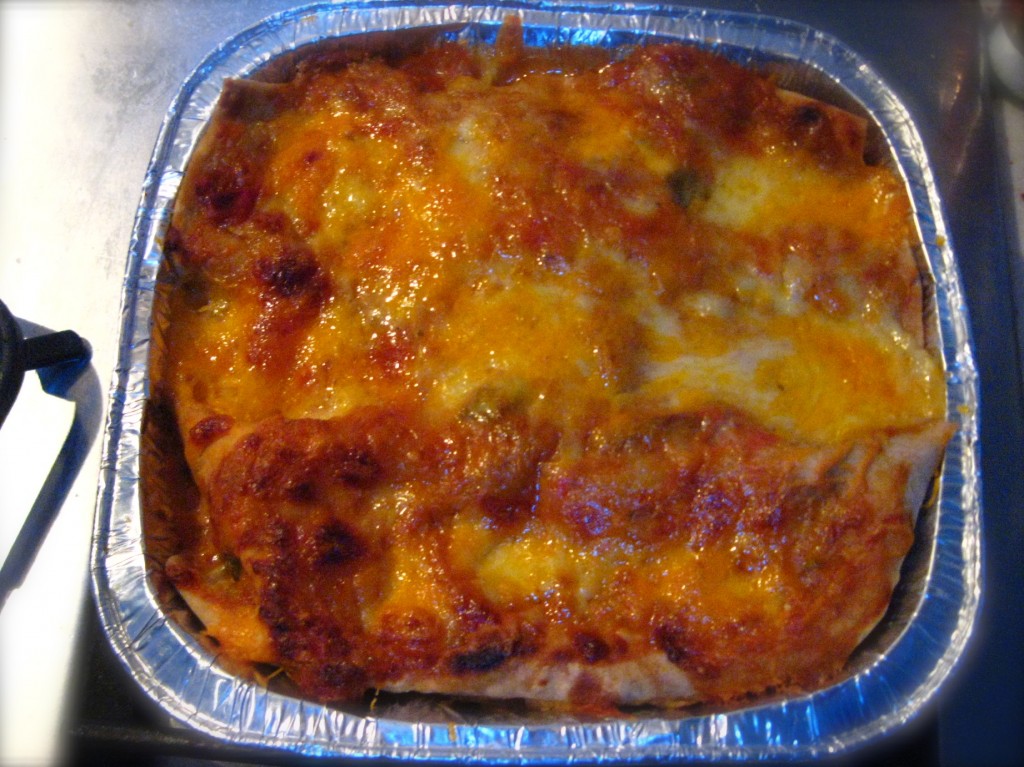 I served mine with home made salsa (basically just chopped up onion, tomato, chilies, cilantro, marinated in lime juice for a few hours).  A little dollop of thick Turkish yogurt would have been awesome too.