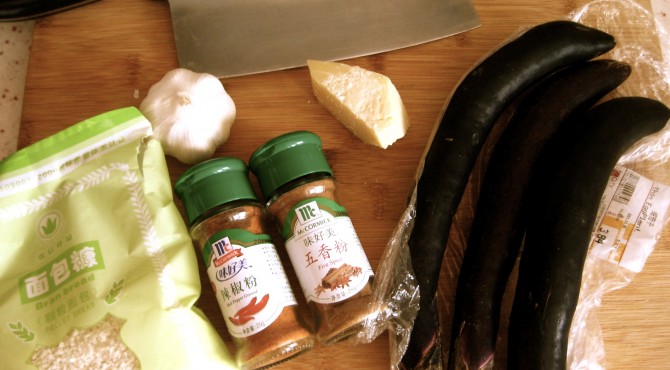 I should be trying to sleep right now. It's nearly 10pm and I have an 8am train to catch tomorrow morning, whisking me off to the glittering metropolis of Hefei, the esteemed capital city of Anhui province which is about four hours away. A weekend of work awaits me there. The first time I went there about two years ago, there were hay bales on the train platform and rusty motorized tricycle taxis waiting outside the station.
With this in mind, I'm going to keep this one brief, to tide you over until I come back Sunday night.
First of all, I'm famous! Well, semi-famous. Famous in Shanghai, if anyone bothers to read the Dining Out section of Shanghai Talk magazine.  After barely two months of existence, Wok With Me, Baby  was inexplicably chosen to be featured alongside the highly esteemed Life On Nanchang Lu in a glossy monthly that's actually worth reading for the articles (really!).
Look! I'm the one right there in the middle!
But enough about me. You need something to eat while I'm away for the weekend doing unmentionable things in Hefei. I'm going to show you something that's really really easy and really versatile.
Can I call it Eggplant Parmesan if the parmesan is optional and it contains Sichuan peppercorns and 5 Spice powder? I'm open minded if you are. Let me show you what I've made three nights in a row to go alongside dinner (Chinese tacos! Using Lady Noodle dough tortillas!). They're that good.
The insides are soft and creamy and the outsides are crunchy and fragrant and just slightly spicy. While I was making the last batch the other night, Doug asked me from the living room if I was cooking bacon. Bacon! The world is a wonderful place when your baking eggplant can be mistaken for sizzling bacon!
What we have here is a standard long Chinese eggplant, or qiézi (茄子). Also known as an aubergine for those of you who prefer to go the Norman-influenced linguistic route. I've also used the bigger, fatter ones and they've been just fine. If you use the big ones, you only need one eggplant as opposed to the three thinner ones.
Ingredients
I made this up as I went along so please bear with me.
About 1/2 of a cup of bread crumbs, the tiny, dry kind. I bought a little packet at the supermarket (see the green baggie above) for just a few kuai.
3 long, thin eggplants or one fat one
A ton of finely minced garlic (I used about 5 cloves)
An egg or two, depending on how much eggplant you have
A square inch of parmesan, grated (optional)
1/4 teaspoon or so of each, depending on your tolerance and predilections: ground hot chilli pepper, ground Sichuan peppercorns, 5 Spice powder
Directions
Thinly slice the eggplants into little coins. You can salt them and drain them if you want but I've found that to be unnecessary with the Chinese eggplants as they aren't bitter.
Mix together the bread crumbs, spices and the parmesan (if you can find it- it isn't necessary but it is nice).
Beat the egg lightly until the yolk and whites are blended.
Dredge the eggplant slices in the egg, then toss them lightly in the happy crumb mix to give them armour of steel.
At this point, you have two options, both of which have worked very nicely for us: baking or frying. I'm going to show you the frying one here (because it's the one I bothered to take pictures of) but I would like to assure you that the baking option is bloody marvellous too.
For the wok: preheat wok on medium, with a few glugs of heat-tolerant oil. I used sunflower oil.
For the oven: grease a baking sheet and pre-heat the oven to around 165C. They go in for about 20-30 minutes depending on your oven (ours needed 30 but it tends to run a bit cool), middle rack, flipped once sometime around the half-way point.
Unfortunately, I have no photos of the dredging process as my fingers were too goopy with egg and crumb to be able to handle a camera. It's pretty simple though and I'm sure a lot of you are at least acquainted with the process.
I kept the wok on medium low, as our flame is pretty fierce and anything higher than that makes the oil start to smoke. You want the oil to be hot enough to sizzle enthusiastically when the eggplant is added, otherwise the spongey eggplant will not be able to form a crunchy protective fried layer and will just sit there, soaking up the fat.
I fried them for about a minute or so on each side, until golden brown.
We ate them the first night with dumpling vinegar, and then the second night I made up a small bowl of plain yogurt that had been steeping with a few cloves of minced garlic and a bit of fresh chopped cilantro. The yogurt, I'd say, worked best of the two.